At Virginia Hayward, we take pride in curating our Hampers, each hand-packed and carefully despatched – along with baskets, boxes, and trays you'll delight in using long after the hamper contents have been consumed.
We understand the impact that business can have on the environment and are committed to buying better, sourcing sustainably, working responsibly, and using environmentally friendly processes where possible. We are dedicated to making luxury hampers for today and tomorrow with people and the planet in mind.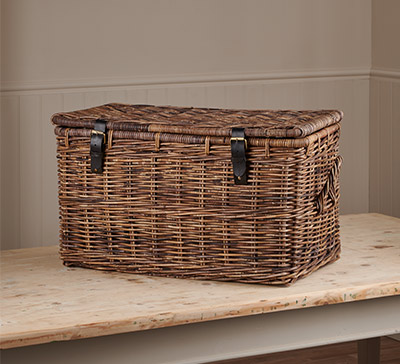 Product: Baskets
Making conscious decisions about the materials we use.
Basketry is thought to be the oldest craft in the world, dating back ten to twelve thousand years. It is also the most widespread, found in some form in almost every part of the world. The principal materials used for our baskets are willow and rattan.
Basket willow is a fast growing, sustainable and renewable crop. It is farmed, generally for two years, then rotated with other crops such as wheat and corn. The willow canes are technically called rods or withies. They grow over 2m high and are then harvested; this happens twice a year.
Willow requires less than a tenth of the fertiliser used for most cereal crops. The plantations are attractive to a variety of wildlife, making a positive impact on local biodiversity. As well as capturing carbon, willow can also clean and decontaminate soils it is planted in.
Rattan is a climbing palm that grows like a vine, mostly wild in tropical forests. Like willow, it is also fast growing, sustainable and renewable. As a runner, it relies on other trees and vegetation for survival. Because it needs the forest to grow, it acts as an incentive against deforestation; it provides local people with livelihoods from the forest without needing to cut down trees for wood or to plant other crops.
Ultimately both willow and rattan are biodegradable, but your basket is made to last. As a natural, long-lasting product, your basket provides an ideal solution for Eco-friendly picnicking, storage or re-gifting.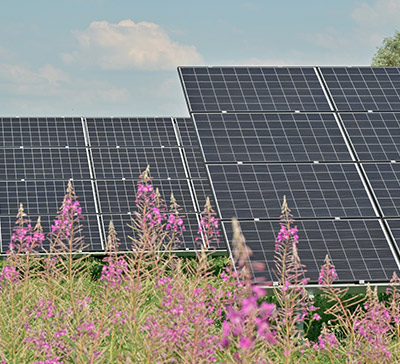 People and Planet
Reducing our impact on the environment for a brighter future.
Since 2022, we have had solar panels fitted to our warehouses, which helps power almost all of our production area, where we use the most energy. Since installing the panels we have prevented 1,409 trees worth of C02 being generated!
We also work with a waste management company to help us efficiently manage the majority of our waste, for every 100 tonnes of waste we produce, around 98% is recycled! The remaining waste is often used as refuse derived fuel, helping us to achieve ZERO WASTE to landfill where possible.
We no longer have any chemical cleaners on site, which means we do not fall under COSHH (The Control of Substances Hazardous to Health Regulation) but we also aren't transporting water around the country in conventional chemical based cleaning products. Which means our sites are more environmentally -friendly, have a higher level of safety and help protect our employees.
We use LED lighting at our head office and production sites, the installation was aided by the Carbon Dorset scheme, which is designed to help organisations take steps to improve energy efficiency, install renewable energy and save money on bills.
We have also created a dedicated Bee Garden, transforming a derelict area to the side of our production buildings into a full sensory area teeming with wild flowers, bee house and insect hotels. We recognise that just as we at Virginia Hayward plan to be here for many years to come, so too we hope will be the bees and the beautiful Dorset countryside.

Packaging
We continue to invest in sustainable packaging alternatives, while ensuring our hampers are protected during transit from despatch to customer.
We understand the impact that the packaging we use has on the environment and are therefore committed to continuously sourcing and using environmentally friendly packaging wherever possible.
CRUMPLED PAPER: Made from 100% recycled content that can be easily recycled, FSC Certified. Zero trees are cut down to make this paper and it contains 100% PCR content.
LOOSE FILL: 'EcoFlo' is fully compostable, made from sustainable raw materials in a low energy manufacturing process. Please re-use this loose fill or recycle through composting.
AIR STRIPS: These biodegradable air cushions reduce the plastic pollution and the volume of plastic going to landfill. These air cushions can be recycled in the appropriate waste stream or recycled in home or commercial composting facilities.
BUBBLE BAGS: The bubble bags we use are made from linear low-density polyethylene which is fully recyclable. Tis helps to reduce the volume of plastic waste going to landfill. Please recycle through the appropriate waste stream, many supermarkets have soft plastic recycling drop-off points.
BASKETS: We understand that their transportation via container ships is damaging to the environment and therefore nest efficiently where possible and minimise any external packaging used in transit.
OUTER BOXES: All of our outer boxes are made from 100% recyclable board, therefore contributing to reductions in carbon emissions and landfill waste. These outer boxes are recyclable so please treat these as you would your other cardboard waste.