As November is now well underway, I wonder where the time has gone. It seems not long ago that we were experiencing a wonderful, balmy summer with long days and warm nights. Yet now, having reluctantly turned the clocks back and signed away our daylight hours, the candle burns at both ends at Virginia Hayward.
It is somehow only around 40 days until Christmas. Whilst that may seem a way away now, we're readying ourselves for another fruitful season of great customer service, gratefully received Christmas gifts and (of course) delectable food and drink. If you've not had a chance to peruse this year's exquisite range of festive treats, click here for a downloadable brochure for our full Christmas gift range.
For now, let us introduce you to some of this year's line-up.
THE CHRISTMAS LETTERBOX GIFT £14.99
It's the most wonderful time of the year, but it's also the busiest. When there are so many people to see and such little time over the festive season, why not send one of our charming Christmas Letterbox Gifts to remind your loved ones that you're thinking of them? We've carefully curated this little festive treat to be the perfect size to be delivered directly through your recipient's letterbox as a wonderful, seasonal surprise from you, to them.
FESTIVE TREATS £19.99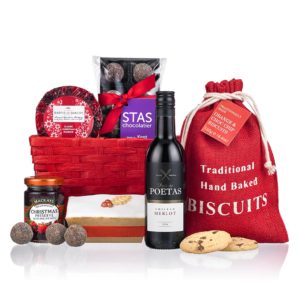 This hamper really is the epitome of Christmas and offers great choice whilst representing fantastic value for money. The Festive Treats Hamper is exactly that, a selection of festive treats including classic Christmas pudding, traditionally baked orange and chocolate chip biscuits and even a half bottle of red wine! This food and red wine hamper is a popular choice for family and friends, and the perfect thank you gift to send at Christmas time.
THE SNOWDRIFT £29.99
As Christmas gift ideas go, we absolutely love this charming wooden sleigh which is piled high with delicious treats. This fun little Christmas hamper is ideal for children who can tuck into the sweet treats but is equally as perfect to bring out the 'big kids' whether you're buying for a family member or to say 'thank you' to employees.
STARRY STARRY NIGHT £65.00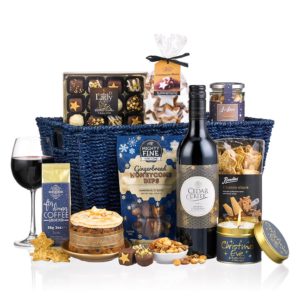 'Twas the night before Christmas, when all through the house, not a creature was stirring, not even a mouse; the whole house was silent, not even a scamper, but all that will change with our Starry hamper! We think that our Starry Starry Night Hamper is the perfect addition to the season's family festivities. We've included a truly special selection of treats for you to enjoy, both sweet and savoury. With wine, sweet nuts, savoury nibbles, cakes, coffee and beyond we're sure there's something for everyone. All of these festive goodies are packaged neatly into a lovely, navy seagrass storage basket, perfect for use at home once you've finished the contents which we don't think will take too long!
CHRISTMAS TRADITION £150.00
When you need to make an impression this Christmas, look no further than our exquisite Christmas Tradition Hamper. This stunning Christmas gift hamper is bursting with delicious artisan produce and has been created with Christmas parties and get-togethers in mind, so your lucky recipient will have everything they need to enjoy a very Merry Christmas with this stunning food, wine and prosecco hamper!
SNOWED IN £500.00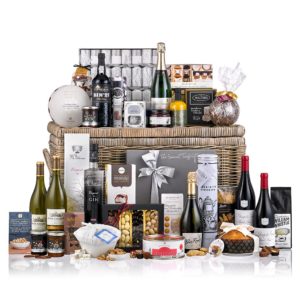 If you're looking to achieve the 'WOW' factor, the Snowed In hamper is sure to deliver. A really extensive selection of beautiful products from some of our favourite producers all curated into one, show stopping Christmas gift. A wonderful variety of sweet, savoury, alcoholic and soft drinks there's something for everyone all packed up into a stunning lidded basket. Snow-kissed, silver hues keep this hamper cool and contemporary with all of the traditional Christmas time magic hidden within!
There really is a little something to suit every taste and every budget. Small and personal, to grand gestures alike – we've got a gifting solution for you. Let us ensure that your loved ones receive something truly special this Christmas. Here at Virginia Hayward we believe that everyone deserves a little taste of luxury. Only the best, from us, to them.