Harvest produces to celebrate
Picnics are usually synonymous with the summer months, but, Autumn, with its crisp sunny days, crunchy leaves, and an abundant amount of Harvest produce, really lends itself perfectly to picnics.
Make the most of nature's beautiful seasonal display and get outside to relax and spend quality time in nature. The cooler temperatures make storing picnic food easy, plus you aren't in danger of food melting or getting too hot, there are also more positives, such as fewer wasps and bugs.
We have pulled together all of our favourite things about Autumn and created a lovely seasonal picnic, full of goodies from some of our best-loved hampers, as well as a few extra bits and bobs from local companies to make the perfect picnic for all the family to enjoy.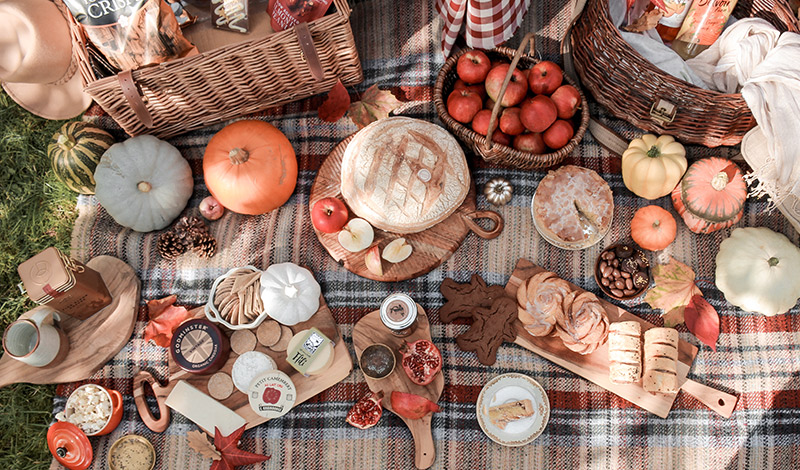 Location
First of all, for the ultimate autumnal picnic, you need to choose the perfect spot! This may be your local park, a pretty woodland spot, or perhaps a local National Trust, or similar public gardens, that allow picnics. We decided to set up our alfresco dining area in a stunning apple orchard. We loved the look of the different apple varieties, and the small trees gave just the right amount of dappled shade and coverage from the wind.
It's important to think about a range of different points when choosing a picnic area. You want to make sure it's safe, if you have small children, it's best not to set up near lakes or ponds, but also make sure you choose a location, where you can see your children from a distance in case they go exploring.
It's best to pick somewhere that has some shelter, as autumn temperatures can be quite chilly, especially if the wind picks up, or the weather decides to shower on and off. Choose somewhere that is easily accessible as you will be carrying picnic food, accessories, and potentially some bulkier items to sit on etc. Also remember to make sure you have permission to be picnicking in the area you choose, so it is either a public space or you have a membership or have asked the landowners for approval.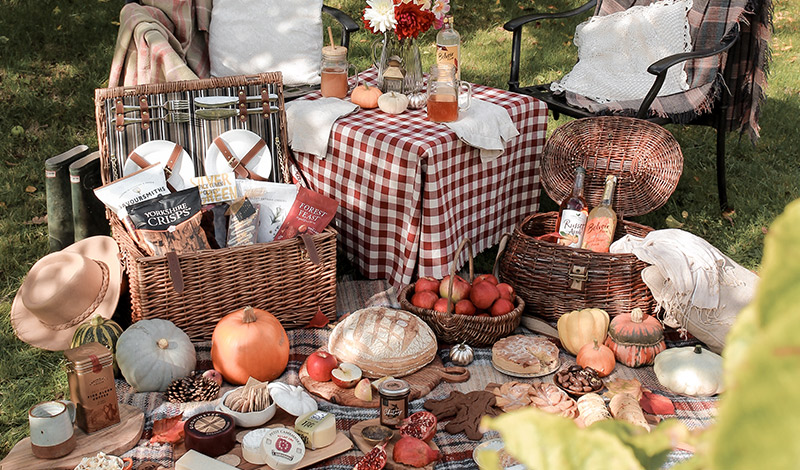 Set The Scene
The ground is often damp with morning dew or previous wet weather in autumn, so it is a good idea to take a blanket with waterproof backing. You can then always layer up blankets to make the area cosier, think about taking a few cushions to sit on so that you aren't having to sit directly on the ground. Alternatively, tree stumps or logs can make great seats!
If you have older people attending your picnic, you may want to take chairs to the area or choose to go somewhere that have benches and tables ready to use.
If you are looking to make your picnic a real autumn event where friends and family can gather, you may want to add some seasonal decorations, to give it an extra special look. Think about adding some decorative pumpkins and squashes, and autumnal flowers. Our local florist Bright Blooms often does small seasonal posies for a really good price, that make it much more cost effective then a big bunch of flowers. So it might be a nice idea to check out your local flower shop to see what they have on offer. Flowers are a really easy way to dress your picnic area, without much expense. If you don't want to transport flowers with you, you may even find some wild flowers you can pick.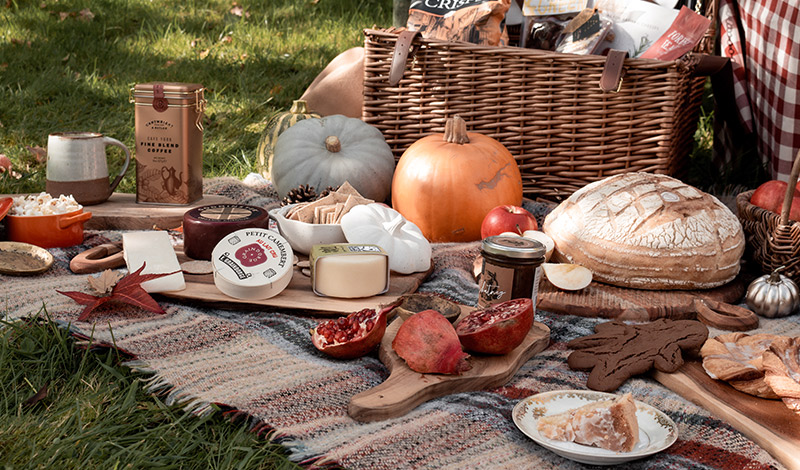 We used a range of hampers and baskets in our setting, which not only worked well in transporting all the delicious food and drink but also has the bonus of really setting the scene for a gorgeous autumnal alfresco dining experience. We use the delightful Poacher's Basket, which is an oval-shaped willow lidded basket with a strap. The Sweet Treats basket, which features a round willow basket with a handle, and our Fitted Picnic Basket, which is a fully fitted 4 person picnic basket.
We certainly believe you can never have too many wooden cutting boards when on a picnic, they are so versatile! Not only will they help give you a sturdy serving area for food, but you can also use them to place hot drinks on – plus they also look great and in-keeping with the natural setting.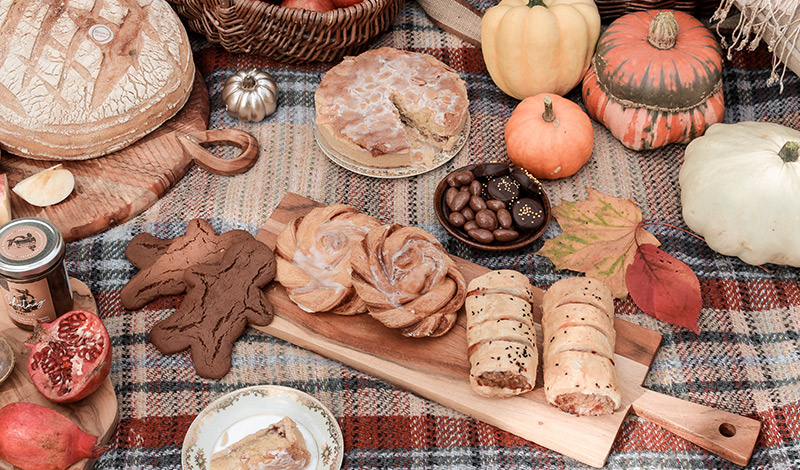 Autumn Picnic Ideas – Props
Blankets and Throws
Cushions
Hampers and Baskets
Chopping Boards
Pumpkins
Gourds
Squashes
Pine cones
Lanterns and tea lights
Mason Jars
Fresh flowers and Leaves
Napkins
Plates
Cutlery
Autumnal foods
Now for the real reason, we all gather around a picnic blanket – the food. You can be a little more playful with autumnal food, and the season lends itself to warm, filling bites, rather than salads and cold sandwiches, which you may pack for summer. We stopped off at our local bakery Reeves the Bakers to pack some seasonal fair, such as a sourdough loaf, warm sausage rolls, and pies. It's a great way to add some hardy food to your picnic, whilst saving you some prep time and supporting local businesses.
With autumn's mild temperatures, cheese will sit happily outside, unlike in summer. Adding a cheese board to your picnic, is a great way to encourage grazing and give your gathering a more relaxed and informal feel. Don't forget to add some crackers, chutneys or preserves and of course a cheese knife and cutting board. We chose a selection of cheeses, Godminster cheddar, camembert, Quicke's Goats' Cheese, Caws Cenarth Waxed Caeffili.
Of course, there are lots of seasonal fruits to pack into your hamper, from pears, blackberries, pomegranates, and apples… we were lucky enough to be able to pick apples fresh from the tree at the Orchard. If this is something that sounds appealing, why not do some research to see if you have a local community orchard nearby?
No picnic is complete without some snacks to share, crisps, chocolate raisins, nuts, popcorn are all great nibbles and easy to pack, as they weigh little, so are easy to carry.
Dessert Area
If you really want to go that extra mile, and while-away the afternoon in the autumnal sunshine, why not think about having a dessert area? Items like pastries, tarts, and fruit cakes make delicious desserts, and can be made from seasonal produce – your local bakery will also have some tasty options. We chose a rustic Bakewell Tart, Cinnamon Swirls, and Gingerbread men!
Drink Up!
Sitting out in the autumnal weather, even if sunny, can be quite chilly after a while, especially once the sun starts to dip in the afternoon. So, make sure you take some warm drinks to keep yourself toasty. The ideal way is to take some flasks of pre-made drinks or at least hot water, so you can make your own at the picnic – coffee, tea, hot chocolate, or warm apple cider are all perfect!
Of course, you'll need to stock up on some cold drinks, so why not treat yourself to some tasty soft mixed punch or apple juice?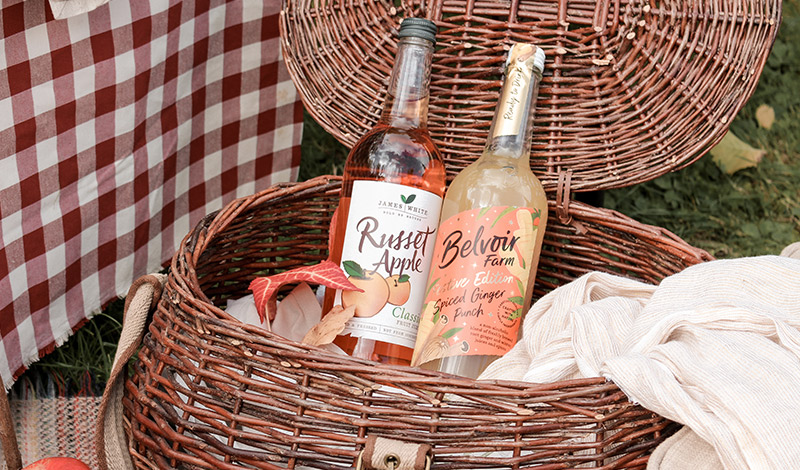 Autumn Hampers
Our pick of hampers for the perfect autumnal picnic come with stunning wicker baskets, and a delightful range of seasonal food, which make a great base for your picnic.
Alternatively the Fitted Basket comes without food, but instead has plates, cutlery and glasses ready for your perfect picnic.