Why not serve up the perfect summer get-together and host a Wimbledon-themed picnic gathering to watch the big matches at home with friends and family. We have put together some tennis picnic ideas for you to recreate Murray Mound at home, or if the weather doesn't hold, you can simply set up centre court inside.
Recreate a Murray Mound picnic at home.
Since the 90s people have gathered outside of Court 1 for picnics on Wimbledon's Aorangi Terrace (also known as Murray Mound or Henman Hill) to watch the giant TV screens. It is a great way to be surrounded by the atmosphere of Wimbledon when you don't have prime centre court tickets… but what is stopping you from re-creating this tradition at home with friends and family?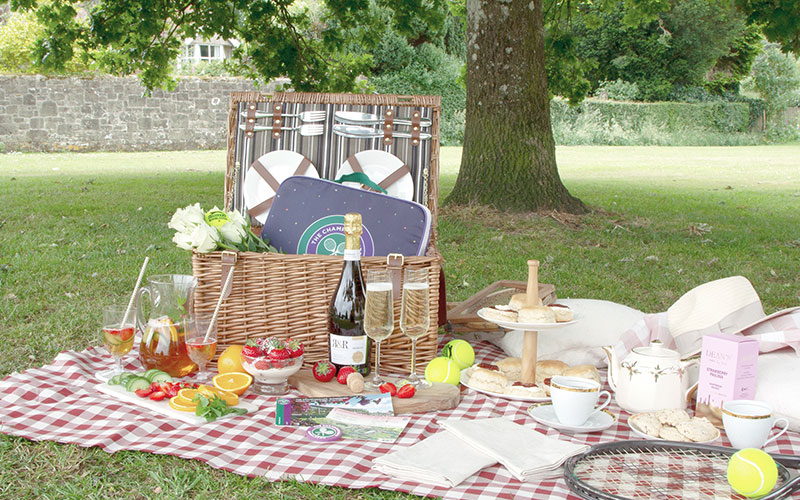 Tennis-Themed Picnic Party
The Wimbledon tournament is all about tradition, so keep it simple with, typically British food, and vintage-inspired accessories. Pick a colour theme to work to, perhaps traditional Wimbledon colours of purple, green, and white, or red, white, and blue for a truly British feel.
Tennis Themed Décor
A gingham picnic rug or tablecloth works well as a base for your picnic, and you can layer it up with different fabrics and cushions, depending on how many guests you have.
Flowers make any table setting look better and are a quick and easy way to decorate. Add some floral touches of Wimbledon, by using some of the iconic flowers they use to decorate the grounds, such as roses or hydrangeas.
Vintage tennis rackets, books, or memorabilia make amazing props and décor items. You can pick them up cheaply in charity shops, or online marketplaces. If you're lucky enough, a relative may have some in their attic, it's always worth asking around.
An array of wooden cutting boards or marble slates work well when styling a picnic. Not only do they help to keep drinks and food upright on grass, but they create sections for different food areas or boards for people to help themselves from.
What you'll need:
Gingham Picnic Blanket
Cushions
Hamper or wicker basket
Flowers
Wooden cutting boards or slates
Tennis Balls
Tennis Racket
Vintage Tickets or Wimbledon-themed menu cards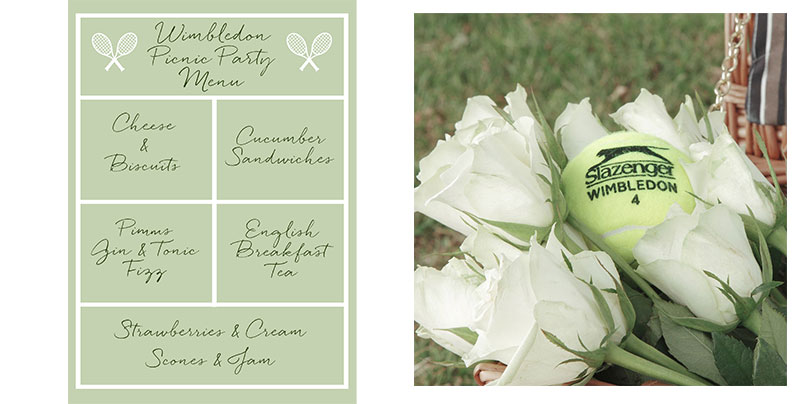 Wimbledon themed drinks
It wouldn't be a Wimbledon party without Pimm's! Make jugs of pre-made Pimm's cocktail, so that guests can help themselves, along with an area where they can add all the fruity sides. For the perfect Pimm's follow the recipe below:
Pimm's No.1 200ml
Lemonade 200 ml
Orange wheels
Cucumber semi-circles
Sliced Strawberries
Springs of mint to garnish
You can always replace the Pimm's with apple juice, and then little ones or non-drinkers can join in with some Wimbledon mocktails.
Why not toast the winners with some bubbly. Add some bottles in an ice bucket to make the perfect picnic party accessory, and then pop them open once you are ready to celebrate.
To complete your British celebration, don't forget the tea! Once the main nibbles have been eaten it's only proper to offer some English Breakfast tea to be enjoyed.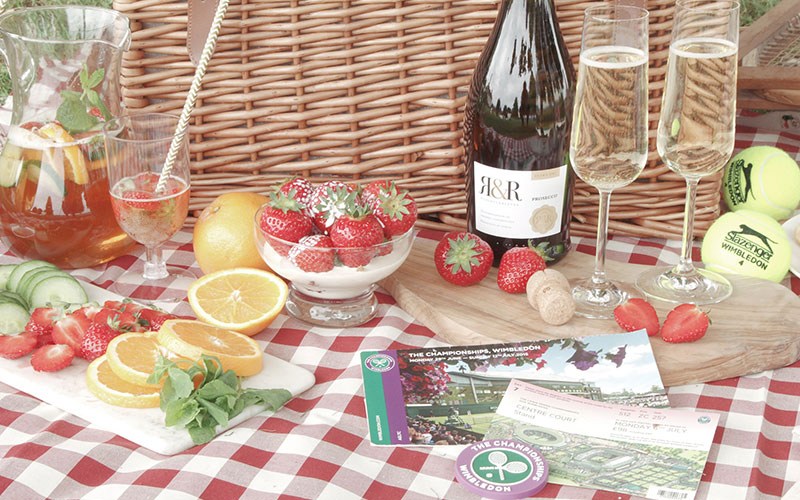 Wimbledon Themed Food
The most iconic food to have at Wimbledon is of course strawberries and cream. So why not elaborate on this and create an 'afternoon tea' picnic. Perfect for whiling away a sunny afternoon in front of the tennis. Lashing of strawberries, scones, jam, and cream. You could even make mini sandwiches and light bites, for a lunchtime picnic.
The Perfect Picnic Hamper
For a quintessentially British picnic a traditional wicker hamper is a must, our Fitted Picnic Basket comes complete with everything you need for up to four people. Including plates, plastic glasses, metal knives, and forks, plus a large strap for easy carrying.
If you would rather have someone pack the hamper full of delicious food and drink for you, then we also have a selection of hampers, perfect for picnics and full of wonderful nibbles and refreshments.
Game Set and Match
If you have little ones attending your tennis picnic party, why not set up a tennis ball scavenger hunt in the garden. Hide tennis balls around the garden and whoever finds the most balls is the winner. You could even carefully cut open the balls and add a treat to each.
Wimbledon Dress Code
It only seems right that guests should come dressed all in white for a Wimbledon-themed picnic, this will help people get into the spirit and tradition of the day. Or perhaps they could come as their favourite tennis player, an iconic Wimbledon ball boy/girl, or an official steward in a straw hat.
These tennis party ideas don't have to be saved just for Wimbledon they can be recreated for any grand slam event, such as the US open, or for a tennis birthday party theme.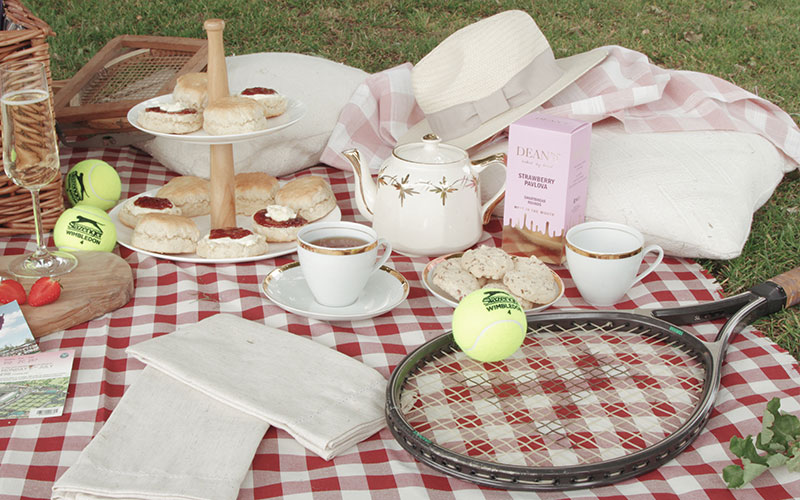 7 Traditions of the Wimbledon Tennis Championships
Wimbledon is the oldest tennis tournament in the world, held at the the All England Lawn Tennis and Croquet Club. Due to its rich English heritage, the tournament has adopted many traditions, linked to British history and summertime.
1. Strawberries and Cream
A quintessential British snack, strawberries and cream have become synonymous with Wimbledon Tennis, since the very first tournament 145 years ago. A seasonal fruit, which would only have been available in the summer months, was the fashionable thing to eat in the 19th century, and that coincided beautifully with the start of Wimbledon.
At Wimbledon, nearly 9,000 servings of strawberries are prepared per day, picked the day before from one farm in Kent, and arrive at Wimbledon at 5:30 am on the day of play, being inspected to ensure top quality.
FACT: Each year at Wimbledon, 28,000 kilos of strawberries are eaten along with 7,000 litres of cream.
2. Wearing White
Wimbledon has the strictest dress code of all major Grand Slam tennis events. All players must wear head-to-toe white, and the All England Lawn Tennis Club takes this rule extremely seriously. This rule has been in practice since the tournament's beginning in 1877.
In 2014 the club issued a 10-part decree, in the competitor's guide, which all players must follow.
Back in the Victorian era, sweating was considered incredibly improper, so white outfits were introduced, in order to hide perspiration. This dress code has been upheld, and even today the All-England Lawn Tennis Club, uphold the rule very strictly.
"White does not include off-white or cream"
"Any coloured undergarments that either are or can be visible during play (including due to perspiration) are not allowed."
FACT: In 2013 Roger Federer was reprimanded for wearing shoes with orange soles and had to cease wearing them.
3. Pimm's O'clock
There is no other drink more synonymous with the Wimbledon Championships than a glass of refreshing Pimm's. The delicious gin-based fruit cup is the perfect match for the tournament, invented in the 1840s, originally to aid digestion, the drink became extremely popular with the Victorian elite, especially in the summer. The drink is served with a cocktail of summer fruits and herbs, such as strawberries, orange, cucumber and mint.
FACT: The first Pimm's bar was opened at the Wimbledon Tournament in 1971.
4. Centre Court
Although Wimbledon is steeped in tradition, it is also sometimes ahead of the times. In 2009 It was the first Grand Slam venue to put a retractable roof over the venue. This was to help accommodate play through British weather.
FACT: Built in 1922, it is the oldest main court of any Grand Slam event, it even survived the blitz, when in World War II five bombs hit the ground, destroying 1,200 seats.
5. The Royal Family
The Queen is patron of the All England Lawn Tennis Club, and until recent years has regularly attended the event. When The Queen is present, all-male players must bow and female players curtsy before The Queen when entering and leaving the court.
The British Royal box holds 74 seats and is reserved for members of the British Royal family and their guests. It is tradition for a member of the royal family to present the awards after the final events.
FACT: King George VI (The father of Queen Elizabeth II) played in the 1926 Wimbledon men's doubles tournament when he was the Duke of York. He lost in the first round.
6. Grass Roots
Wimbledon is the only Grand Slam event that is played on real grass. All 4 major Grand Slam events were played on grass at one time, but the difficulty in maintaining grass courts has meant many prestigious tennis venues have opted for hard courts. With Wimbledon remaining the only Grand Slam event played on real grass.
Grass in fact remains the fastest surface to play tennis on and one that benefits aggressive play, such as volleying. The surface does change dramatically over the 2-week event, with it being smooth and slippery at the start and more worn by later rounds.
FACT: The grass at Wimbledon is cut to a height of 8 mm and it is 100% Perennial Ryegrass.
7. Flowers
Roses have a historic association with Wimbledon, mainly due to the Venus Rosewater Dish that is awarded to the Ladies' Singles Champions. Roses can be seen dotted around the grounds, decorating arbours and arches.
Hydrangeas are a mainstay at Wimbledon, with huge blooms seen around the grounds, with hues of purple, blue and white. Petunias are also synonymous with the tournament, used in fanfares, hanging baskets and through the show courts.
FACT: There are over 8,000 Hydrangeas sprinkled around the grounds of Wimbledon.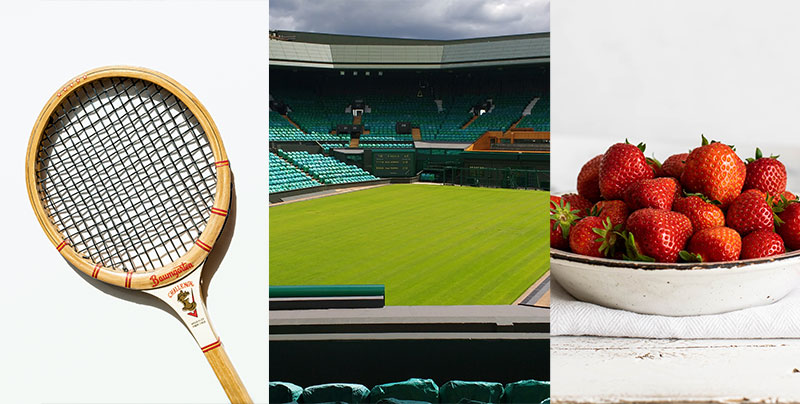 So, whether you are watching Wimbledon in SW19 or planning a picnic and festivities in your own home and garden, you can find some perfect Virginia Hayward hampers to help you celebrate in traditional Wimbledon style!