The start of a New Year brings new prospects, new challenges and of course, new hampers! This year, as always, our all year round offering of hampers has been carefully tailored to suit every occasion, so you can thoughtfully select the perfect gift for your lucky recipient. Whether it's Mother's Day, Valentine's Day, a special Birthday or just a gift to say hello, we have a hamper to delight every type of recipient!
Love is in the air and as February the 14th rolls around again, now is the time to order your special someone a gift they'll truly adore. Whether they're a big cheese and wine fan, a chocolate lover or are partial to a gin, we've got something to suit every individual taste and style.
Classic Valentine's Gifts
Our expansive range includes not only food gifts, but decadent drinks hamper as well, that are guaranteed to delight your loved one this Valentine's Day.
Starting with our classic Prosecco & Chocolates, which includes a divine box of Milk Chocolate Prosecco and Raspberry Flavour Truffles as well as the Robert and Reeves Prosecco, beautifully presented in a gold gift bag, this scrumptious gift is the perfect way to say, 'I love you!'.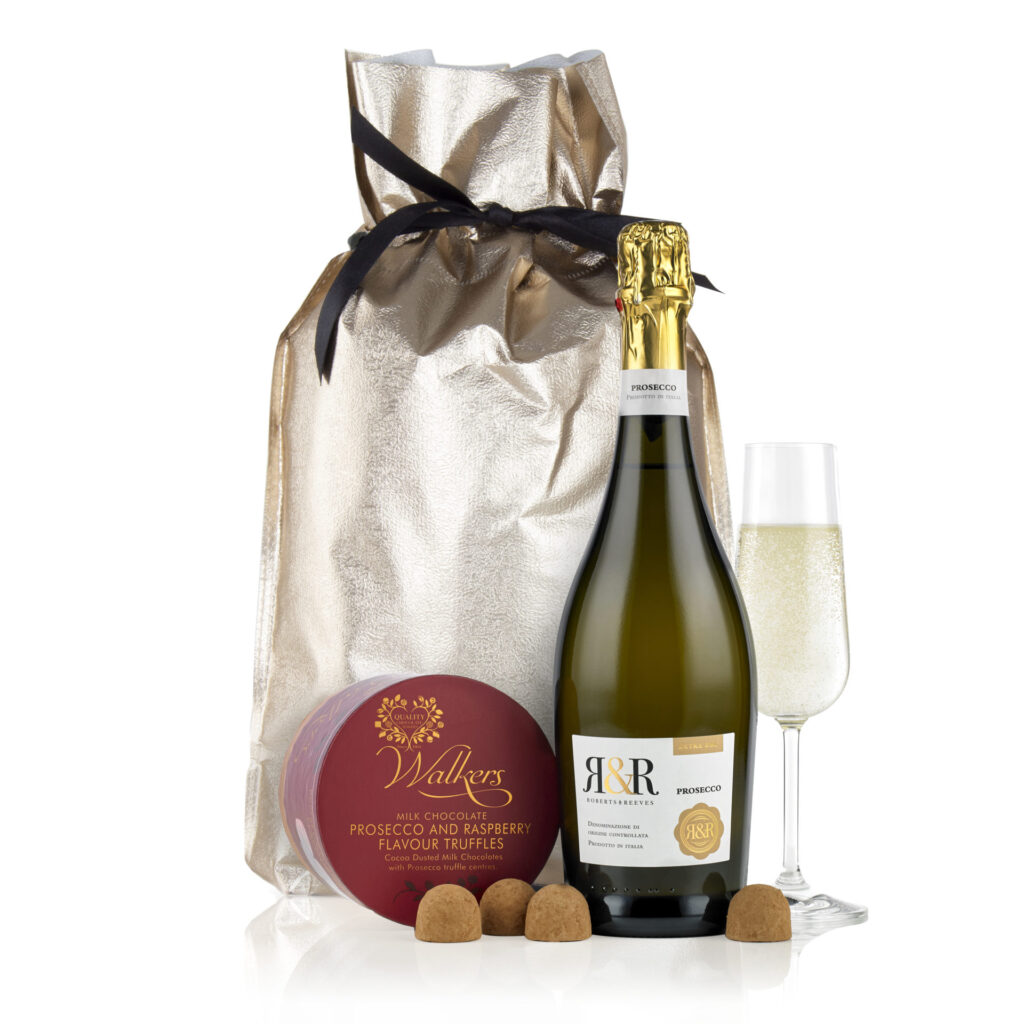 We also have a luxurious range of champagne hampers including the Champagne & Chocolates Gift which contains a bottle of Baron De Marck Brut Champagne and a scrumptious chocolate selection from Linden Lady! However, if your recipient is a champagne lover and you really want to treat them then why not choose our Bollinger & Chocolates instead? A sophisticated bottle of Bollinger champagne is joined the finest box of Holdsworth Handmade Chocolates, a fail-safe option for Valentine's Day this year.
Our star of the show! If you're looking for a special way to show someone you care this Valentine's Day, then our Love You Hamper is a winner! Filled with a variety of sweet treats to impress your sweetheart, this delicious gift contains everything from the classic Haribo Heart Throbs, Joypots 'Love You' Milk Chocolate Bar, 6 Decorated Chocolates from Linden Lady, as well as the Guppy's Chocolates Decorated While Chocolate Lolly and Joe & Seph's White Chocolate & Strawberry Popcorn. Finishing this heart themed gift off is the two bottles of Robert & Reeves Prosecco, which can be enjoyed together, chilled whilst you tuck into the delicious contents in this adorable gift.
Sometimes loved ones can be hard to buy for, but if you're looking to impress with something you know they love then why not treat them to one of our trendy beer gifts? Our classic Beer Lovers Case is something a little different for the beer and ale fan in your life! We've carefully chosen six handmade beers and ales from the Wold Top range which we are sure your lucky recipient will be delighted to receive!
If you're after something with a bit more variety then why not have a look at our Beer O'Clock gift, again, containing a duo of Wold Top beers and ales but this time joining them are a mixture of sweet and savoury snacks as well! From the Cambrook Brilliantly Caramelised Cashew Nuts, Dean's Extra Mature Cheddar Cheese Bites and Salt and Vinegar Ten Acre Crisps to the sweet delights such as the Clarence & Bean Milk Chocolate Honeycomb, GNAW Peanut Butter Milk Chocolate Bar and Moorish Popcorn Kitchen Sweet and Salt popcorn, this gift will be the perfect treat for your loved one so they can have a quite evening in and if you're lucky, they might even share!
If your special someone prefers a cider to beer, then why not gift them our elegant Cider & Cheese Gift? A beautiful reusable wire mesh storage basket is filled with a range of cheese from Barber's and Ford Farm as well as a jar of Otter Vale Apricot Chutney, some Peter's Yard Sourdough Crackers, and the Spicy Chilli Cheese Straws from West Country Legends. Topping this fabulous gift off are the two bottles of Fowey Valley Castledore Medium Dry Cider- an ideal gift for those that love their cider and cheese!
You can't go wrong with a chocolate hamper! No matter who you're buying for this Valentines' Day, we're sure that they will be delighted to receive one of our indulgent sweet gifts. From the Love Chocolate Hamper to the Chocolate Indulgence, you'll be spoilt for choice! All containing a delicious range of artisan treats and designed with chocolate lovers in mind, these scrumptious gifts will be sure to win someone over this Valentine's Day…!
Sweep someone off their feet this Valentine's Day…
Whether you choose to add a gift message and let them know who its from or send as a secret admirer and keep it a surprise, we can guarantee that by receiving a Virginia Hayward Hamper, your Valentine will be more than impressed!