On 6th May, King Charles III will take his place on the throne to be crowned King in his Coronation, a day that will be forever marked in history, one full of celebration and pageantry. The official ceremony is a religious event, that has remained the same for over a thousand years, 900 of which have been at Westminster Abbey in London. The United Kingdom will be coming together in jubilation over this special historical day. With neighbourhood knees-ups planned, streets being closed and lined with trestle tables, plus bunting decorating highstreets up and down the nation.
To help you mark this momentous day in true British style, we have put together a guide to creating a Coronation garden party fit for a King!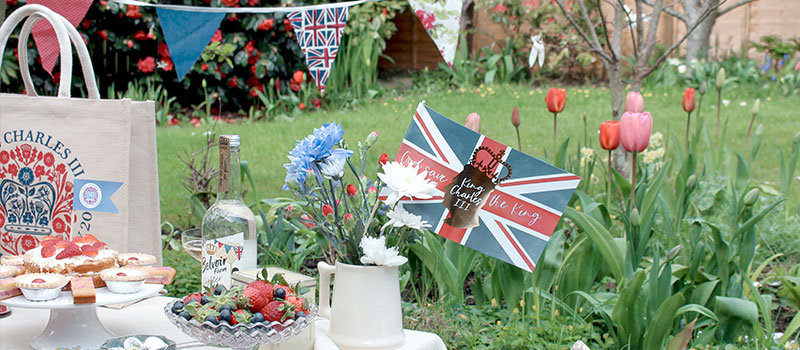 A Coronation Garden Party Fit for a King
What better way to celebrate the Coronation, than by having a spring garden party or traditional picnic with your nearest and dearest?
Coronation Garden Party or Picnic
Once you have sorted your guest list, you'll want to start thinking about your setting. You will want to make sure your table area is big enough to fit all your guests around, especially if you have some older people coming, they will want to be able to sit down on chairs or comfortable benches. You may decide to have a range of different seating, such as patio chairs, relaxed garden chairs, benches, and then perhaps some picnic blankets and cushions, which younger guests will be able to sit on and eat picnic style.
Make sure you have enough tables for all your guests to fit around, unless you are thinking of serving food in a buffet style so that people can pick and choose what they like and then sit down elsewhere to eat. Another alternative is to use a pallet as a table on the grass and pop a tablecloth over it, so it doesn't cause splinters. Add a range of cushions and seat pads around the edges. This would be a great solution if you have lots of youngsters or children coming over to celebrate the coronation.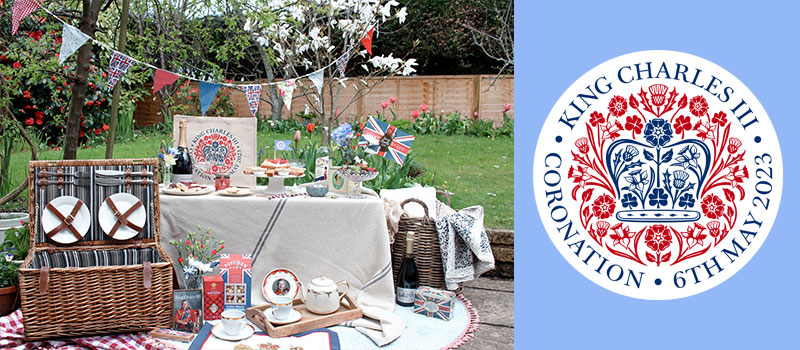 For our Coronation Garden garden party set up we used a low garden table to add all the food to, plus extra baskets for blankets, picnic plates, glasses, a wicker wine caddy is also a great place for holding bottles outside.
Coronation Party Décor
Once you have sorted your table and chairs arrangement, you'll want to think about how you will decorate the space to make it the perfect area to celebrate the crowing of our new King.
With the coronation in May, it is the perfect time of year for a garden party (weather permitting). There will be so many flowers and greenery out, which will make a wonderful, natural setting. You may be lucky enough to have some decorations left over from the Jubilee celebrations, such as bunting and union jack flags. All of these will work perfectly for a Coronation party. 
Drape bunting from tree to tree, along fences, or tack to the outside of your home, this has a relatively low cost, but looks really effective, and nostalgic. If you are planning on celebrating into the early evening you could even weave outside fairy lights between your bunting to create a beautiful evening look.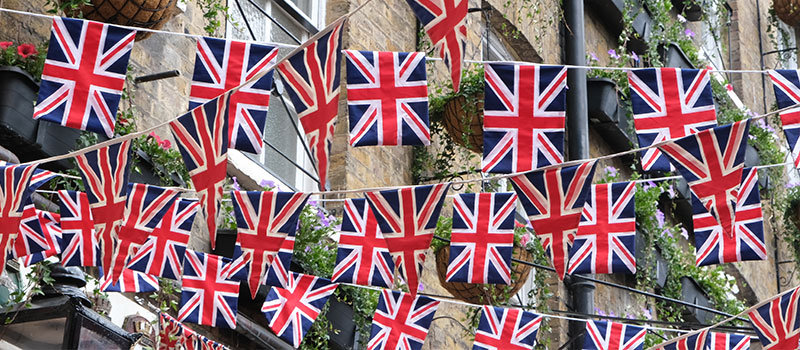 There are many different accessories you can add to make it that much more patriotic in an array of red, white and blue, such as napkins, straws, vintage china or accessories from Queen Elizabeth's coronation. Add hand-held Union Jack flags to the setting, which children will love to wave around whilst watching the parades on Television. Jam jars or jugs of flowers work brilliantly as simple decor pieces, you can pick up an array of red, white and blue flowers from local florists or supermarkets. Or perhaps you can pick from your own garden or countryside hedgerows.
Red Flowers: Roses, Carnations, Salvia, Geranium, Poppies.
Blue Flowers: Irises, Forget-Me-Knots, Lavender, Buddleia, Hydrangea, or Cornflowers.
White Flowers: Roses, Cow Parsley, Cosmos, Anemone, Feverfew.
Coronation Party Food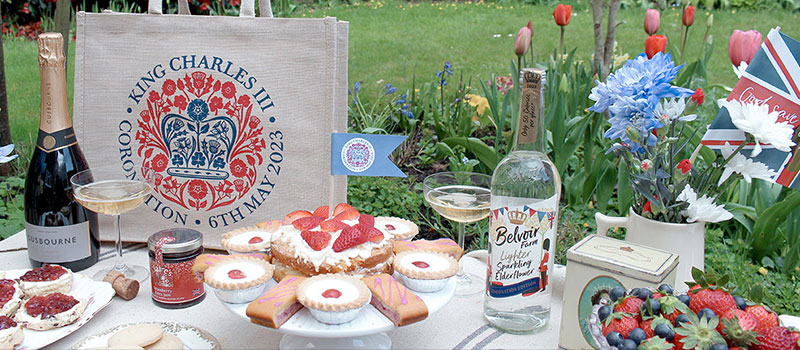 Create the ultimate spread for your Coronation garden party with afternoon tea style sandwiches, a selection of sweet cakes and savoury snacks. Coronation chicken was a dish first served at Her Majesty Queen Elizabeth II's Coronation banquet in 1953, which would be a lovely nod to Royal family history (and is great in sandwiches). Add more British quintessential fillings such as cucumber with cream cheese, ham and mustard, egg and cress or British cheddar and chutney. Don't forget to cut off the crusts, and add little Union Jack toothpick flags for a charming touch to your spread.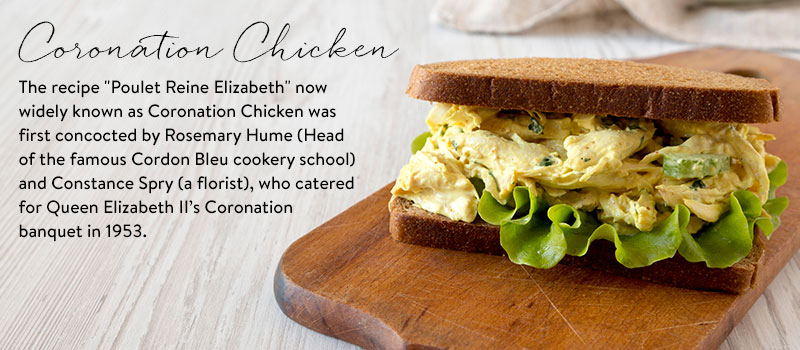 It wouldn't be a British tea party, with out an array of sweet cakes and desserts. If you want to go traditional, we suggest Victoria Sponge Cake, Sultana Scones with lashings of Clotted Cream and Jam (it's up to you if you serve Devon or Cornish style!) Cherry Bakewell's, and finger cakes. For full nostalgia, serve up a trifle, there has been an official 2023 coronation recipe launched, which is Adam Handling's Strawberry and Ginger Trifle. You can find out more about the 3 official Coronation recipes here.
10 coronation food ideas
If you have specific dietary requirements, such as being vegetarian, vegan, or gluten-free, many of the below can be substituted as required for these diets.
Coronation Chicken
Cucumber & Cream Cheese Sandwiches (crusts off, thin rectangles)
Cheddar and Chutney Sandwiches (crusts off, thin rectangles)
Sausage Rolls
Scotch Eggs
Pork Pies
Victoria Sponge Cake
Scones with clotted cream and jam
Cherry Bakewell's
British Trifle
Coronation Drink Ideas
A garden party needs drinks, make sure you provide an array of different types of beverages for all ages and requirements for guests, and of course ask people to bring their own favourites, to add to the mix.
You cannot have a quintessential party, without tea, we suggest provided English Breakfast Tea and Earl Grey, if guests would like anything else, they can bring their favourites, such as chamomile, green tea or peppermint. Great British drinks include Ginger Beer (a favourite of the Famous Five), Elderflower Presse, or Lemonade. It's always good to provide something like squash for younger guests too.
Now on to the celebratory drinks, Pimm's is a must, with all the fruit and lemonade added to jugs, so guests can help themselves. Instead of Champagne or Prosecco, why not think about providing some English Sparkling Wine to raise a toast? You may be lucky enough to have a local vineyard close by! Other Great British alcoholic drinks include; cider, stout, Guinness, and of course Gin and Tonic.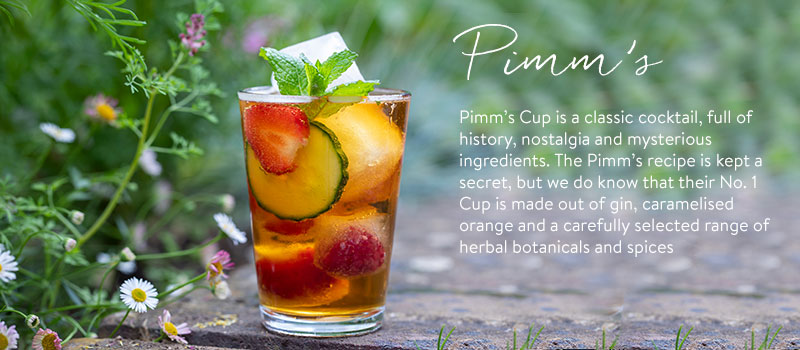 10 coronation drink ideas
Ginger Beer
Orange Squash
Lemonade
Elderflower Presse
English Breakfast Tea
Earl Grey
Pimm's
Gin & Tonic
Cider
English Sparkling Wine
Coronation Weekend Plans
Time to decide when to host your garden party. The Coronation will be celebrated over a 3-day Bank Holiday weekend, with the official Coronation ceremony, parade and balcony wave starting festivities on Saturday. So you may choose to have your garden party whilst this is happening, and stream it all live on the TV for your guests to enjoy whilst scoffing on a scone.
On Sunday, Buckingham Palace is encouraging people to hold street parties, picnics, and garden parties, in celebration of the new King and for communities to get together. So obviously this is a great time to host your own event. There will also be a concert held at Windsor Castle, which will be televised in the evening.
On Monday, people are invited to take part in volunteering projects in their local community, as part of the Big Help Out.
Coronation and Crown Jewel History
All the facts about the history and ceremony of the Coronation, which you can delight your guests with!
The Coronation always occurs a few months after the sovereign's accession to the throne, although Charles was proclaimed King upon the late Queen Elizabeth's passing on 8th September 2022. There is always a period of mourning and preparation ahead of the coronation ceremony. The coronation formalises the monarch's role as the head of the Church of England and marks the transfer of title and powers.
During the ceremony the Sovereign takes an oath, they are then anointed, blessed, and consecrated by the Archbishop of Canterbury. At this time the Sovereign is seated in King Edward's chair, which was made in 1300, and used in every coronation since 1626.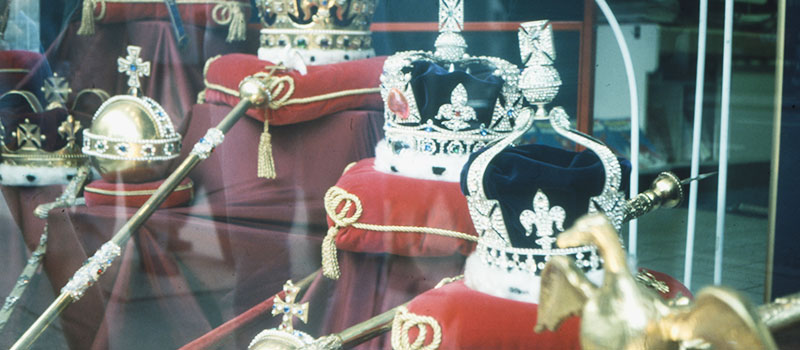 After The King will receive the orb and sceptres, and the Archbishop will places the St Edward's Crown on the Sovereign's head. The crown has been placed on the head of every British monarch since 1661, originally created for Charles II.
Weighing nearly 5lb and measuring 30 centimeters in height, it displays two arches with an orb and a cross on the top – a symbol of the Christian faith. It is made from a solid gold frame set with 444 gems – including rubies, amethysts, and sapphires – the crown also has a velvet cap with an ermine band.
St Edwards's Crown is only ever worn for the moment of coronation, King Charles III will wear the Imperial State Crown when he departs the Abbey. This is a much more modern and recognisable crown. One which is worn yearly to the state opening of Parliament and made in 1937. The crown includes the Black Prince Ruby which has been part of the Royal collection since the 14th century.The crowns left the Tower of London, where all the Crown Jewels are kept and protected in December 2022, ready to be resized to fit King Charles II.
Hampers Fit for a King
We have a range of beautiful hampers and gift, which will make a great centrepeice of your garden party and picnic. Alternately if you cannot be with loved ones for the Coronation, you can send them a wonderful hamper to help them celebrate.