Have yourself a merry little Christmas, with some Christmas cocktail recipes that will have you feeling super seasonal. We have compiled a list of our favourite festive drinks, for every sort of occasion in the lead-up to Christmas. Whether you are looking for a winter warmer or a Christmas party punch, 'tis the season to be jolly and we have the perfect cocktail inspiration.
A Christmas Classic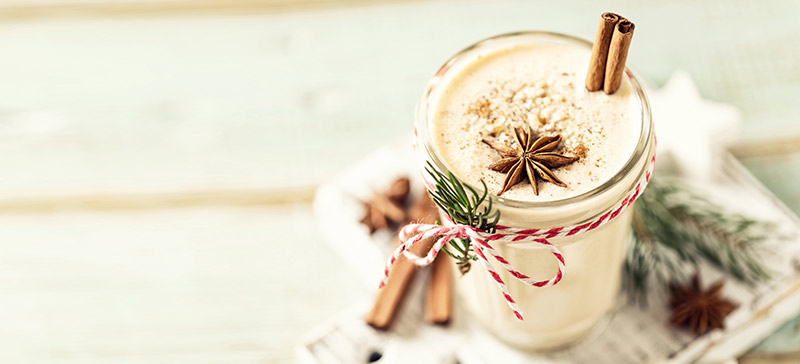 Egg Nog
A rich and creamy beverage, popular in the United States, it's often the drink of choice in many festive movies. It is a traditional Christmas drink, which conjures up feelings of nostalgia.
But what is Eggnog? It is thought that the word Nog has origins in the word Noggin, a type of cup or perhaps Grog, which was historically a word for watered-down rum. At its core, eggnog is a combination of milk, cream, sugar, eggs, and rum. Although it can also be served alcohol-free for the whole family to enjoy.
Eggnog Ingredients (serves 4).
12 large eggs
10 oz of golden caster sugar
2 pints of whole milk
800 ml of double cream
4 measures of brandy or dark rum, optional
2 tbsp. vanilla extract
1 tsp. ground nutmeg
Top off with a garnish of star anise and a cinnamon stick
Eggnog Recipe:
Start by beating the egg yolks with 2/3 caster sugar, until light and fluffy. Add the vanilla milk, and cream, and stir well. In a separate bowl, whisk the egg whites until foamy, then add the remaining sugar, and stir in the rum gently. Fold in the egg white rum mixture to the original mixture until it is all combined, you are trying to create a custard consistency.
Sprinkle nutmeg and top off with a garnish of star anise and a cinnamon stick.
Eggnog Fact: All the Christmas movies below have an Eggnog scene! National Lampoon's Christmas Vacation, The Santa Clause, Krampus, Home Alone, Trading Places, Jingle All the Way, While You Were Sleeping. Next time you're watching a Christmas film keep an eye out for a festive eggnog scene!
When the weather outside is frightful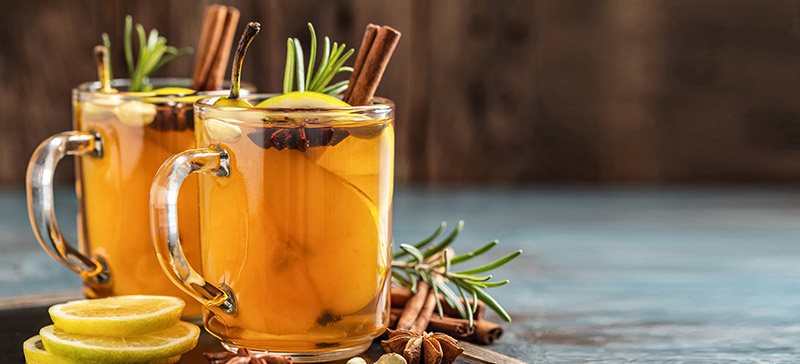 HOT TODDY
The perfect winter warmer, a hot toddy is a combination of whiskey, lemon, cinnamon, and cloves. A light, hydrating drink it is also often said a Hot Toddy can help relieve symptoms of the common cold, making it a wonderful choice for the festive season. To make the perfect Hot Toddy, simply tinker with the amount of lemon juice and honey, depending on whether you want it more sour or sweet.
Hot Toddy Ingredients
50ml whisky
3 tsp honey
100 ml hot water
1 cinnamon stick
1 lemon, half juiced, and half sliced
Hot Toddy Recipe
Put the whiskey, honey and lemon juice, and hot water into a glass and stir with the cinnamon stick until the honey has dissolved. Garnish with some lemon. You can also add slices of pear or apple to add a sweeter, seasonal taste.
Hot Toddy Fact: The Toddy is often used as a soother for the common cold (whiskey free for those under 18). It may not be an old tale that a toddy can help cure a cold. The steam from the hot water can aid the clearing of congestion, and lemon acts as a boost of vitamin C for the immune system, whilst soothing a sore throat. Honey is often used to help reduce some cough symptoms (over 1 year old only), as it has a demulcent effect, which means it can relieve irritation.
A Holly Jolly Christmas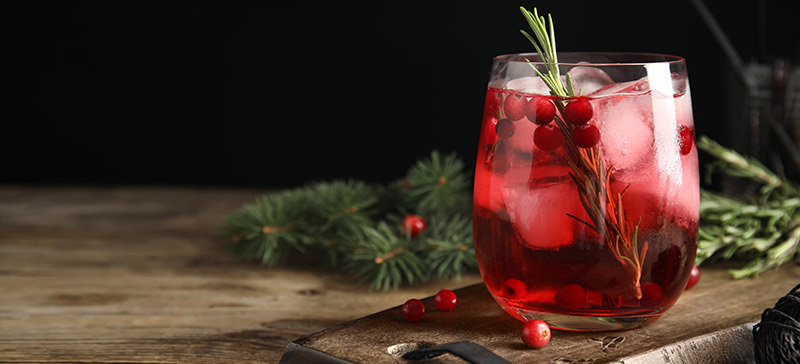 Cranberry Punch
A punch is a great way to serve lots of people at a party, and this fizzy, fruity little number is full of festive cheer. This Christmas Punch is light, refreshing, and not overly sweet, it is also easy to make into a mocktail, by taking out the gin and prosecco and replacing them with lemonade.
Cranberry Punch Ingredients (serves 8)
2-3 handfuls of fresh or frozen cranberries, plus more for serving
3 clementines, thinly sliced
1.5 cartons of cranberry juice cocktail
4 measures of gin
Half a carton of fresh orange juice
1 bottle of 75cl prosecco
Cranberry Punch Recipe
In a punch bowl combine cranberry juice, orange juice, and the gin. Top up with sparkling wine, and cranberries with lots of crushed ice. Replenish as needed.
Punch Fact: Punch was introduced from the Indian Subcontinent to England in the late 17th century. The word punch is considered a derivative from Hindi पाँच (pāñć), meaning "five". Because the drink is commonly made up of 5 ingredients: juice, sugar, alcohol, water, and spices.
When you need a nightcap (or dessert substitute)
Gingerbread Martini
It is that time of year where we want to cozy up by the fire in our pajamas while enjoying a delicious Christmas cocktail. When all you want is a quiet night in, and a a rest from socialising and schmoozing, a Gingerbread Martini makes the most wonderful dessert cocktail for a cosy night.
Gingerbread Martini Ingredients
1 oz caramel / chocolate sauce
1/4 tsp ground ginger
6 ice cubes
2 oz thickened cream
1 measure of vodka
1 tbsp Baileys Irish cream liqueur
Whipped cream, to serve
Extra caramel / chocolate sauce, to serve
Small gingerbread men, whole and crushed, to serve
Gingerbread Martini Recipe
Pop red and white sprinkles on a plate, then add a thin line of caramel or chocolate sauce to the rim of the glasses, and press the rim into the sprinkles, this decorates the glasses before making up the Christmas cocktail.
Mix the caramel sauce and ginger together in a small jug. In a cocktail shaker add the ice, thick cream, vodka, baileys, and caramel mixture. Close the lid and shake well.
Pour the cocktail into martini glasses, adding the whipped cream and a drizzle of extra caramel sauce, then lay a mini gingerbread man on top to decorate.
Martini Fact: The iconic shape of a martini glass, with its cone shape, is said to be this shape to ensure the different ingredients of the drink do not separate. The long stem helps to keep the drink cool, and the wide brim enhances the flavour, allowing aromas to be smelt more easily.
When Santa Claus is Coming to Town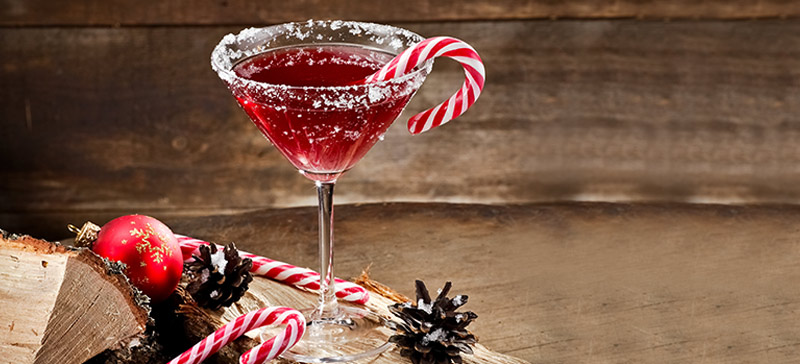 Candy Cane Cosmopolitan
A show-stopping party drink, this cocktail recipe takes the classic cosmopolitan and gives it a Christmas spin.
This cocktail is sweet and tangy, with a peppermint surprise. You can serve it in a large pitcher so everybody can pour into a cup, flute, or martini glass. 
To make it extra festive, rim the martini glasses with crushed candy canes to not only give it an extra nod to the north pole, but also to complement the flavor.
Candy Cane Cosmopolitan Ingredients
8 oz pomegranate juice
Juice of 1 lime
2 measures of vodka
1/4 tsp peppermint extract
8 ice cubes
8 mini candy canes
2 tsp chopped fresh mint
Candy Cane Cosmopolitan Recipe
A super easy process, which makes a delicious drink. Combine the vodka, pomegranate juice, lime juice, and ½ a cup of water in a cocktail shake with ice cubes. Pour into a martini glass and add a spring of fresh mint and a candy cane to hang on the edge of the glass.
Candy Cane Fact: The red stripe in candy only came about in the 20th century, for 200 years before this, it was just a single colour – white. The 26th of December traditionally known as Boxing Day in the UK is celebrated as National Candy Cane Day in the United States.
If you are planning a festive drinks soiree or want to stock up on some winter wines for Christmas, we have a stunning selection of Drinks Hampers, and Gifts to choose from.