When it comes to giving someone a perfect gift, you can't go wrong with a gift hamper full of lovely goodies, and if you make it yourself, with that personalised approach, it will be even more appreciated.
It's not difficult to make up your own personal gift basket or gift hamper and still have it looking as good as the professional ones you can buy in the shops; you just need a bit of time and patience.
Personalised gift hampers are a great way to say thank you so we've created this eight-step guide on how to make your gift hamper look great, so you can easily create your own gift basket for any occasion.
Eight steps for making a personalised gift hamper
1. Choose a theme
The most important step is to start with a theme for your gift hamper, as this will help you to decide on aspects like your colours, materials and most importantly, the container and contents.
If it's for a specific occasion like a baby shower or a wedding, you can look at pre made hampers for ideas and use that occasion to reflect your gift hamper theme.
However, if it's for a birthday, or to say thank you, there might not be a specific theme, so you need to think about the person and what they are interested in. Maybe consider their work or their hobbies and interests.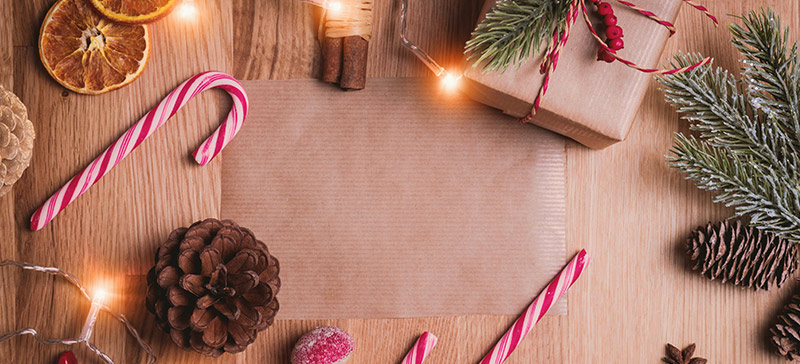 Here are some possible themes you could consider:
A food theme – look at their favourite foods and flavours and pick one, so it could be a gift hamper filled with meats and sauces for a barbecue, or an after-dinner gift hamper with a selection of cheeses and wines.
A garden theme – if gardening is their pride and joy then you could fill a gift hamper with gardening items like some new gloves, seeds for their favourite plants and decorative pots. You could even include some hand cream and tea bags for when they are finished outdoors.
A craft theme – does the person enjoy a particular arts or craft hobby? Why not fill the gift hamper with arts and crafts materials for them like paints, fabrics and other relevant items they will enjoy?
Hopefully these examples will help you to decide on your theme for the person you are creating the gift hamper for, but you can literally put anything into a gift hamper, there are no hard and fast rules for how your want your gift hamper to look and you don't have to have a theme if you don't want to.
2. Choose your container
Most people think of a hamper as a wicker basket of some description, but the truth is you can use any kind of container to create your own personalised gift hamper.
If you have a theme you might want to choose a container which reflects your theme, to really make a gift hamper look fantastic.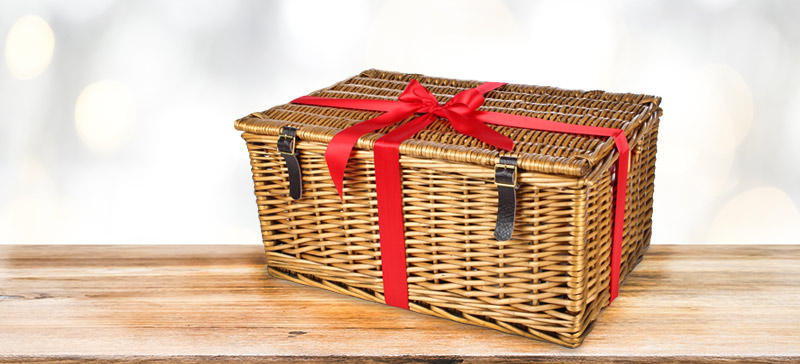 Here are some examples of alternative containers you could use to make your gift hamper look great:
a wooden box
a reusable bag
a decorated cardboard box
a plastic storage bin
a wooden tray
a wicker basket
a gift bag
a large bowl
a large plate
a large terracotta plant pot
a bucket
You can find most of these items relatively cheaply in craft shops or DIY shops or you might even have them lying around at home.
Another option is to go to a charity shop to see what you can find, to make your DIY gift basket as recycled and eco-friendly as possible.
3. Choose your contents
The next step, now that you have your theme and your container, is to start selecting your contents to include in your own gift hamper.
If you have a clear theme, then it does make choosing the contents a bit easier, helping you to narrow down to items which fit within that theme and that you know your friend would enjoy receiving.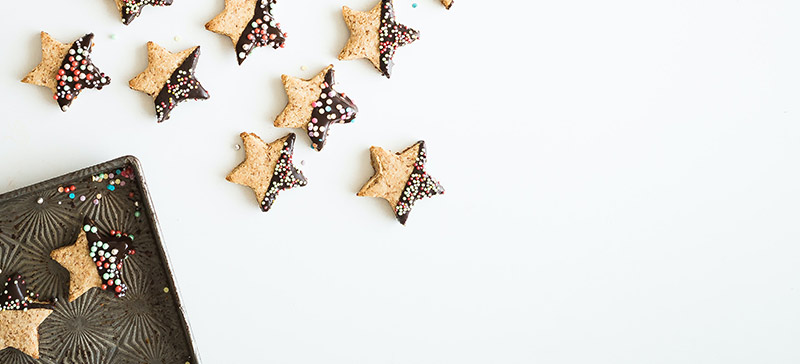 You can be as creative as you want when it comes to DIY gift hamper contents.
Traditional hampers might be full of fine foods, but you can include anything that comes to mind.
Just choose items which are personal and that whoever the DIY gift hamper is for, will really appreciate.
If the person already has lots of wine glasses at home for example, don't fill the gift hamper with fancy wine glasses as they don't need them. But you could choose personalised wine labels and an unusual corkscrew instead.
Choose things that they probably wouldn't buy themselves and you can always scour second-hand shops and charity shops if you are building your gift hamper on a budget as you might come across some real bargains.
When it comes to how to make a gift hamper stand out, you need to choose a variety of sizes, weights, colours and shapes for the content, so that when displayed, they will look really interesting and enjoyable.
4. Think about making items yourself
To make really personalised hamper baskets you could think about making some or even all of the contents yourself and this will also make it much more meaningful for the person receiving it, as well as more cost effective for you.
Think about things like a personal scrap book, photo album, or if you are good in the kitchen, you could create some tempting baked treats, or even jars of home-made jams and chutneys for them.
If you are good at crafts, you could make them a personalised decoration, or picture frame, or piece of jewellery to go into the hamper, it's really up to you but make sure whatever you make fits your theme and is something they will appreciate.
These type of home-made gift baskets make the perfect Christmas gifts. When it comes to making a Christmas hamper, the more personal you can make the Christmas gift arrangement inside, the better. There are many Christmas hamper ideas but it's one of the easiest themes to create.
You could also raid some of the craft shops or bargain shops to create a more frugal hamper, for example, buying cheap craft materials, pens and papers, to create a craft hamper, needn't cost the earth.
5. Choose your filler materials
When it comes to displaying your hamper, this is where your skills in making the gift basket look good come into action. It might take time and patience, but the end result will be totally worth it.
The first thing you need is to decide on your packaging materials. If you have a theme you will want to make sure whatever you choose matches your theme both in tone and colours as well.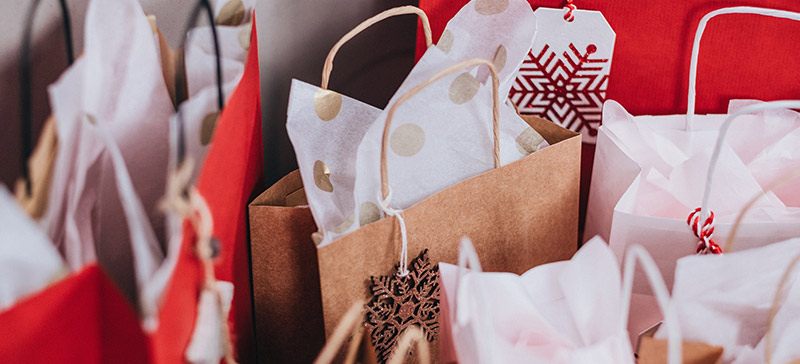 The reason you need packaging materials is to help secure your items within the hamper, stop them moving around and reduce the risk of them getting broken.
You can also create different layers for different size products to make it look good.
You can choose whatever you like as the filler material, but some common choices are shredded paper, tissue paper, packaging pellets or even straw.
As a tip, it's a good idea to create a soft layer at the bottom of the hamper container, to protect the items as you add them in.
For this you could put down a layer of scrunched up tissue paper and then to make it more presentable, you could cover that with a layer of soft fabric which then becomes the base for your hamper.
You could even choose a small towel or blanket for this, which then becomes an extra gift too.
6. Start arranging all the items
Now we got to the really fun part and almost the final step in making your hamper look really good.
Firstly, sort out your items so that you have the largest and heavier items in one pile, and then the items that your friend will like the most, in a second pile, and all the smaller items remaining in a third pile.
This will help when it comes to sorting out your hamper. You also need all your packaging material to hand as you will need it at this stage.
Start with the larger and heavier items, such as wine bottles, first as these will need to be placed at the very back of your basket to give it stability and stop it from tipping over.
You can use sticky tape to stick them down to the container if you think they might fall over, and pack them in with the packing materials for added security.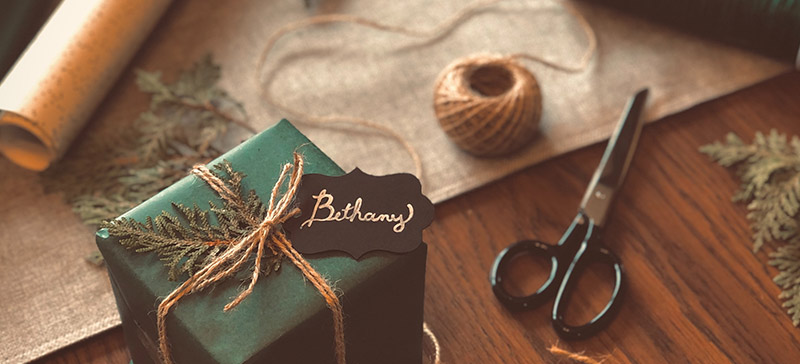 Next, take the smaller items and fill any gaps in the hamper with these, and stack them around the larger items, but be sure to leave the very front of the basket clear as that's where the most desirable items will be placed.
You can take your time with this arranging process and if things don't look right, take them out and start again.
You might need some patience to get this right but it's all part of the creative fun.
Don't forget, you can always take items out of their boxes and original packaging to make them look nicer and take up less space, as long as you make sure they are secure in the hamper.
If you have some empty spaces, you can fill these with small items, like wrapped individual chocolates or biscuits, or even decorative items like silk flowers, anything that fits with your theme will work.
You could also add in some sweet treats like hot chocolate, or a gourmet food gift box to fill the gaps.
The last piece of the hamper puzzle is to display all the items that you think your friend will like the best, right at the front of the hamper, so they are the first things they will see through the cellophane when they receive it.
If you are making a hamper for someone's birthday, you could also go one step further and wrap each individual item in wrapping paper, so you are giving them a mystery hamper full of lovely birthday presents to open.
Selecting items which match your chosen theme but come in a variety of shapes, sizes and colours will make your hamper look very enticing and attractive.
Or it might be that your theme is a single colour in which case you want to make it look as bright and vibrant as possible, with all different shades of that same colour.
7. Wrap your hamper in cellophane wrap
The final step to make a hamper look good is the wrapping and the traditional way to wrap a hamper or gift basket is in loose cellophane because it allows the recipient, and everyone else, to see all the goodies in the hamper before it's opened.
You can choose how to wrap your hamper, and if you've chosen a container with a lid, you might not need to wrap it at all. However, it's very easy to buy rolls of cellophane from a craft store to wrap your basket with.
Most people go for see-through cellophane however, you can buy it in a variety of colours and patterns to match with your theme as well, so there is a lot of choice when it comes to wrapping your hamper.
You simply need to roll out a length of the cellophane, place your container in the middle of the sheet, and then cut the length you need – the cellophane has to be long enough to cover the whole basket and have some left over.
Once you have cut the right length, place your container in the middle of the sheet and pull the two sides up to cover the whole container, and then tie the cellophane at the top, where there should be enough left to create a decorative flower with the ends.
To make your hamper look good without cellophane, you could always opt to wrap your container in wrapping paper, or even some recycled fabric, for example, a food hamper could be wrapped in a decorative tea towel.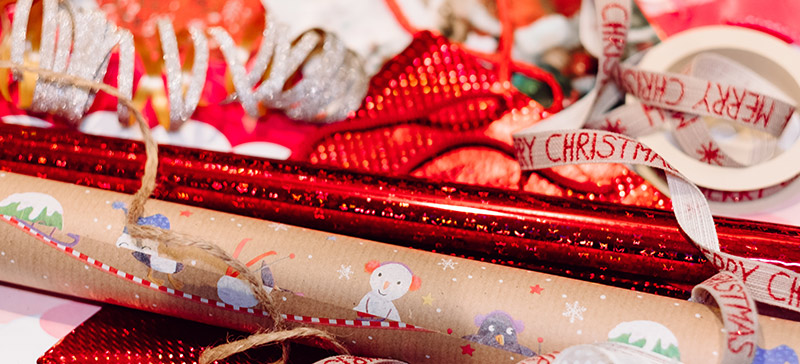 8. Decorate your finished hamper
Once you have wrapped your hamper then you can decorate it to add the finishing touches to make it look good. If you have created a cellophane flower, then you might want to use ribbon or a bow to tie around it, to cover the tie.
You can also attach decorative items that go with your theme, for example, a pair of knitted booties for a baby basket, or a small sprig of flowers for a wedding hamper. It's up to you how you want to decorate your hamper.
Don't forget to add gift tags or even to make a personalised gift tag for that extra touch. DIY gift tags let you save money while adding that personal touch.