After the unprecedented and fairly turbulent 18 months we've all been faced with, this Christmas we can (hopefully!) look forward to spending quality time with friends and family over the festive period; something most of us missed out on last year due to lockdown.
With that in mind, here at Virginia Hayward, we've curated a range of the most lavish and luxurious food and drink hampers with celebrating at the forefront of our decisions. Our product development team have worked hard to source the very best products of their individual categories, ensuring that every hamper contains a variety of decadent treats that every member of the family will enjoy!
With indulgence on the cards as friends and family reunite for a seasonal celebration, this Christmas is set to be a cracker! No matter who you're gifting to, a hamper shared is the ultimate way to entertain guests at Christmas or let them know you're thinking of them. From fresh food hampers and chocolate gifts to cases of wine and champagne and not forgetting the non-alcoholic, vegan, wheat free and low sugar options as well, our hamper offerings this year are the best they've ever been, but if that isn't enough to convince you then step into our 2021 Christmas hamper gift guide below and let our fabulous gifts do the talking…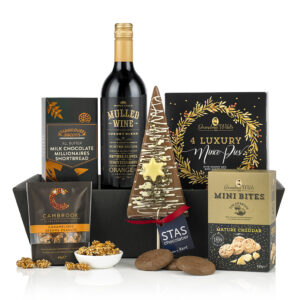 Night Before Christmas- £22.50
Following its black and gold colour scheme, our chic Night Before Christmas hamper is the perfect gift for that special friend or colleague who deserves a treat. Complete with a selection of sweet and savoury items, including luxury Mince Pies, Milk Chocolate Millionaire Shortbread Biscuits, Caramelised Sesame Peanuts and a bottle of heart-warming Mulled Wine; it's the perfect way to say thank you or just to show you're thinking of them at this festive time of year.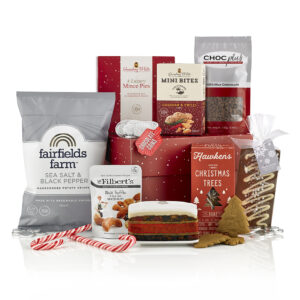 Full to the brim with mouth-watering delights, our Christmas in a Box gift really is a festive delight! Including a decorated Christmas cake, Mr Filbert's Indulgent Black Truffle and Sea Salt Mixed Nuts, scrumptious white chocolate silver coins and CHOC+ Luxury Hot Drinking Chocolate, for making a luxurious hot chocolate, just to name a few! This decadent hamper is perfect for those more difficult to buy for friends who need a bit of Christmas cheer in their life!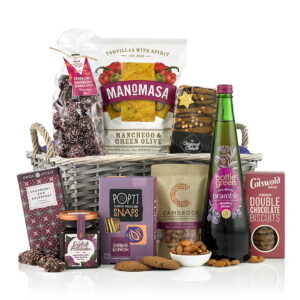 Our Alcohol-Free Treats gift basket includes a treat for everyone! Not only can you find these scrumptious items packed into a handy grey storage basket, but amongst the sweet and savoury treats you'll also find a refreshing bottle of Bottlegreen Full-Bodied Bramble Sparkling Presse. To accompany that, your lucky recipient will discover the decadent festive flapjack, Manchego and Green Olive Tortillas from Manomasa, Hickory Smoke Flavoured Almonds, Cottage Delight Sparkling Raspberry Meringue Kisses and a jar of Caramelised Red Onion Chutney from The English Provender Co!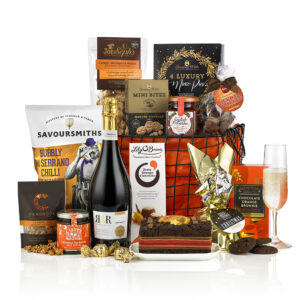 Brimming with exquisite sweet and savoury treats; our Magic of Christmas wire basket is jam packed with a range of delicious items, bringing a spread of luxury festive foods straight to your table. Complete with scrumptious decorated Gold Crown Chocolate Slab Cake, you'll also find a mouth-watering pack of Joe and Sephs Caramel Macchiato and Whisky Popcorn, Christmas Marmalade with Whisky, Chocolate Orange Brownie Biscuits from Farmhouse, amongst other delectable items such as the Zesty Orange Chocolates from Lily O'Briens, a traditional Christmas Pudding and a bottle of prosecco!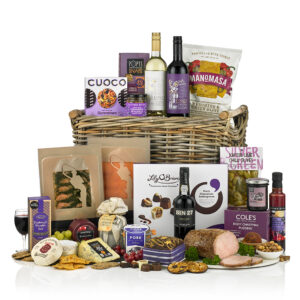 Hand packed into a stunning storage basket; the Snowflake really is Christmas in a hamper! With its gorgeous purple colour scheme, you'll be pleasantly surprised to find everything you need to be included for a jolly celebration including fresh deli items. From cheese to a classic Figgy Christmas Pudding, Port to Salmon, olives to chutney and of course, a duo of wines and a bottle of Prosecco! There's something for everyone hidden amongst these delectable delights!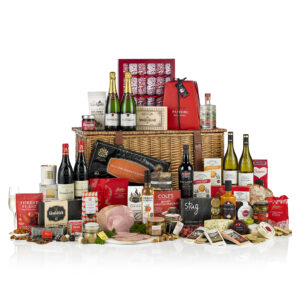 This stunning gift is without fault the epitome of Christmas Hampers. You'll find everything you need to celebrate the most wonderful time of the year jam packed into a traditional lidded wicker basket with straps. Filled with fresh and ambient produce as well as Two bottles of Taittinger champagne, a bottle of Still Sisters London Dry Gin, Port, two bottles of red and white wine, plus all the scrumptious food delights and complete with a pack of signature Christmas crackers, the Celebration is up there with the best of the best.
CHRISTMAS HAMPERS
Here at Virginia Hayward we understand that some people can be hard to buy for. That's why our hampers range in price; so, whether you're after a little something for your neighbour, colleague or friend or a bigger, extra special gift for a family member or loved one; whoever you have in mind- we've got it covered!
The timeless tradition of dining together can be experienced by unwrapping an indulgent hamper brimming with delicious treats.
Whether you are looking to brighten a loved one's Christmas, or surprise valued employees or clients, why not view our range of Christmas Hampers and find their perfect hamper!