Halloween is just around the corner, whether you are a fan of the spooky season or not, it has become increasingly popular in the UK. In 2022, British people are expected to spend £28.95 million on pumpkins and an estimated £687 million in total for Halloween.
Halloween party décor seems to go one of two ways, bright orange and tacky or black and terrifying. So, we have put together a few tricks for you to create a spooky soiree that is classy, fun, and easy.
If you don't want to go mad on decorations, why not just create a small area with Halloween décor and spooky treats? The life and soul of parties are usually in the kitchen, so it is often the best place to create your ghostly gathering.
Let's look at how to host a sophisticated Halloween Party…..
Halloween Bar Cart
It wouldn't be Halloween without a little witch's brew.
Make a focal point at your party, by creating a Halloween bar cart. You can serve up spooky cocktails and have ice buckets of 'boos' and spirits.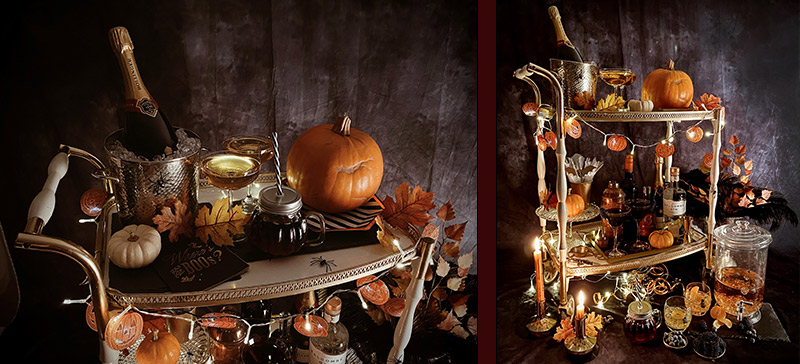 You'll need just a few pieces of seasonal décor to make a supernatural bar cart. First, we chose a colour theme of orange, black and white, with hints of gold. The perfect Halloween shades, but also colours you can find easily in drink accessories.
You don' need to spend a fortune on a bar cart, we picked this one up at a local charity shop, so it is worth looking around, flea markets are also a great place to source bar accessories. Alternately you can use shelves, bookcases or kitchen tables to style up your bar area.
When throwing a party, it's a good idea to provide a few different drinks for your guests and ask them to bring their own bottles. This way you don't have to spend too much on alcohol and soft drinks. We chose a mixture of Champagne, wine, gin, and a seasonal punch for our trolley.
Ice buckets are best to go on top of the bar cart, due to their height and guests putting bottles in and out. We also added a few seasonal pumpkins and some glasses ready to go.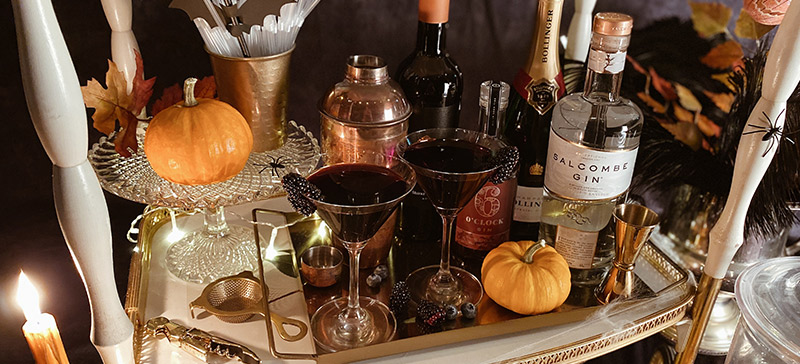 On the bottle layer we put spirits and wine, plus any drink accessories like bottle opens, measures and strainers. It's a great idea to add some height, to help people reach different items, without it all be squeezed in. A cake stand works really well to add a little mezzanine level to the cart. On here we popped a tumbler full of straws and drinks accessories.
No Halloween party is complete without punch! We mixed ours up and popped it into a proper decanter so that people can help themselves, complete with glasses at the ready. You can find some spooktacular recipes for Halloween cocktails below.
To complete the look of our halloween bar car, we added a few ghostly candles, novelty fairy lights and plastic spiders!
Although we created an adult bar car, the same principle can be recreated for a kid's party. With drinks such as squash, apple juice, lemonade, and fruit punch! It is worth shopping around, as you can find lots of paper cups in fun Halloween designs too.
Make a ghoulish cocktail
Fancy making some creepy cocktails for your Halloween party? Below are some of our favourites, not only are they easy, but they look and taste good!
The Black Widow
Otherwise, known as a Blackberry Margarita, a dark coloured cocktail that is a perfect creepy Halloween drink. Full of the zingy, tart flavours of a standard margarita with a very berry twist.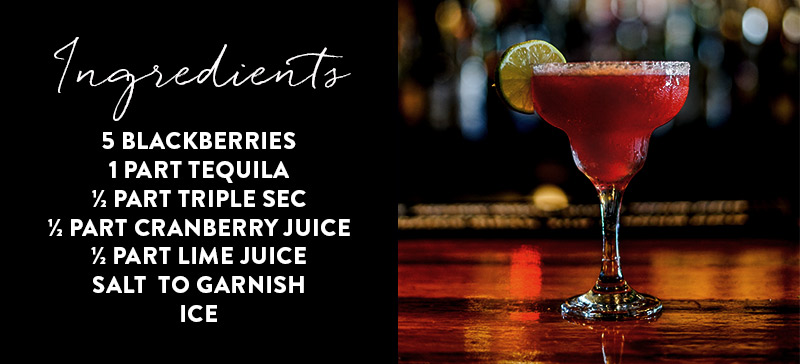 In a cocktail shaker crush the blackberries, pour in the tequila, triple sec, and lime juice, to increase the dark red colour, add cranberry juice.
Add ice and shake!
Rub the rims of a chilled margarita glass with the lime wedge. Place the salt on a plate and roll the rims in the salt.
Poor the cocktail through the strainer into a cocktail glass prepared with ice.
Add a sliced blackberry or lime to garnish.
Vampire's Kiss
A gorgeous vodka based cocktail that is topped up with Champagne, for a spooky, sophisticated twist.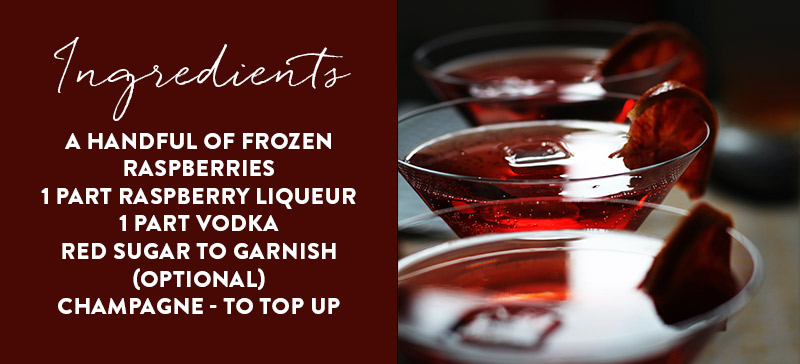 Pour the raspberry liqueur and vodka into a cocktail shaker and add a handful of ice and the raspberries. If using the coloured sugar, dip the rim of your chilled glass into cold water, then into the sugar which is dyed with red food colouring.
Fine-strain the cocktail into your glasses, and top up with champagne.
Halloween Punch
This punch makes a wonderful ombre colour of orange and red, which not only looks fantastic, but actually tastes delicious too.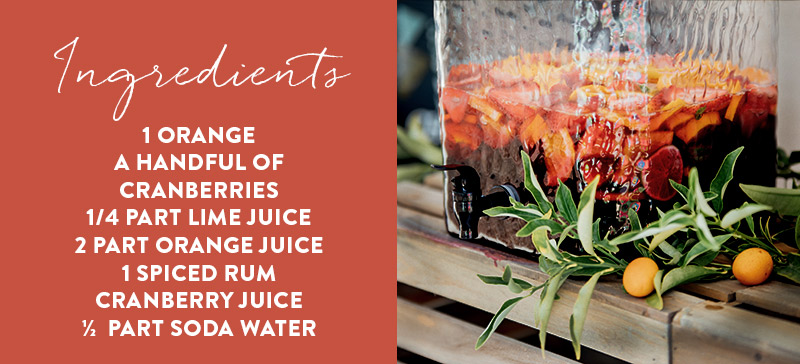 Cut the orange into round slices and place 6 or so slices into the sides of the jar you are using for your punch. Then fill 2/3 of the jar with cranberries, cut the remaining oranges into triangles and place them on top of the cranberries.
Add the lime juice, spiced rum, and cranberry juice.
Top it off with the orange juice and soda water. Twist on the lid and enjoy!
Spooky Snacks
A Halloween Party isn't complete with out some spooky snacks.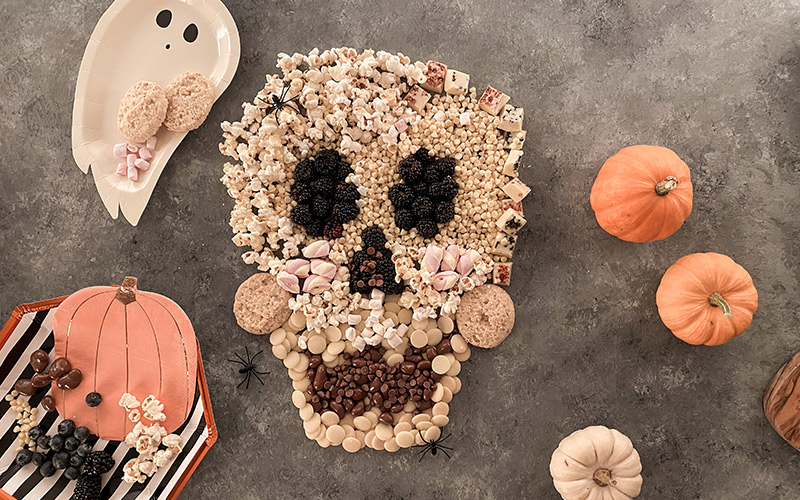 There are so many fun and easy ideas you can do with food, to make up a bone chilling buffet. Here we have made a spooky skull sweet treat board, using some of our favourite snacks. So gather up your favourite white and dark snacks and get creative!
We started with the eyes, using blackberries, but of course you can use chocolate buttons, or anything that has a dark circular shape. Next get a small, white circular treat, such as a mini marshmallows or, chocolate drops and circle the eyes with these. Next make the nose up, which is a rounded triangle shape with dark chocolate sweets or blueberries.
For the mouth we used a mixture of chocolate cover nuts, try to make the mouth shape jagged, so that you get the outline of teeth in the jaw. We then used two white chocolate biscuits for the cheeks, but you could use frosted mini doughnut, or anything round – and yummy!
Next make the outline of the skull with a selection on white sweets and chocolate, until you are happy with the shape, and fill in.
Some ideas for snacks to use:
Popcorn
White Chocolate bars
Marshmallows
Chocolate Buttons
White Pretzels
Yogurt covered raisins
Cashews
Pistachio
Peanuts
Blackberries
Blueberries
Another super easy idea is to make a big bowl of trail mix, or as we like to call it Monster Mix, this is a really versatile idea, and you can swap any of our ingredients for things you like. Simply put all the ingredients into a large bowl, the quantities are up to you, we suggest more cereal and nibbles then sweets, but it all depends on how much of a sweet tooth you have. This is also the perfect Halloween snack for a spooky movie night in!

Monster Mix Ingredients (feel free to experiment).
Popcorn
Almonds
Pretzels
Multigrain Cereal
Chocolate covered raisins
Honeycomb bites
Sour apple sweets
Jellybeans
Jelly babies
Halloween sprinkles
We have a host of Hampers that would make a great gift for anyone hosting a Halloween party, or for a little treat for yourselves.
Some of our favourite Hampers for Halloween season are: