This year, Mother's Day falls on Sunday 27th March and no matter who you're gifting to, whether it be your Mum, Auntie, Grandma or a special loved one, here at Virginia Hayward we have the perfect gift just for them! No matter what their style and taste, our fabulous range of gifts have been carefully curated to ensure they contain something for everyone, meaning your Mother's Day shopping should be far from stressful.
If you're looking for a thoughtful way to thank the motherly figure in your life and show them just how much they mean to you, then a hamper is a brilliant way to spoil them with luxurious, artisan food and drink that they can relax and enjoy. Take a look at our top picks for Mothering Sunday to inspire you to pick the best gift for your loved ones.
For Mum
Mother's Day Hamper – £27.50
Our Mother's Day Hamper is a firm favourite year upon year for treating your Mum to a decadent delight! Built around the 'I'm a Mum, what's your superpower?' mug, this pretty in pink gift contains all the sweet treats needed for a cosy afternoon in front of the telly! From the Eton Mess Gourmet Popcorn, Mallow & Marsh Raspberry Marshmallow Bar, Raspberry Chocolate Shards from Guppy's and Dean's Strawberry Pavlova Shortbread Rounds, this scrumptious gift is topped off with the New English Teas Afternoon Tea Bags, so your lucky recipient can wash it all down with a cuppa in their new mug!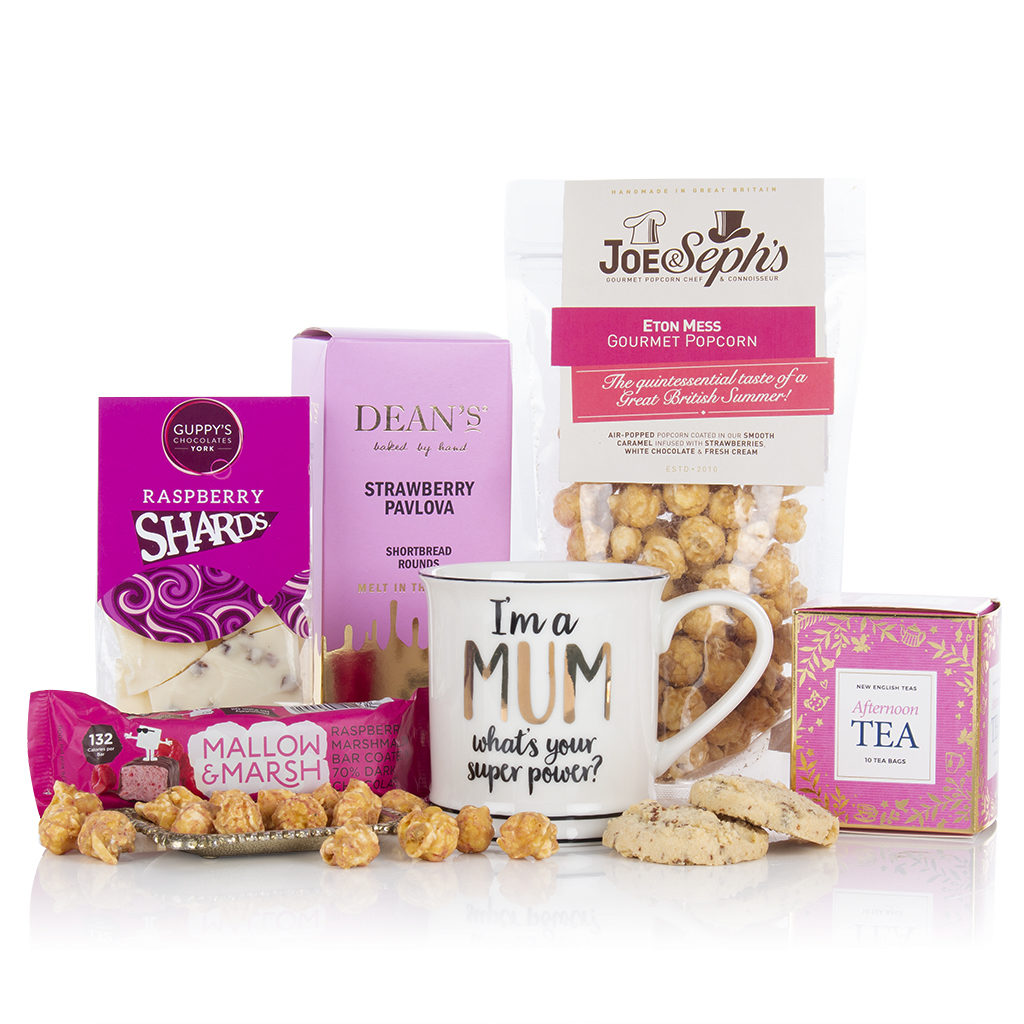 For the Gin Lover
Gin & Treats – £29.99
This striking gift is a fabulous option for those who favour a gin, and with a variety of delicious accompaniments also included, we know they'll be just thrilled to discover the contents! Packed into a small wooden crate, the stars of the show include two 6 O'Clock Exotic Orange Gin and Tonic cans, a Choc-Affair Blood Orange Gin Flavoured Dark Chocolate bar, two Moorish bags of savoury snacks from Indie Bay and a duo of Oloves olives. Our Gin & Treats is a vibrant gift that is guaranteed to brighten their day!
For the Chocolate Lover
Chocolate Indulgence – £29.99
An indulgent treat for the chocolate lover in your life, the Chocolate Indulgence is a winner no matter who you're gifting it to! A perfect way to say thank you, this gorgeous gift bag is jam packed with some of our favourite chocolatey treats, including the Joe & Seph's Double Chocolate Caramel Gourmet Popcorn, Cocoa Loco Organic Dark and Praline Hot Chocolate Spoon and Ooh! Chocolata Very Fruit & Nutty Milk Chocolate Bar, to name a few. What's not to love!
For Grandma
Tea Tray Gift – £34.99
If you're looking for a lovely way to treat your Grandma this Mothering Sunday then why not send her our Tea Tray Gift, a sophisticated and elegant gift hamper, that contains all the ingredients needed for a cosy afternoon. The beautiful whitewash wooden tray contains two delightful mugs and two varieties of tea from Ahmad, Darjeeling, and English Afternoon Teabags. In addition, your lucky recipient will also discover a pack of Border Lemon Drizzle Melts, a Gold Crown Dundee Slab and the scrumptious Linden Lady Handmade Luxury Florentines. Even after these sweet treats have been enjoyed, the tray and mugs can be treasured, making it a thoughtful and practical gift.
Still looking for gift ideas?
Our extensive range of hampers contains something we can guarantee everyone will enjoy, from cheese to chocolate hampers, prosecco, wine gifts and more, a Virginia Hayward hamper is bound to make an impact and show them just how much you care.
Furthermore, if you aren't able to see your loved one this Mother's Day then rest assured that we can deliver all of our gifts directly to your recipient's door in time for the special day.
For more information on our products and ordering process, view answers to our FAQs. Need to speak to someone before you place an order? When you have questions or concerns, we're here to help. Contact us today or by calling our customer service helpline on 01747 851515.