If you're searching for the perfect gift idea for vegans, why not treat loved-ones to a stylish vegan hamper from Virginia Hayward? Expertly packed with a delicious selection of vegan and dairy-free goodies, our hampers are available in a range to suit all budgets, and they're a stylish way to spoil friends, family, or colleagues.
At Virginia Hayward, we know it can be challenging finding thoughtful food gifts vegans will love. Our Vegan Hampers will inspire you, and help you find an unforgettable present any vegan would be thrilled to tuck into.
We've carefully considered all of the items in our vegan gifts to make sure your lucky recipient has a wonderful experience from the moment it arrives. Whether you need a vegan gift for your girlfriend, or a unique way to celebrate with the special man in your life, our hampers are perfect for any occasion.
Peruse our favourite vegan hampers, and you're sure to find a gorgeous surprise.
Vegan Tray – £19.99
Present this exquisite Vegan Tray to loved ones and they'll have irresistible treats to thank you for. Hugely popular with customers, this vegan gift is packed with delicious foods, including vegan-friendly cookies, fruit bars, and savoury biscuits.
Can you think of a better way to unwind than with a selection of nibbles, such as spiced mixed nuts, and green olives? They're ideal pre-dinner snacks if you're having a few friends over – if you're in a generous mood!
Packed in an elegant open weave basket, this is an excellent vegan gift idea if your lucky recipient has an adventurous palate. Priced at under £20, it's the perfect budget-friendly option, too.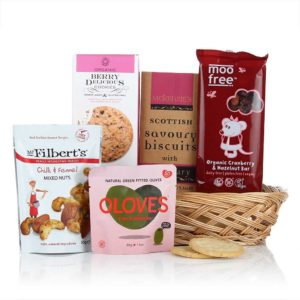 The Vegan Jute Bag – £34.99
We have a treat in store with The Vegan Jute Bag. Beautifully presented in a reusable jute bag, it features a fantastic selection of sweet and savoury foods. Your lucky recipient can feast on olives, a fruit bar, crisps, and nuts – they'll have everything they need for an indulgent evening in.
For vegans who love nothing more than enjoying a glass of vegan-friendly wine, a bottle of crisp Chilean Sauvignon Blanc is also included. Carefully selected by our Master of Wine, it's the perfect accompaniment for the moreish seed and nut crackers.
Vegans will be powerless to resist tucking into the vegan and dairy-free goodies in this beautiful hamper. What could be more delicious than mouth-watering savoury biscuits topped with a generous layer of handmade vegan salsa dip?
You'll find a terrific range of Vegan Hampers at Virginia Hayward to spoil anyone with special dietary requirements.
Hampers from Virginia Hayward cater to anyone following a restricted diet. As well as selling unique food gifts for vegans, we stock a wide range of Diabetic Hampers and Gluten-Free Hampers to ensure your loved ones can enjoy a unique gift suitable for their lifestyle!