BRC Accreditation
Brand Reputation through Compliance Global Standards Certification.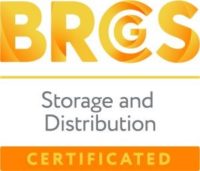 We believe we are the first hamper company to hold a BRC accreditation for Storage and Distribution. We take the manufacturing of hampers seriously and adhere to the industry regulations as well as constantly developing our own stringent internal controls. Designed to reflect best practice and our assurance to improving quality and safety our BRC accreditation is testament to the commitment we make to our customers and employees, regarding best practice handling of food as well as ensuring the safety of our staff.
WHAT ARE THE BRC GLOBAL STANDARDS?
The BRC Global Standards are an internationally recognized safety and quality certification programme that has been developed by retailers and driven by retailers to help build confidence in the food safety industry. The standards have been designed to reflect best practice and facilitate a process of continuous improvement through well-designed risk-based product safety management systems. Indeed, many retailers and brand owners will only ever do business with suppliers who hold an appropriate BRC accreditation.