What could be a better Christmas gift for a foodie than a gorgeous Virginia Hayward hamper, filled to the brim with all of their favourite things to eat? We have a Christmas hamper for every type of foodie, so whether you're searching for a Christmas gift for a self-confessed chocoholic or a cheese lover with highly refined tastes, you'll find something to suit!
Discover five inspiring Christmas hamper ideas for foodies below that are guaranteed to make a wonderful impression. Each filled with the finest gourmet foods, plus the drinks to match, finding Christmas gifts for the most discerning food lovers has never been so easy.
The perfect Christmas hamper for chocoholics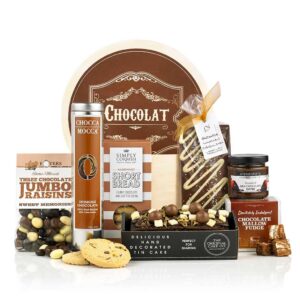 Our Christmas chocolate hampers collection is filled with tempting gift choices – and our For the Love of Chocolate hamper is especially tough to resist! From the delectable, hand-decorated chocolate cake and handmade milk chocolate bar, to the decadent chocolate dipper pot and creamy hot drinking chocolate that's perfect for cosy nights in, every part of this Christmas gift has been chosen with chocolate lovers in mind. What's more, the contents come presented in a beautiful gift tin that can be kept even after the contents have been devoured – and at under £30, it makes a wonderfully affordable Christmas gift for Mum, or a friend with a very sweet tooth!
A gorgeous gluten-free Christmas hamper
At Virginia Hayward, we understand that it isn't always easy to find Christmas food hampers for those following a restricted diet – which is why we have curated a delightful collection of gluten free hampers with plenty of taste! At the pinnacle of our range is the Gluten & Wheat Free Hamper, which is filled with sweet and savoury goodies that are suitable for those following a gluten or wheat free diet to tuck into. Inspired by the favourite flavours of Christmas, and including treats such as chocolate macaroons, shortbread fingers, a selection of savoury nibbles and even a great bottle of red wine, our excellent gluten-free hampers are proof that every food lover can look forward to a flavoursome Christmas gift.
The ultimate hamper for cheese lovers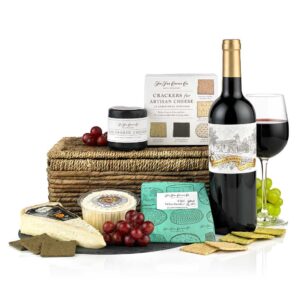 We all know a cheese lover who just can't wait for the Christmas cheeseboard. With a selection of delicious cheeses, plus the perfect accompaniments to enjoy them with, The Artisan Cheese Selection would be sure to put a big smile on their face! One of the most spectacular gift ideas in our Christmas cheese hampers collection, this hamper includes four fine cheeses that have been carefully chosen by our food experts and paired with crackers, chutney, and a bottle of Bordeaux. All that's missing from this cheese hamper is the cheeseboard itself.
A tempting Christmas hamper that's suitable for vegans
Following a vegan or dairy-free diet certainly doesn't mean missing out at Christmas time. Our stylish Vegan Jute Bag brings together some of our favourite sweet and savoury foods that are suitable for vegans – but we think that anyone would be thrilled to receive this indulgent gift! Tucked inside the gift bag, your lucky recipient will discover crisps, nuts, biscuits, a dairy-free chocolate bar and much more, plus a vegan-friendly bottle of white wine. Just one of our imaginative range of vegan hampers, it's a thoughtful gift idea that doesn't compromise on taste.
A fabulous Christmas hamper for a foodie family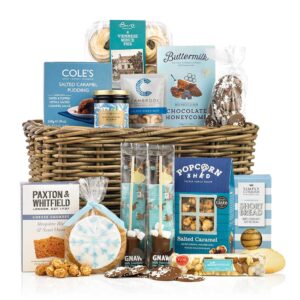 Christmas is all about sharing – and with that in mind, we've created a stunning selection of Family hampers that each have something for every member of the family. Filled to the brim with only the most luxurious foods, our Let It Snow hamper is just the thing for a family to indulge in together, with everything from tempting chocolates, biscuits, mince pies and a Christmas pudding, to mixed nuts and savoury crackers to complete the buffet table! And with a festive blue colour scheme, this hamper looks just as good as it tastes – any family would be delighted to find this quirky Christmas hamper under their tree.
Whether you're searching for a gift for a friend or family member, or a way to say 'thank you' to a valued client or colleague this Christmas, you'll find so many wonderful gift ideas for foodies in our latest Christmas food and drink hampers collection. Take a look now to find inspiring choices for every type of food lover, that will be fondly remembered long after the Christmas celebrations are over.