Whether he's a cheese lover, a discerning craft beer drinker or just has a taste for the much finer things in life, at Virginia Hayward we have an imaginative choice of Christmas hamper ideas for men that makes finding that perfect gift so much easier. From gifts of whisky that will be savoured over the festive season, to pamper gifts for a man that always like to look and feel his very best, you're sure to be inspired by our luxury men's Christmas hampers. Here are just a few of our favourites from our stylish collection.
The Beer Basket – £39.99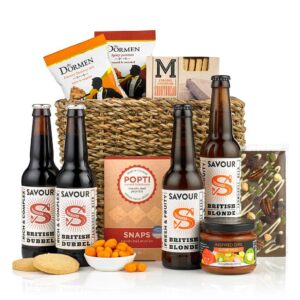 With a carefully chosen selection of British beers, plus an array of sweet and savoury nibbles to sip them with, The Beer Basket is the natural gift hamper choice for any man that enjoys a bottle of beer or two at Christmas. The food selection in this artisan beer hamper includes spicy nuts, cheddar shortbread, tomato and paprika crackers plus a tasty salsa to dip them in, plus an irresistible fruit and nut chocolate bar that's made for sharing! With all the makings of a great Christmas night in, The Beer Basket is sure to be gratefully received.
Johnnie Walker Platinum Label Whisky – £90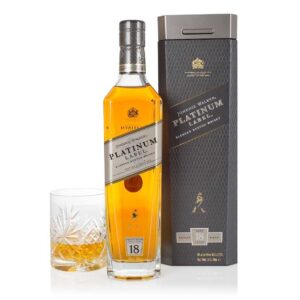 Sometimes, it's better to just keep things simple. This jaw-dropping gift of a silver presentation box, encasing a bottle of Johnnie Walker Platinum Label Whiskey, is the perfect example. Any man that appreciates his whisky couldn't fail to be impressed by when he receives this bottle of 18 year old blended scotch whisky at Christmas time, which can be savoured with his favourite mixer, but is even better when enjoyed all on its own.
The Basket of Cheese – £37.50
We all know someone who just can't resist the cheeseboard at Christmas time – so why not give them their own cheeseboard with The Basket of Cheese hamper? Ideal as a gift for a Dad, brother or partner who just adores a fine cheese, this traditionally-inspired hamper contains three delectable British cheeses, plus a real ale chutney, and a great bottle of Rioja that's been chosen to complement the cheeses perfectly. It would make an unforgettable Christmas gift idea for a client or colleague too.
Dom Perignon – £120
Could there be a more generous gift than a sleek bottle of Dom Perignon? This iconic 2006 vintage Champagne could be the only Christmas gift choice for a man with the most refined tastes. Whether there's something to celebrate this festive season, or you just want to make him feel really spoiled, a bottle of Dom Perignon makes a fabulous statement.
The Manly Pamper Kit – £24.99
From a bottle of soothing and nourishing face balm, to an invigorating beard and body wash, and a replenishing lip balm that's an essential for a man that enjoys the 'great outdoors', The Manly Pamper Kit makes a thoughtful men's grooming gift idea. Completed by a carved wooden beard comb, this collection of men's pampering products are all made in Scotland and will really impress a man that likes to take care of himself. Great for a son, partner or friend, this is a stylish men's hamper idea as an alternative to giving food or alcohol this Christmas.
If you're feeling inspired by our elegant gift hampers for him, why not take a look at our gift hampers for her to discover Christmas hampers that a special lady in your life would adore? We also have plenty of Christmas hampers that are suitable for the whole family, as well as smaller hampers for couples that are large enough to share on a cosy festive night in!