Christmas is a time for giving, and you'll find an array of gorgeously generous gifts in the range of Christmas hampers from Virginia Hayward. But if there's someone on your Christmas list who you really want to dazzle, look no further than our most show-stopping luxury hampers that are packed to the brim with an unbelievable array of delectable food and drinks – and will make their celebrations simply unforgettable.
Below you can discover our five most sensational Christmas gift hampers, that are perfect for a much-loved friend, family member, or colleague or client that deserves something to completely blow them away this Christmas! You'll love to surprise them with one of our most luxurious hampers, just as much as they will be thrilled to receive it.
TWELFTH NIGHT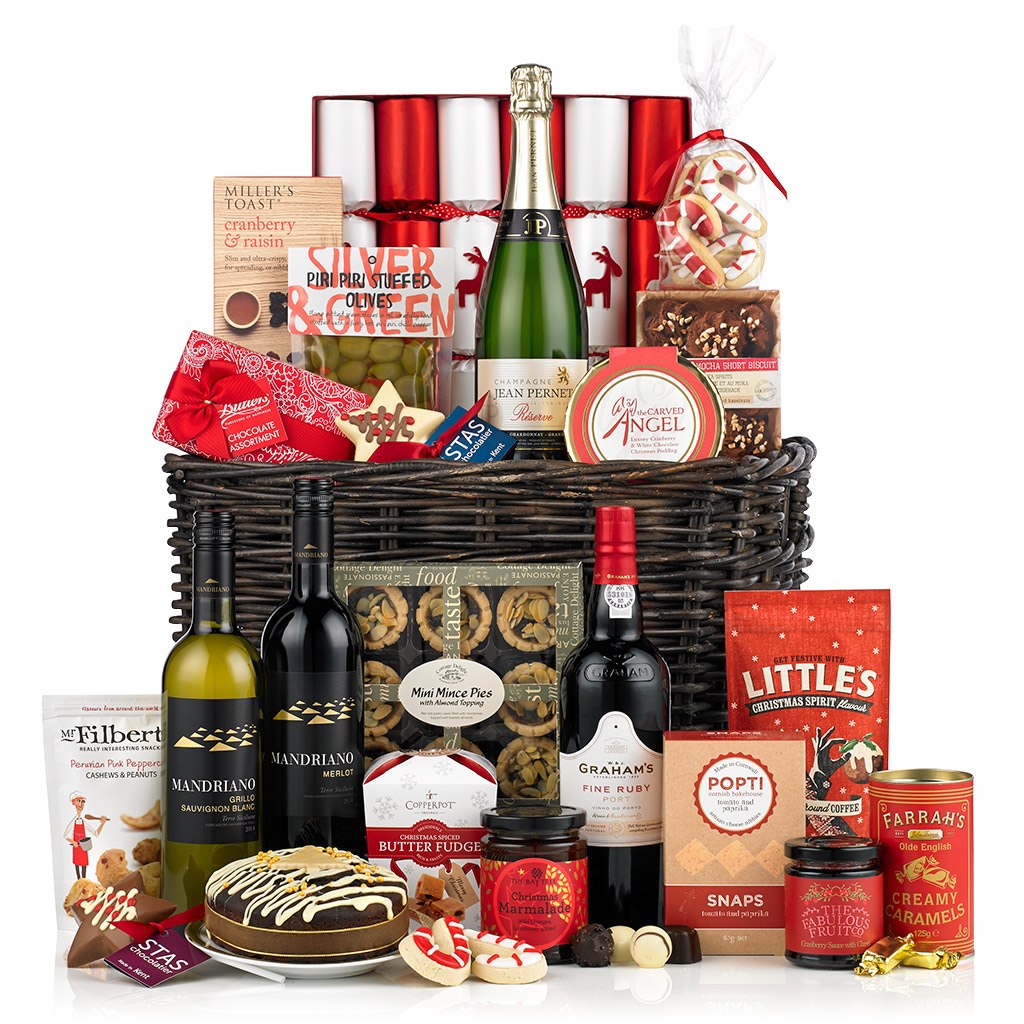 Into a beautiful rustic basket we've packed a host of favourite festive fayre, creating our Twelfth Night Christmas hamper that really is the complete celebration! Inspired by traditional Christmas flavours, this plentiful hamper is full of delicious surprises including spiced butter fudge, Christmas marmalade and Christmas flavour coffee, as well as all-important essentials such as mince pies, bottles of wine, port and Champagne, and even a box of Christmas pulling crackers. Presented in an elegant red colour scheme, the Twelfth Night hamper tastes just as wonderful as it looks.
PURE INDULGENCE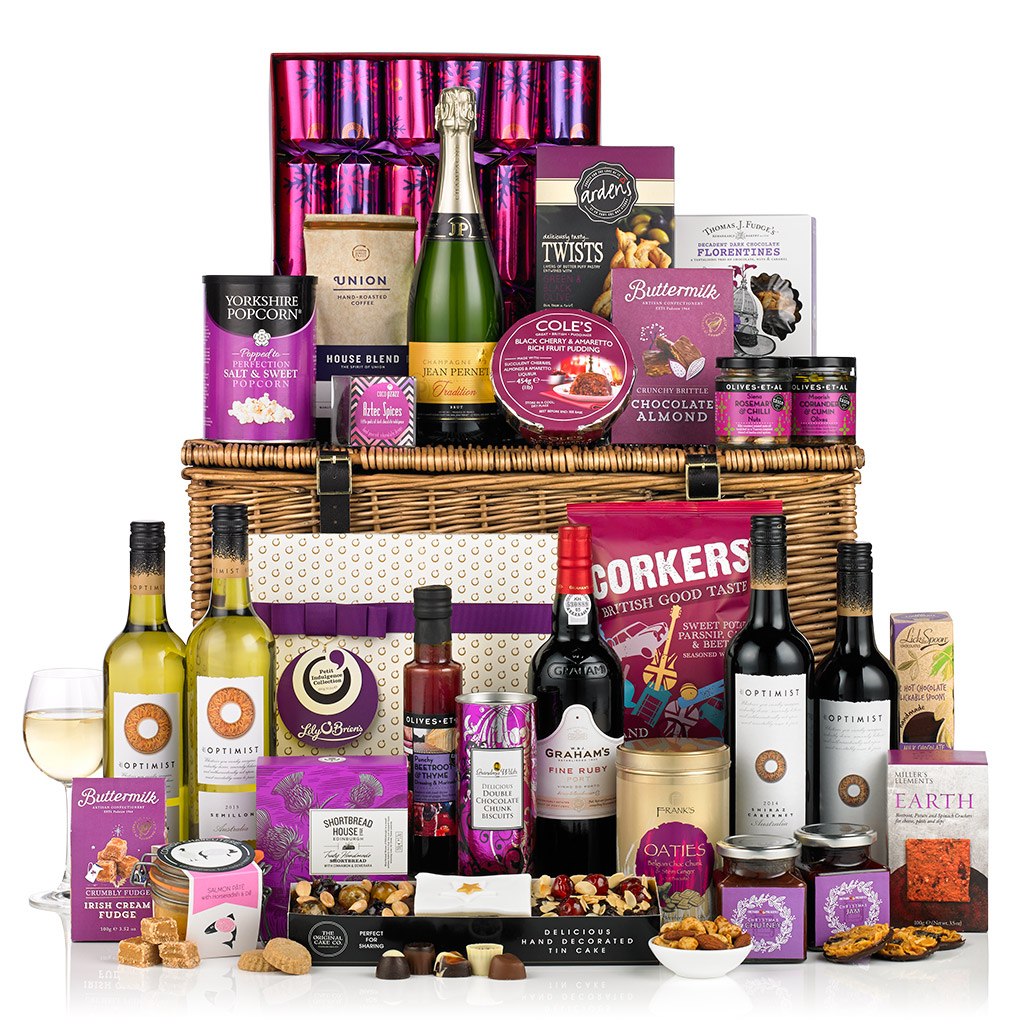 The name of our Pure Indulgence hamper tells you everything you need to know about this fabulous gift. We've chosen only the very finest food and drink for this luxury Christmas hamper and from brands that we adore, creating a simply stunning gift that's beautiful to behold, and even more delightful to unpack and enjoy. There's something for every moment of the festive celebrations, from coffee and preserves to tuck into for Christmas Day breakfast, to Christmas pudding, wines and Champagne for dinner, and plenty of chocolates, sweets, biscuits and nibbles for in between!
THE DECADENCE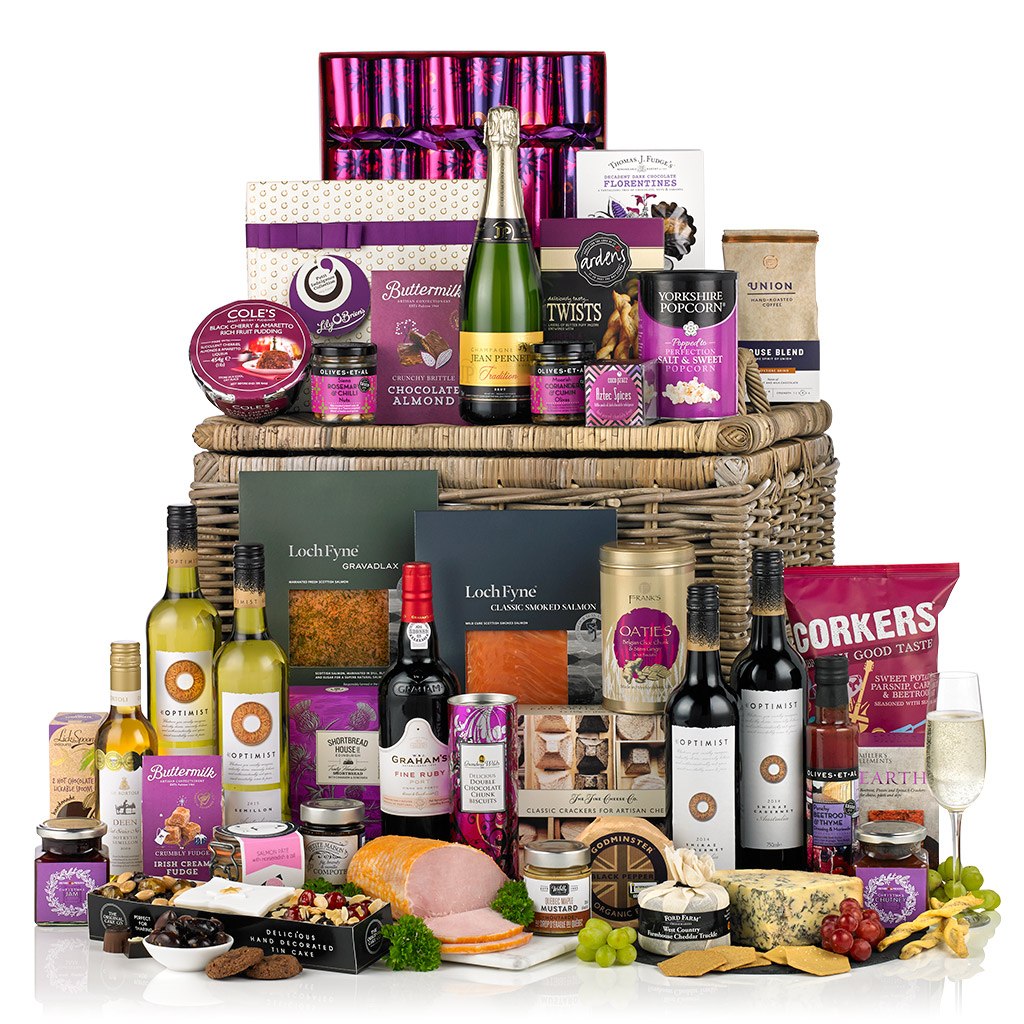 Presented in stylish purple and silver, The Decadence hamper will wow its recipient from the moment the lid is lifted – but the delights certainly won't end there. From artisan cheese to deli meats and smoked salmon, to tangy preserves and moreish crisps, nuts and gourmet popcorn, and chocolates, fudge, cakes and pudding to satisfy their sweet tooth, they won't believe their eyes when they discover all the gorgeous food nestled inside this hamper, and that's before we've mentioned the collection of red wines and white wines, port and Champagne. Finished off with a family-sized box of Christmas crackers, their festivities will never have been so delicious.
SNOWED IN
What a wonderful excuse for a cosy winter night in! We have created our jaw-droppingly sumptuous Snowed In hamper to have everything that could possibly be required for a very merry celebration with dearest friends and family, but where to begin? We've included everyone's favourite festive goodies like Christmas pudding, a honey glazed ham, creamy cheeses and Scottish smoked salmon, as well as more unexpected yet irresistible delights such as Christmas liqueur, a giant milk chocolate bauble and a panettone – and that's just the start of it. Crowned by a host of festive tipples for that all-important sparkle, this amazing Christmas hamper makes a statement like no other.
THE CELEBRATION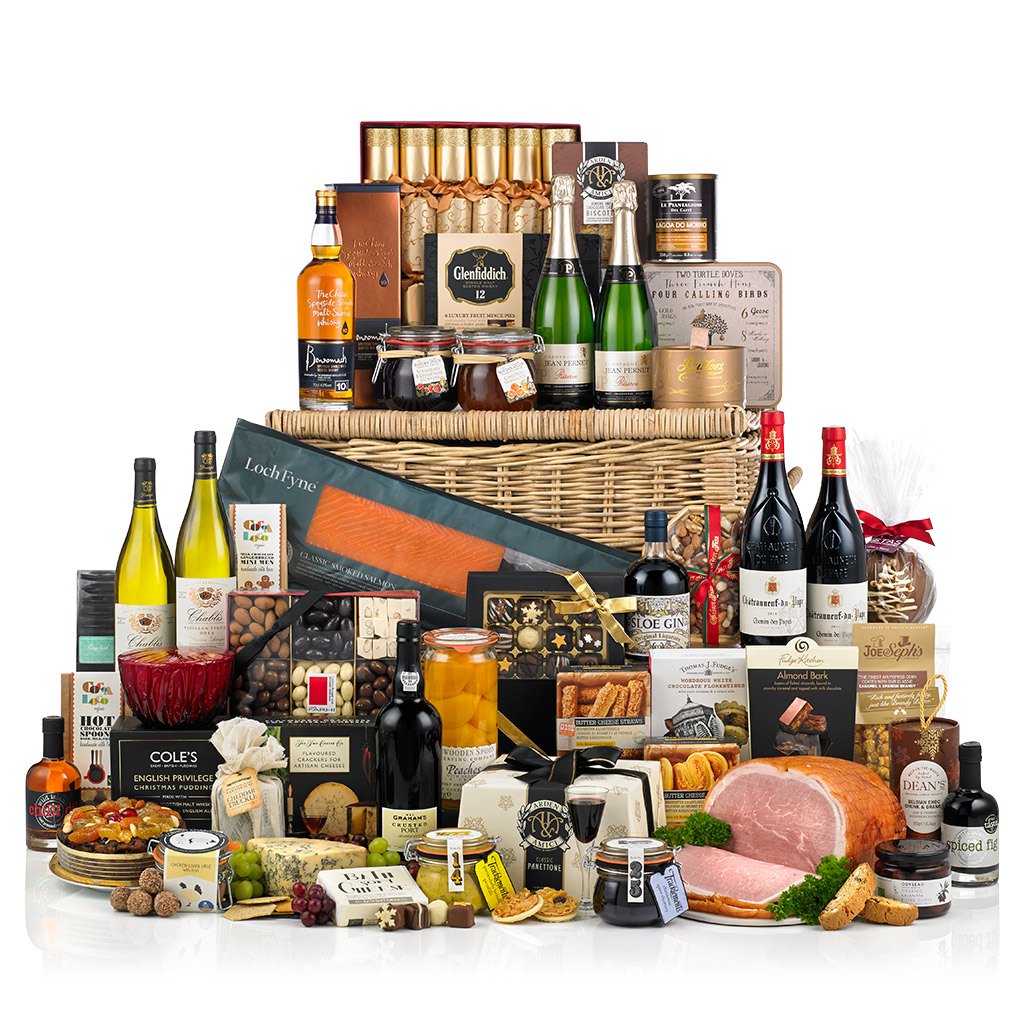 The jewel in the crown of our luxury Christmas hampers collection, there is simply no other Christmas gift like The Celebration. Almost every festive treat imaginable has been carefully tucked into this magnificent hamper, making it an absolute feast for the eyes as well as the tastebuds – anyone who is fortunate enough to receive it will surely be lost for words! From the two bottles for Jean Pernet Champagne to the bottles of sloe gin, whisky and white wine, to the full side of Loch Fyne salmon, collection of deli cheeses and chutneys, Christmas glazed ham and trove of sweets and savoury nibbles to snack on all Christmas long, it's easy to see why this is our ultimate hamper gift. A real show-stopper, that will be remembered for many years to come.
We're sure you feel inspired by our most lavish Christmas hampers, but at Virginia Hayward we have a gift for everyone, whatever their tastes and your budget. For even more Christmas gift hamper ideas, take a look at our Christmas hampers for cheese lovers and chocolate lovers, or let us help you with choosing the perfect Christmas hamper for vegetarians and vegans. With Christmas hampers and gifts from under £10, whether you are looking for an affordable treat or to make an extravagant gesture, you'll find the perfect surprise for everyone on your list at Virginia Hayward.