Beer and food pairing
You may be used to seeing wine and food guides, but pairing beer with food is becoming increasingly popular, and is much simpler than wine pairing, in part due to there being fewer rules.
Beers have a vast range of flavours, so they are very versatile. The popularity of movements such as craft beers has only helped bring more styles and individual flavours to market, meaning the pairing options are endless.
From dark Porter beers to Indian Pale Ales, the range and taste of beer styles are evolving quickly. The bitter edge that the taste of beer has makes it a great accompaniment to food, and the carbonation helps to refresh the palate.
Below we have put together a Beer and Food guide to help you choose the perfect pairing. But don't be timid, feel free to experiment, and have fun, because there are so many wonderful beers and food combinations to try!
Definitions of Taste
If you read the label on a bottle of beer or the write-up on a menu, there will often be certain sayings, that are typically used to describe the different tastes you'll find in beer.
Bitter
Many breweries rate how bitter a beer is with an IBU number (International Bitterness Units), the higher the IBU number the stronger the bitterness is. Many types of beers have a bitterness to them, but the amount will vary between styles.
Dark
You may think that a dark beer just refers to its colour, but it can also be used to describe the taste. Dark beers are made with a malt grain which is roasted to give it a dark colour. The darker the beer, the longer it is roasted, which in turn gives the beer a rich and heavier taste, this often has notes of coffee and chocolate.
Hoppy
Beer is frequently described as 'hoppy' but this should not be confused with how bitter a beer is. How hoppy a beer tastes, is dependent on the stage of the brewing process. The earlier the hops are added, the more bitter the beer will taste. The versatile flavour of hops can enhance the aroma and flavour of a beer and bring our fruity or flowery tones.
Light
Lighter beers usually have a crisp, refreshing taste. They aren't very hoppy, bitter, or strong in flavour. There is also some correlation between lighter beers having a lower alcohol content.
Malt
Malt comes from the barley grain which is usually roasted before being added to the brew. During the roasting process, the sugars in the barley caramelize and give the beer a sweet, caramel taste.
Beer and Food Pairing Guide
Below you'll find 9 different styles of beer and which food they pair perfectly with, so you can really compliment the flavour and texture of your food with your beverage.
Lager
Known for their crisp, refreshing taste, lighter lagers are ideal for spicy foods, such as curry or dishes which are slow-cooked in a tomato sauce.
As light lagers do not have a strong flavour, this also makes them one of the most versatile, so it's hard to go wrong when pairing them with food.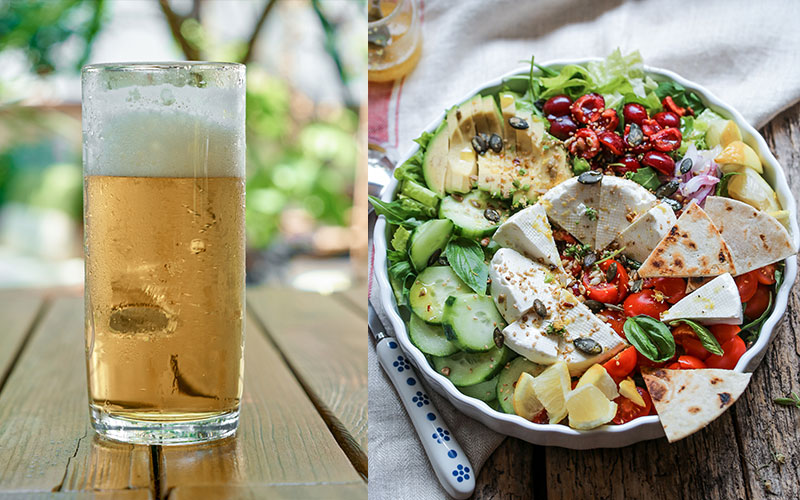 Pilsner
Is slightly drier than lager, with the addition of hops that give the taste notes of citrus. This makes it an excellent choice with fish, lemon chicken or some Asian foods. Due to its light taste and lighter alcohol content, it is also the perfect beer to accompany a salad.
Indian Pale Ale (IPA)
IPAs have a medium amber colour and feature a bitter, piney flavour. Many brewers add citrus and herbs to make the bitterness more palatable. As most craft beers are IPAs, they come in a large variety of styles. The hoppy tones make them a great pairing with BBQ food, lightly spiced Mexican food or vegetarian dishes.
Amber Ales
Characterized by their colours, ranging from amber to deep red-gold, they have a strong malt flavour and undertones of caramel, although they are not overly sweet. A dry and crisp finish means these beers are perfect for cleansing your palate, so think about pairing them with pulled pork, pizza, or bolognaise dishes.
Dark Lagers
Made with dark malts and sweetened with caramel syrup which brings about a nutty flavour. They are the perfect pairing with more hearty meals, such as stews, dumplings, and burgers.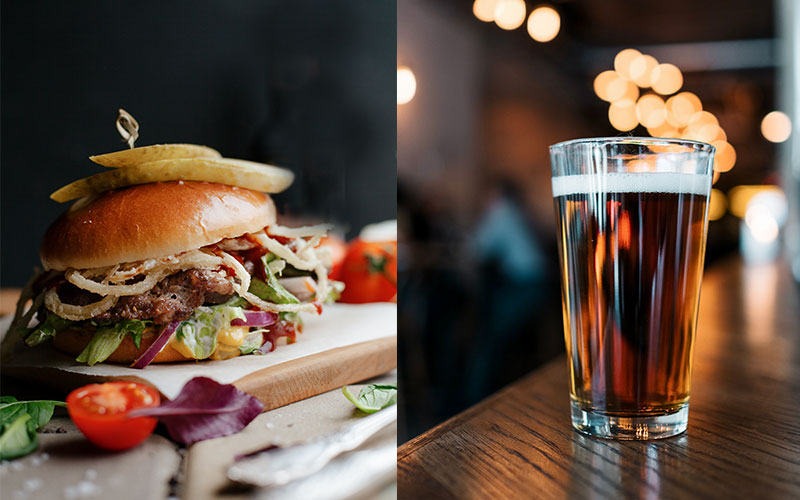 Brown Ales
English varieties of brown ales usually have a dry and nutty flavour, but they aren't as hoppy or flavoursome as some medium-coloured beers. These beers pair well with just about anything, but we think they complement a proper English sausage and mash dinner best.
Wheat Beer
Brewed with a mixture of wheat and Barley, which give a smooth texture and light carbonation. The wheat doesn't add much flavour, so many brewers add citrus or fruit flavours. Best enjoyed with medium or mild curry, sushi, and Thai dishes.
Stout
A dark beer, with a gentle creamy texture and chocolate notes. Stout goes with both sour and sweet dishes, and in particular richer seafood such as lobster and scallops. Also, due to their chocolate notes, they are a great choice of beer to have with dessert, such as brownies!
Porter
Originating from London, Porters are very similar to stout but tend to be even richer with a deep roasted flavour. A great beer to pair with warming winter dishes, such as stews or red meats. It is also the perfect pairing with blue cheeses.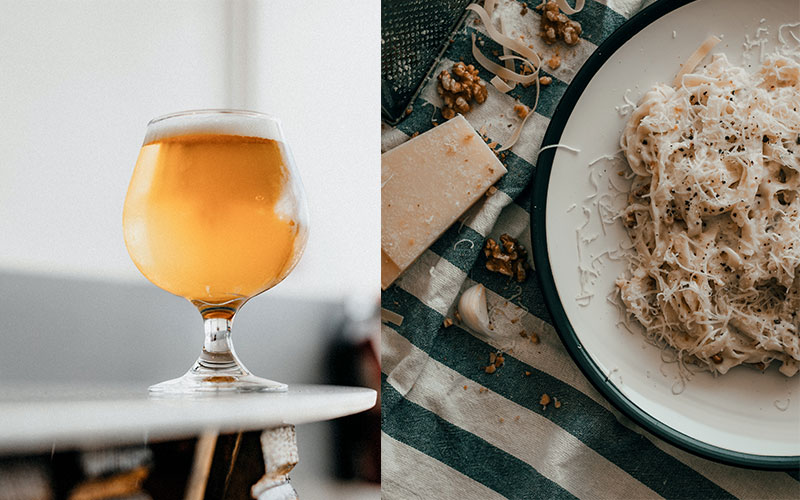 Cheese and Beer Pairing
We often think about cheese pairing perfectly with wine, but there are certain beers that bring out the best in cheese. Beer has a complex taste and refreshing carbonation, which works well with the denseness and richness of most cheeses. Slightly sweeter, caramelised beers go very well with heavier and riper cheeses.
As a rule of thumb, milder cheeses go well with lighter beers, rich cheeses with strong beers and blue cheese really compliments dark and stout beers. But do not worry too much, cheese can be enjoyed with all styles of beer, below we have put together a simple guide, to some of the best combinations.
Beer and Cheese Guide
| | |
| --- | --- |
| Beer | Cheese |
| Lager | Brie and Camembert |
| IPA | Cheddar and Stilton, Gorgonzola |
| Pilsner | Mozzarella and Goats Cheese |
| Amber Beer | Parmesan and Swiss Cheese |
| Brown Ales | Mature Cheddars |
| Stout | Blue Cheese |
| Wheat Beer | Mozzarella and Feta |
Overall, have fun and drink responsibly. Beer is one of the most complimentary fermented drinks on the market, which means it goes well with almost all food types. Experiment with your own tastes and textures, and you'll soon find your favourite beer and food combinations!
If you fancy carrying out your own beer and food tasting, we have the perfect Beer Lovers Case, which includes 6 different beers from the renowned Wold Top Brewery.
Beer Lovers Case Contents:
Anglers Reward Pale Ale 500ml 4% vol
Bitter 500ml 3.7% vol
Headland Red Beer 500ml 4.3% vol
Marmalade Porter 500ml 5% vol
Wold Gold 500ml 4.8% vol
Wolds Way Pale Ale 500ml 4% vol
For the ultimate Beer and snacks night, our Boys Night In Hamper is the perfect selection of delicious nibbles paired with beer.