Vintage China, tiny sandwiches, delicious cakes, and lashing of tea, what is not to love about a traditional Afternoon Tea? Here at Virginia Hayward, we love the quintessential tradition. It's so easy to host the perfect Afternoon Tea party at home, with a little preparation and some key accessories, you'll soon be recreating the famous Palm Court at the Ritz.
What is Afternoon Tea?
Afternoon Tea first became fashionable in the 19th century. It is reported that Anna the Duchess of Bedford (a close friend of Queen Victoria's) often complained of having low energy during the late afternoon and wanted something to satisfy her hunger until dinner in the evening. From this, the Afternoon Tea ritual began and grew into a bigger social event.
Women in high society would invite their friends to visit, dress in long gowns, gloves, and hats, and the tea would be served around 4 pm. Once summer came around, they would often take tea outside in their gardens.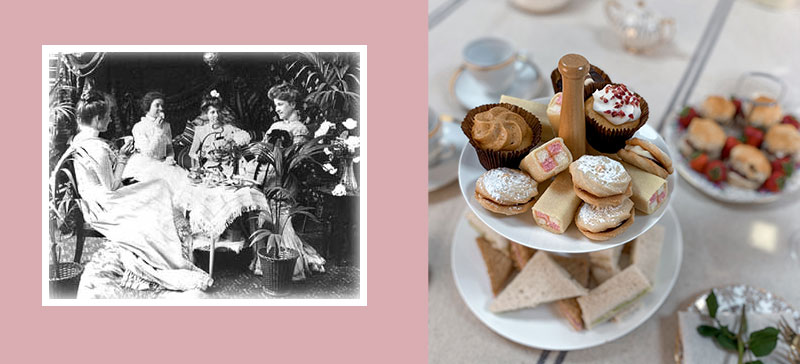 Once Afternoon Tea became more of a high society social event, it encouraged Lords and Gentlemen of the house to join in. At this time, tea was a fine delicacy and the upper classes wanted society to know they could afford it. As the fashion grew for this pastime, so did the portions and more indulgent quantities of sandwiches and cakes.
Celebrate this wonderful British tradition at home, select your favourite teacups, invite some guests, get dressed up, and enjoy a tea party steeped in history!
What you'll need to HOST the perfect Afternoon Tea
Although traditionally afternoon tea would have been served in the drawing room, the need to have it set up in a formal area is a thing of the past. If you have a dining area, feel free to set it up on the main table, but it also works just as well on a kitchen table or a cosy corner of your home. A nice summer idea is to host your afternoon tea in the garden, some old pallets work well as low-lying tables, with some blankets and cushions on the ground. Once you have picked your perfect spot, you can start setting up your tablescape.
What you'll need:
Tablet Cloth
Tea Pot
Tea Strainer (if using loose leaf)
Milk Jug
Sugar Bowl
Cake Stand
Teacups
Saucers
Small China Plates
Napkins
Flowers
To start, choose a table cloth for your tables, to really set the scene. This can be plain white, have a slight pattern, or have some lace. Try not to pick anything too heavily patterned, as this will jar against the patterns of your China.
No Afternoon tea is complete without some great China, gone are the days of having to have a matching set. It can look lovely and eclectic to have a mix of sizes and patterns from different styles of tableware. You can pick up some very inexpensive China from your local charity or thrift shop.
For a real Afternoon Tea, you will need a cake stand, with at least 2-3 layers. Again, you can pick these up quite frequently from second-hand shops or vintage markets. A lot of the high street department stops also sell these in-store or online.
To finish the look, add some flowers to help add a lovely centrepiece, you can either use a vase, or perhaps be a little more creative and use something like a vintage watering can, teapot, or empty, clean, jam jar, it really depends on what type of aesthetic you want to go for.
Finally, don't forget your teapot! If you are using loose leaf tea you will also need a strainer.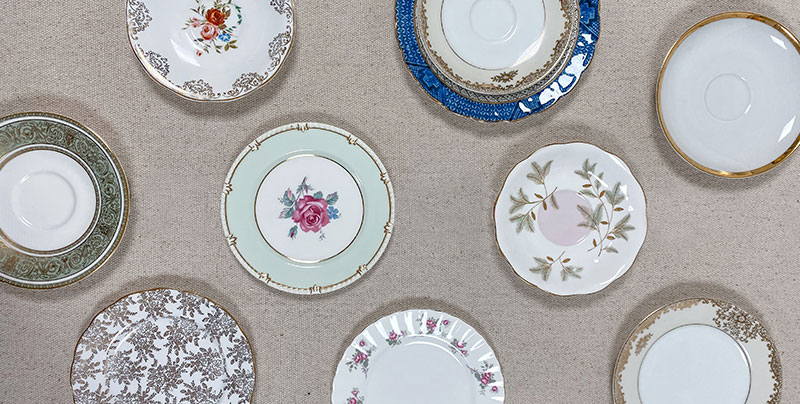 Afternoon Tea Menu
There are of course certain traditions for Afternoon Tea when it comes to food, which the top hotels and restaurants still stick by today. If you're hosting at home, you can experiment with which items you would like to have on the menu, but as a rule of thumb, the cake stand should hold 3 different courses.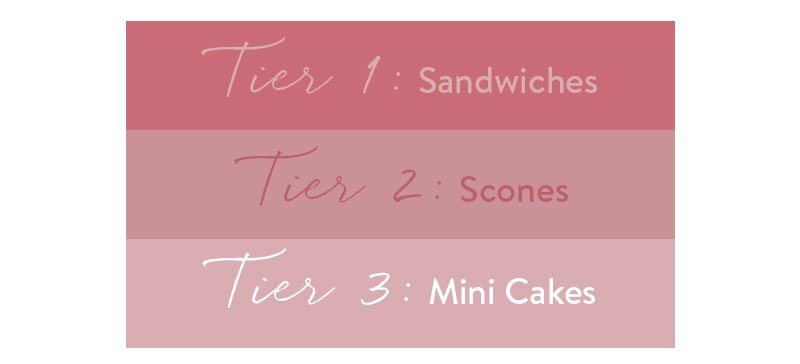 Often other savoury bites are added to the sandwich tier, such as mini sausage rolls. It is always a good idea to include some fruit on your stand, such as strawberries, they make a lovely garnish, but also help to cleanse the palate. A saucer of lemon slices is also often present at the table, this is to add to the tea, in particular Earl Grey.
Lemon Slices
Tea
Milk
Sugar
Sandwiches
Scones
Mini Cakes
Strawberries
Optional: Prosecco / Champagne
Sandwiches
Afternoon Tea Sandwiches should always, without exception be served without crusts. The sandwich fillings are often quite rich, therefore you do not need to serve a large portion to your guests, instead encourage them to try a little of everything, dietary requirements permitting.
Traditional Afternoon Tea sandwich fillings are: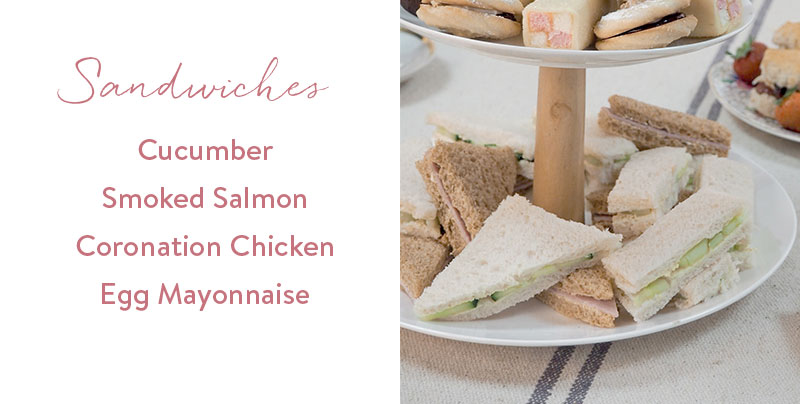 Scones
A Traditional Afternoon Tea would not be complete without scones! Best served freshly baked and warm. Clotted cream is a must and looks best served up in a little China dish, if you are not prefilling the scones.
You can't go wrong with strawberry preserve but feel free to mix up the flavours and try plum, blackberry, or apricot jam instead.
Jam or Cream first?
The Cornish believe you should cut the scone in half, cover it in jam then add clotted cream. Devonshire society believes you should cut the scone in half, cover it in clotted cream first then add a teaspoon of jam. At the end of the day, it remains a matter of preference. You can either let your guests add their own fillings, or you can serve them ready-filled, with a choice of both.
Cakes
There are so many cake options when you are hosting an Afternoon Tea Party. Think about the shape and size of cakes, as they need to fit on the top tier of your cake stand. It's always a good idea to choose a colour theme, and perhaps bake or buy cakes that are similar in colour, for no other reason but it looks nicer when served up.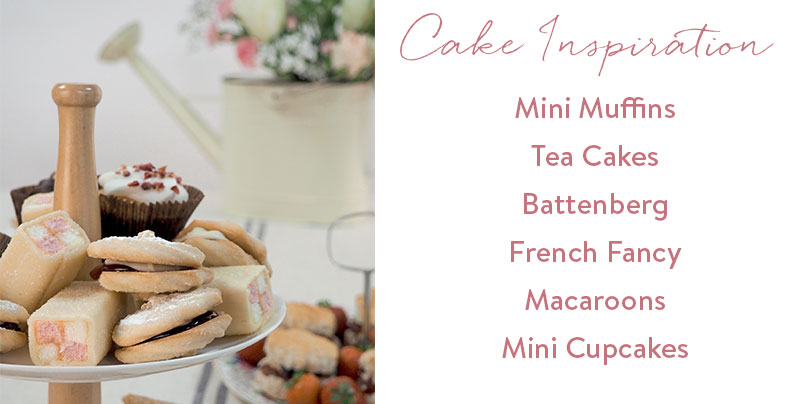 Above all make sure they are bite-size, you do not want your guests to have to slice up their cakes. It should be made easy for them to have a little morsel of cake, whilst drinking their tea.
Afternoon Tea Drinks
Tea
Try to offer a selection of classic teas such as English breakfast or Earl Grey, so that your guests have a good choice. If you would like to experiment a little further, throw a couple of unusual options into the mix too such as chamomile, peppermint or green tea.
Remember, if you do have a range of teas on offer, you'll need a different teapot for each.
For those of you drinking Earl Grey tea, the proper way is to place a thin slice of lemon into the cup first. You can then add sugar, but traditionally never milk.
Did you know? The Ritz have 18 different types of loose-leaf tea on their Afternoon Tea menu.
Milk or Tea first?
In the 19th century it was considered proper to add the milk first, this is due to the fine porcelain cups used. The cool milk was needed to prevent the China from shattering from the sudden heat of the tea. Nowadays, with tea cups being less fragile, there is an argument to add milk after you have added your tea, this way to can determine the strength of your tea better. Although this is really up to personal preference, so do which ever you find best.
Bubbles
Most Afternoon Teas in the gran hotels offer a champagne option, this is perfect for an extra special celebration! If Champagne feels like pushing the boat out a little too far, you could try Prosecco, Cava or sparkling Elderflower for non-drinkers.
Afternoon Tea Etiquette.
Is there anything more quintessentially British, than Afternoon Tea? With an event having so many historical connections and steeped in history, there are many traditions to adhere to if you want to do it the 'proper' way. Below you'll find a little list of dos and don'ts if you really want to host a traditional Afternoon Tea party fit for the Ritz.
Dos
Always start with sandwiches first, before you move on to scones and then cakes.
Stir correctly! Place your spoon into your teacup at the 6 o'clock position and fold the tea towards 12 o'clock. Also make sure not to clink the spoon against the cup whilst stirring, then place your spoon onto the saucer, never leave it in the teacup.
If you take sugar in your tea, this must be placed into the cup first before milk or tea.
Leave a napkin folded at each place setting, guests should then lay the napkin on their laps once the tea starts.
Don'ts
Never dunk your biscuits into your tea
Never stick your pinkie up, this is a common misconception and a modern-day faux pas.
Do not grasp your cup with both hands, always use the handle.
Don't leave your tea brewing for too long. The optimal time is 3-4 minutes.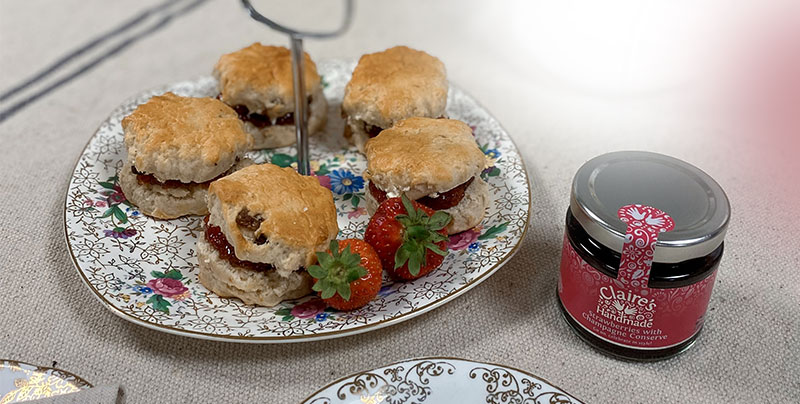 Spot the difference
Afternoon Tea: Originally for the upper classes, traditional Afternoon Tea became a fashionable event in the mid-19th century. Intended to fill the gap between lunch and dinner, this is the proper terminology used for the high society occasion.
High Tea: This is not formal at all, and refers to a larger meal, traditionally served at high tables or countertops, not because it's a 'high society event. It was a common pastime for the lower class, labour-intensive workers, who needed a filling meal after work, which involved a cup of tea.
Royal Tea: Refers to the addition of a glass of champagne alongside a traditional afternoon tea. Sometimes this can also be referred to as a Champagne Tea.
Cream Tea: Refers to a simple form of Afternoon Tea, where one just enjoys scones, clotted cream, and jam, served with a pot of tea.
Afternoon Tea makes for a fun, unique party idea, which is perfect for all sorts of events, from Baby Showers, Birthday Parties, Anniversaries, Hen Parties or even a nice afternoon get-together with friends.
At Virginia Hayward, we have a whole host of Afternoon Tea Hampers, which make the perfect gift to send to friends or family.