In the business world it's important to maintain a positive relationship with your customers throughout the year and the festive season is a fantastic opportunity to demonstrate your commitment by giving them a corporate gift.
The gesture of sending gifts, such as a Christmas hamper is a great way to ensure that you stay in the forefront of your customers' minds. While there is a certain etiquette to corporate gifting that determines how much you should spend, the most difficult part is usually deciding what to give.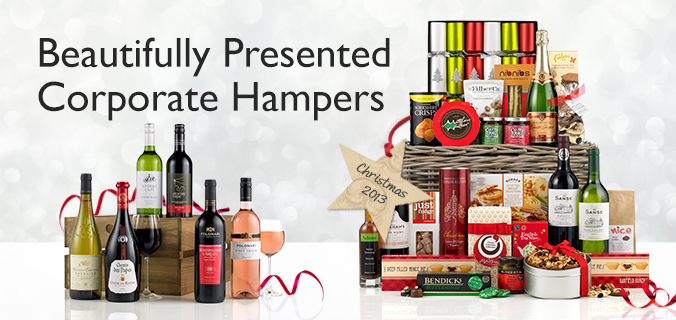 We know how important it is to choose the right corporate gift for your customers and how challenging it can be if you're not particularly familiar with their likes and dislikes. Here are a few inspirational ideas to help you choose gifts that will strike the right balance this Christmas.
Experience days
One of the most popular and in-turn, most appreciated gifts that are given to business associates are experience vouchers. From culinary courses to racing days and spa treats to balloon rides, these vouchers offer the recipient an experience to be enjoyed and relived. This is one of my personal favourites and, unsurprisingly, the spa treat is at the top of my experience day wish list!!
Breakfast hamper
Here's a novel idea and a twist on the traditional food and wine hamper gift. Focus your client on you and your business by presenting them with a breakfast hamper to enjoy when they get to work. Choose an empty hamper basket from the variety of hampers and gift baskets available from www.virginiahayward.com and fill it with delicious breakfast treats such as fresh croissants and orange juice, warm muffins and tasty fruit. Send it by courier and it will be a great surprise for them when they arrive at work. They won't forget the gesture.
Bespoke gifts
Send your client a personalised gift that can be used or seen on a daily basis and they'll be thinking of you every time they pick it up or use it. A personalised tailored hampers in which to keep their office essentials is an ideal way to increase the exposure of your company name.
Wine & spirits
It helps to know the recipient's tipple of choice, and if you're not sure, you could always speak to their PA or receptionist. If you choose a corporate hamper filled with a range of wines or a champagne gift, you're unlikely to go wrong. Browse our wide range of wines and spirits all beautifully presented in hampers or gift boxes which are perfect as a corporate gift solution.
Food and wine hampers
I couldn't possibly write a blog entitled 'Best Corporate Gifts for Customers' without extolling the virtues of our own extensive collection of Christmas Corporate hampers. With over 100 festive hampers and gifts to choose from you'll be spoilt for choice and we're sure that your customers, clients and colleagues will be delighted to receive a Virginia Hayward Christmas Hamper this year.
Explore the Virginia Hayward website today for more gift ideas, or read the helpful blog post on corporate gift giving etiquette to ensure your corporate gift makes the right impression.