Some people, more than others always feel the cold, and whilst we face increased energy bills prices and cost of living this year, it's a good idea to think of gifts that will not only warm hearts but also warm people up!
Check out our list of warming gifts for people who are always cold.
Whether it's a cosy foot warmer for the winter or some heated gloves for cold hands, all of these gift ideas provide practical and comforting solutions for what to buy the person who is cold all of the time.
1.       Warming drink gifts for people who feel the cold
The first option to think about when trying to buy something to help someone stay warm, are comforting hot drinks, after all, it's only natural to put the kettle on to make a nice cup of tea or coffee after being outside in the cold all day.
Whatever type of hot drink you are looking for, there are plenty of ways to present it as a lovely birthday or seasonal gift, from using hampers and gift baskets for teas and coffees, to creating a hand-made DIY hot chocolate jar.
So here are some ideas of great warming drink gift ideas that your friend or loved one will thank you for to keep them warm in the cold weather: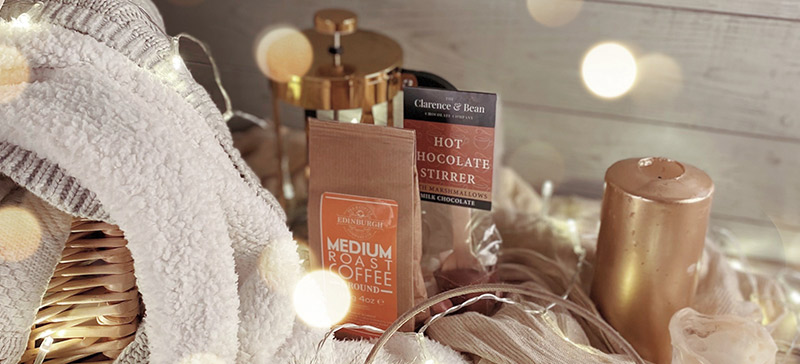 A milk frother
There is nothing more warming that a lovely frothy milky coffee or hot chocolate so a milk frother will enable your friend to heat milk and make their own incredibly warm milky drinks whenever they are feeling the cold.
A hamper of herbal teas
For a friend who likes to try different hot drinks, how about a hamper of different herbal and fruit tea varieties, so that whenever they feel cold, they not only have a delicious hot drink to look forward to, but they can also try one in every flavour.
A coffee maker
Whether you go for a complicated coffee machine or a simple cafetiere, gifting your cold friend a coffee maker and some packs of their favourite fresh coffee could be the perfect present.
A teapot
If your friend is more of a traditional tea drinker, then a beautiful traditional tea pot and selection of choice teas could be the ideal present to help them make their own hot drink whenever they fancy it.
A hot chocolate gift jar
For a gift with a more home-made feel, you could put together a DIY hot chocolate jar, giving them all the ingredients the need to make the perfect hot chocolate treat whenever they feel cold at home.
Sometimes when it comes to keeping warm, a hot drink simply isn't enough and we turn to warm and cosy clothes, and if those clothes come with some kind of in-built heating, then so much the better.
2. Wearable warming gifts
Wrapping up in cosy blankets, fleecy clothing can sometimes help to stave off the cold, but when extra help is needed clothing that is heatable is the perfect choice So we are sure these warming clothing gifts will be appreciated by anyone who suffers from the cold.
Most will be practical for any situation, however, for those which plug in or require charging, be sure to include any safety advice within your gift, to make sure your friend uses the items responsibly, so they are both warm and safe at the same time.
Hand warmers
There are many different types of hand warmers on the market, from regular fleece-lined gloves to hand warmers which plug in, or those which have areas that can be filled with warm water, like mini hot water bottles for your hands. The perfect gift for anyone feeling the cold.
Portable heated blanket
Going from a warm home or office, into a freezing cold car is the worst, so a portable heated blanket that you can charge in your car is the perfect gift to stop the driver in your family from feeling the cold.
Fleece-lined hoodie
When it comes to warm clothing, thick fleece-lined hoodies are the perfect gift for anyone who struggles to keep themselves warm. Available in all kinds of colours and styles to suit every taste, this is the ideal cosy offering.
Heated jacket
For a friend who can't get warm no matter how many layers of clothing they have on, a heated jacket could be the perfect choice. Lightweight and stylish it contains heating elements which keep the jacket warm for hours and is more practical than hugging a hot water bottle.
Knitted hat and scarf set
A more traditional gift but one that will still be welcome by anyone who struggles to stay warm in the winter is a hat and scarf set. There are so many styles and colours to suit everyone's taste and they make an ideal present. You could even knit them yourself for that personal touch.
Warm woolly jumpers
Another traditional option but wool jumpers have long been used to keep out the cold so look for something that is a wool blend or made from a soft wool like alpaca or angora for that extra comfortable luxury feel, as well as the warmth.
Thermal pyjamas
Thermal pyjamas or flannel pyjamas are a great way to stay warm in the night and you can choose from a huge variety of colours, styles and designs so that you are offering a gift of warmth and fashion at the same time.
Blanket with sleeves
Blankets are great for helping to stay warm, but it's not very practical to walk around with a blanket around you all day. That's where a wearable blanket with built in sleeves come into their own, creating a snuggly warm blanket that's also practical and a great gift.
Onesie
The perfect cosy outfit originally only for babies but now perfectly acceptable as house wear on cold winter nights by grown-ups, or any nights for those who feel the cold. Fleece-lined fluffy onesie outfits are the idea gift for anyone feeling the cold regularly.
Thermal underwear
A long tradition for people who are working outdoors in the cold weather is thermal underwear or long underwear.
While it may not look lovely, it will certainly keep the recipient lovely and warm for which they will be very grateful.
For many people who feel the cold, they don't feel it across their whole body so some of these items would be too warm.
I'm talking about people who have permanently cold feet both in bed at night, and during the day.
3. Warming gifts for the person with cold feet
We all know that one person who likes to put their feet close to you because they are cold all the time, so this selection of warming gifts has been chosen specifically for people who experience this particular problem.
Sometimes just wearing extra socks doesn't make a difference and hot water bottles can be just too hot for sensitive feet to cope with, so this range should solve those issues, providing some great solutions for keeping cold feet warm.
Microwavable slippers
While regular fleecy slippers are an amazing gift, for someone who has permanently cold feet, a pair of microwavable slippers have to be the ultimate in luxury and warmth.
These slippers can be safely warmed up to the perfect temperature for keeping toes toasty.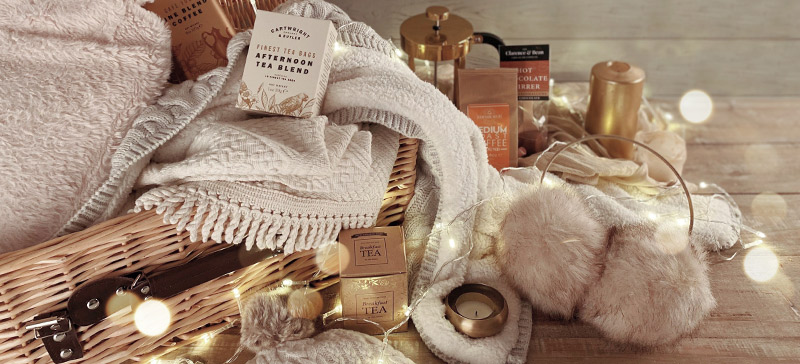 Fur lined slippers
Fur lined slippers could be the ideal way to keep your friend or loved one's feet from getting cold around the house and all winter long.
Look for designs which are also washable for extra practicality as these kinds of slippers can become sweat traps very quickly.
Fleecy socks
Socks which are fleece lined could be the ideal solution for someone who has cold feet at night as they are comfortable enough to wear in bed and soft enough not to irritate the skin when worn all night long.
Foot heating pad
A foot heating pad is like a mini heated sleeping bag that you can just slot your feet into, providing amazing warmth at the touch of a button, equally warming both feet at once.
The ideal gift for your cold-footed friends. They are designed to be just warm enough and not too hot, creating a cosy environment perfect for toasty toes.
Warming foot bath
There is nothing more luxurious than being able to soak your feet in lovely warm water after a long day standing up at work, or after a long walk, or even just because you fancy it. So, a warming foot bath is another great gift option.
4. Warming gifts for use at work
For many people it's their workplace where they suffer from the cold, whether its from sitting near air conditioning vents or open doors or working in cold environments such as open plan warehouses, so this can be trickier to resolve, but not impossible.
If you are buying a gift for someone who is always cold at work, you need to think more about the health and safety restrictions that might be in place and also about the reaction of their colleagues, before purchasing.
However, with many people now working from home, you might be freer to be a bit more creative with your choices as there is nothing to stop them appearing on video calls wrapped in a thermal blanket or wearing a beanie hat.
USB-Powered warming gloves
For those who are at a computer all day and end up with freezing cold hands, USB powered warming gloves could feel like an amazing luxury and help them to get the feeling back into their fingers without experiencing any restrictions.
Typing-specific versions are also available in a thinner material so that you can continue to use your keyboard as normal while wearing them, something that would be impossible with traditional thick thermal gloves.
Mini space heater
If management will allow it, or if they work from home so can do what they like in their workspace, a mini space heater could be the perfect gift for your friend, to help keep them warm while working, without incurring big heating bills.
Mug warmer
For someone who is always forgetting they've made a drink, only to find a cold cup of tea when they go to make a new one, a mug warmer could be the perfect gift, helping to keep their drink and them, warm all the time.
Heated seat pad
We are all familiar with the luxury of heated seats in some cars, but how about a heated seat pad to sit on at work or at home any time you feel cold?
This has to be a great gift for someone who is cold all the time and is very discreet.
Electric heat pad
Smaller than an electric blanket, these heat pads are designed to fit around the back and neck, helping to provide warmth to key muscle groups, relieving tension and stress as well as being lovely and warm.
They also can't be seen while on a video call so ideal for someone who is sitting in a chair all day working from home.
Sometimes we just have days where we feel cold for no particular reason, or maybe when coming down with a cold or just feeling under the weather and for these times, some of these warming gifts could offer the perfect solution.

5. General warming gift ideas
This section includes gifts for everyone that can be used any time someone is feeling cold no matter what the reason, from cosy blankets to heated pads and warming food choices, all of these could make amazing gifts for any occasion.
Blanket with feet pockets
In a similar style to the blanket with sleeves, you can also now buy a wearable blanket with extra pockets for slipping cold feet into, ensuring your feet will never get stuck out in the cold if the blanket rides up again.
They are suitable for all ages and are the perfect comforter to curl up in after a hard day on your feet at work or out walking at the weekend.
Heated massager
A handheld heated massager provides great relief to tired and aching muscles and can be used on shoulders, backs and necks, with the heat providing extra comfort and luxury for all, making it a wonderful gift.
Electric blanket or heat pad
Perfect for warming up a cold bed before climbing into it, an electric blanket or heated bed pad makes a great addition to cosy bedding and blankets, ensuring the bed is at the perfect temperature before climbing in on a cold night.
Soft fleece blanket
There is nothing quite as luxurious as wrapping yourself in a lovely fluffy warm blanket so a nice fleecy material soft blanket that's big enough to curl up in, is ideal for those long cold winter nights on the sofa, with a hot chocolate and makes a super warm classic gift for people who are always cold.
Faux fur throw
To help make your friend's environment warmer and cosier all year round, how about gifting them a faux fur throw to go on their sofa or bed, that way every time they sit down to relax, or curl up in bed, there is an extra layer of warmth to enjoy.
Hand warmers
Hand warmers that can be worn with a coat outside, provide a much thicker and warmer protection than regular gloves and make a stunning gift coming in many different colours and styles. They make sure your hand stays warm and are super soft.
Patio heaters
For those who like to sit outside but don't enjoy the cold, how about a set of patio heaters so they can still enjoy summer evenings but without the problem of feeling cold all night long.
Wood burner
Another useful installation for their home or for outside, is a natural wood burner, allowing your loved one to create a warming fire to sit beside, at any time and during any season, without adding to expensive heating costs
Extra warm duvet
Duvets come in different tog sizes which provide different levels of thickness and warmth so a super tog size duvet could help to create a much warmer and cosier bed and make the ideal gift for someone always cold.
All of the items listed here could make great birthday, Christmas or any occasion gifts for anyone who needs a bit of added warmth and cosiness in their life, for any reason.
If you are looking to get something for that cold-blooded relative or to bring warmth to your special someone, there is something for everyone included here, from blankets to jumpers, from hats to hot drink makers, if they are still cold after all this there might be no answer.