When you decorate your home for Christmas, the best place to start is to pick a colour theme. Some colours are Christmas staples, such as red and green, but there are also some other colour trends that are becoming increasingly popular, many of which have some historical ties to the festive season, that you may not realise.
Take a look at our guide to 2022 Christmas colour themes and the history and symbolism behind them.
Plus, you'll be pleased to know Virginia Hayward has a hamper for every colour scheme, so you can combine your decorations with your decadent hampers.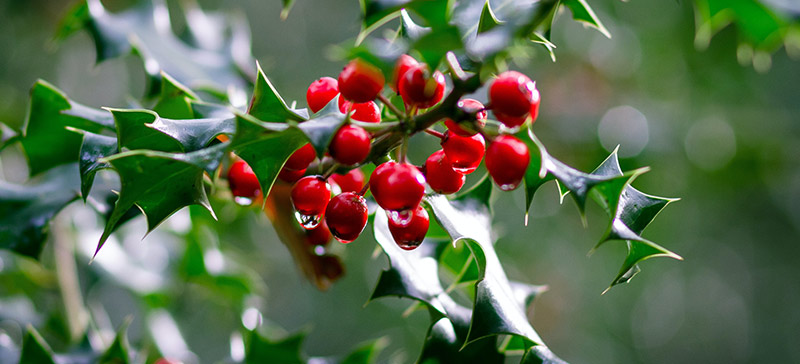 The History of Christmas Colours
Red and Green is probably the colour combination most associated with Christmas, this is actually because centuries ago it was linked to winter solstice festivities. The Celtics believed that holly bushes brought good fortune and beauty during winter, so they would decorate their homes with red and green plants to promote prosperity.
Over time this developed into hanging red and green decorations around their homes, a tradition that would get handed down to the present day.
Fast forward to the modern day, and one of the many reasons red and green are cemented as Christmas colours is the Coca-Cola brand! The illustrator Haddon Sundblom was tasked with bringing Father Christmas to life in 1931, painting him as a jolly fellow dressed in Coco-Cola branded red with green script and botanicals around him – these adverts ran for 33 years and were so iconic, they changed the way America imagine Santa Claus.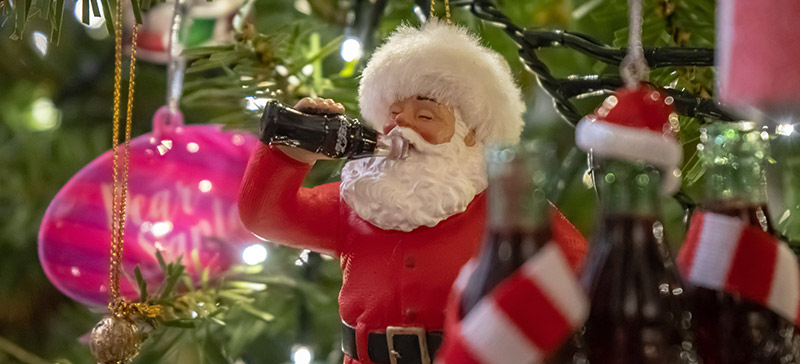 There are of course other colours we traditionally think of as 'Christmas colours'.
Gold
The colour Gold has long been synonymous with Christmas due to its many religious links. Most obviously it symbolises the gift carried by one of the wise men in the story of the nativity. It is also the colour of the star, that the shepherds followed to Bethlehem. The colour gold also signifies the gift of eternal life within many western religions.
Blue
Blue traditionally represents the Mother Mary, in medieval times blue dye was expensive and rare (even more than real gold), it would only be worn by royalty and very wealthy aristocrats and so Mary was often painted wearing blue to show her importance and significance.
Purple
Purple is actually a colour in many western cultures deeply rooted in the tradition of Advent. You may think of advent calendars where a door is opened each day on the lead-up to Christmas. Within the Christian church, advent is the season of reflective preparation for the celebration of the nativity (or arrival) of Jesus.
During the four weeks of advent, Christians use a wreath decorated with five candles to symbolise the phases of the preparation. The first advent candle (which represents hope) is purple, the second (which represents peace) and the fourth candle (which represents love) are all purple. The third candle is pink, which represents joy and celebration. The 5th middle candle is white, which is known as the Christ candle.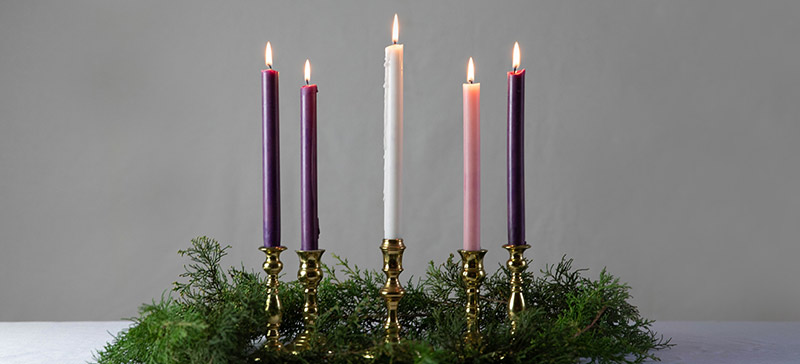 Purple, like blue is also associated with royalty. In fact, Queen Elizabeth I forbade anyone except close members of the royal family to wear it! Within the late Victorian era, a chemist accidentally made purple dye whilst trying to synthesize an anti-malaria drug. Not only did he make a fortune, but purple or 'mauve' (as it was favourably known as), became more widely available to the middle classes. A wealthy, sumptuous colour, blue and purple were often chosen as a decorative Christmas colour as it would show their affluence and importance to guests over the Christmas festivities.
How to Decorate for Christmas with Colour
Red Christmas Colour Themes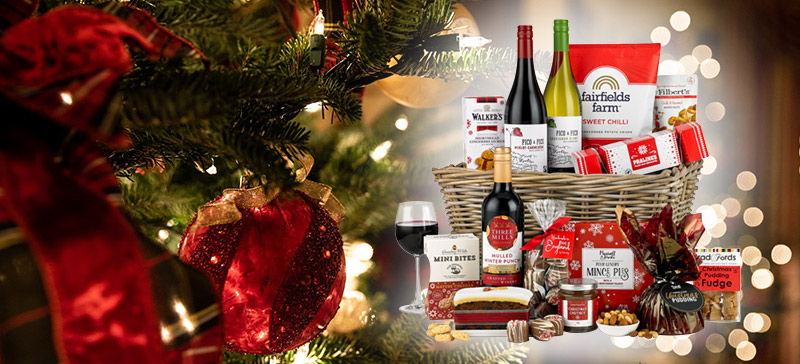 The most traditional Christmas colour scheme, but just because this shade is steeped in Christmases gone by, doesn't mean you can't add a modern twist. Instead of pairing red with traditional green, by choosing white, you immediately give this festive pallete a fresh contemporary feel. Think candy canes and scandi-style decorations.
Of course, many of us still love that homely, traditional Christmas décor, of rich reds, stockings hanging above the fireplace and jolly Father Christmas ornaments.
RED: Symbolises love and energy, plus of course Father Christmas himself, thanks to Coca-Cola!
Our top red hamper and gift picks:
Orange or Bronze Christmas Colour Themes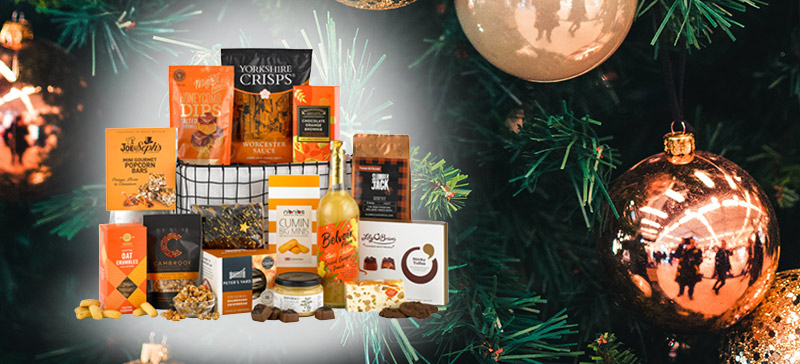 Orange may seem like an unlikely colour for Christmas, but instead of vivid orange, bronze can work perfectly with on-trend mustard and rust shades. Bronze makes a beautiful and warm metallic choice for Christmas.
Opting for a single metallic colour, can add an ultra-luxe feel to your décor, making a magical display.
For a more rustic Christmas think about scented, dried orange slices, strung upon your Christmas tree, chestnuts and harvest-themed décor.
ORANGE: Symbolises enthusiasm and emotion, bringing warmth and optimism.
Our top orange hamper and gift picks:
Yellow or Gold Christmas Colour Themes
Golds and yellows add warmth and elegance to your Christmas décor. From soft yellows and creams to brassy antique gold tones, this metallic trend is big. Whilst gold has long been popular, especially paired with red, a big trend this year, is to combine gold with warm cream neutrals.
This trend will fit in with most existing home décor items, plus cream and gold go with every other colour. Which makes it a great choice if you are wanting to save money and mix with colour schemes you've previously used.
Add feathers, ribbons, and pampas grasses to make your gold and cream cosy yet stylish.
YELLOW: Symbolises happiness and optimism, bringing joy to its surroundings.
GOLD: Symbolises prosperity and success, it is optimistic and uplifting.
Our top yellow/gold hamper and gift picks:
Green Christmas Colour Themes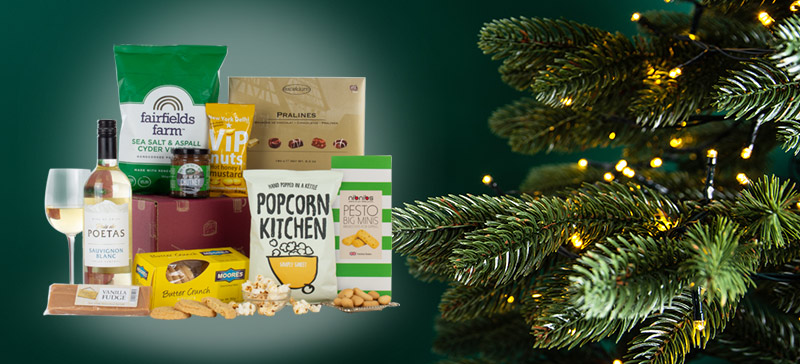 Green Christmas colour themes work well in both modern and traditional settings. Associated with botanicals, and nature, green has a calming effect, which resonates well in the busy festive season.
Green can be a great colour theme to choose if you're looking for a more sustainable, environmentally friendly celebration. You can bring nature in, using branches, holly, and pinecones etc. you find outside, and dress with fairy lights, for the ultimate eco-friendly Christmas.
GREEN: Symbolises harmony and nature, it helps balance our emotions and relax our minds.
Our top green hamper and gift picks:
Blues or Silver Christmas Colour Themes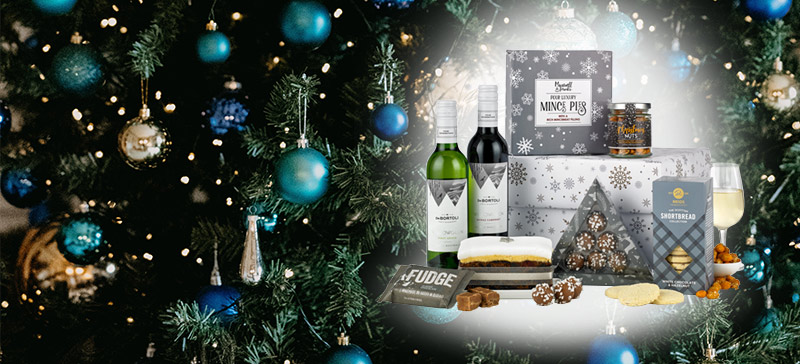 Blue is one of the most popular Christmas décor colours. Blue comes in a range of shades, from navy and royal to the sky and dusty grey blue.
Blue is a diverse colour that adds richness to your décor. A cool shade with a calming quality, pale blue instantly has cold, wintery references, making it a perfect colour to represent the winter. Dark blues conjure up warmer, celestial feelings, ideal for the sparkle of party season.
By adding white and silver accents to your blue Christmas décor you can make it crisp and cool, and refreshingly modern. Blue also goes fantastically with gold, which will make it warm and glamourous, bringing in those historical connotations of wealth and luxury.
BLUE: Symbolises trust and loyalty, it has a calming effect.
Our top blue/grey hamper and gift picks:
Pink Christmas Colour Theme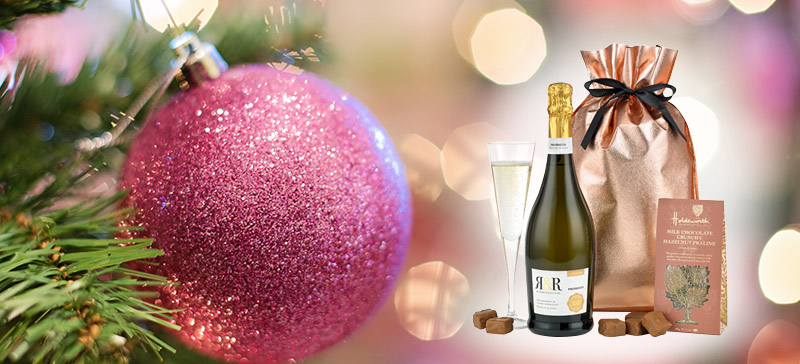 Pink is quickly gaining its place as a popular Christmas palette, pink has an enormous spectrum of shades, from dusky pastel pinks to bold cerise and warm corals. It's a colour that goes well with gold or silver metallics.
Pink looks beautiful paired with green, so works well against festive foliage. Swap holly for eucalyptus, and pair with blush pink, for a modern, fresh twist for Christmas.
PINK: Symbolises love, affection, and kindness… perfectly encapsulating the Christmas spirit.
Our top pink hamper and gift picks:
Purple Christmas Colour Theme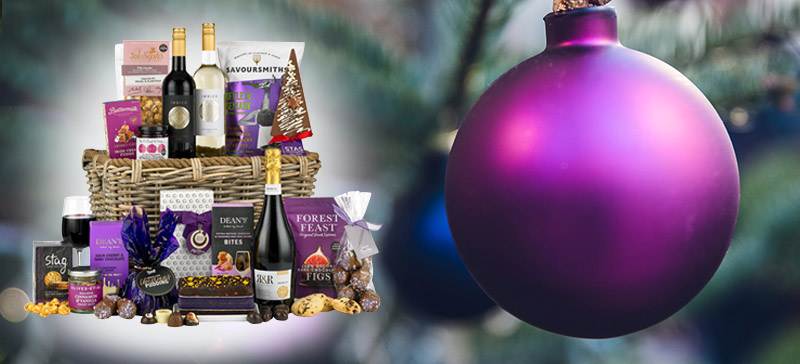 A sumptuous Christmas colour, which is warm and glamourous. Purple is a beautiful colour for Christmas, especially when mixed with gold and bronze accents.
A warm tone that has undertones of luxury and tradition.
Think about adding purple candles to reflect the tradition of advent to tablescapes, and gorgeous jewel tones to your tree.
PURPLE: Symbolises spirituality and imagination, often associated with Royalty and luxury.
Our top purple hamper and gift picks:
Black Christmas Colour Theme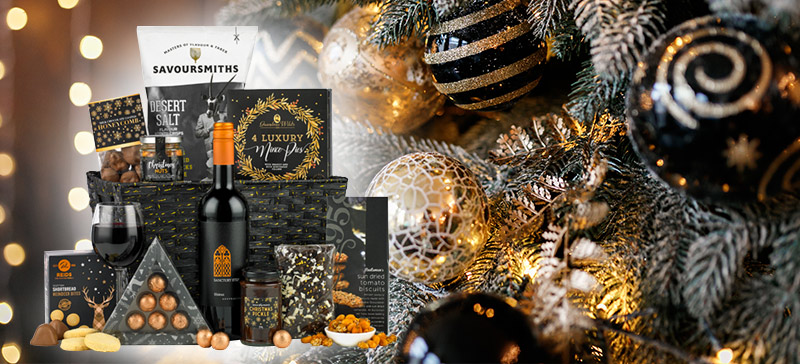 Black isn't commonly associated with Christmas but styled well a monochrome Christmas décor scheme can look highly sophisticated and modern.
Paired with white, black can create a modern look, think about adding strings of faux pearls, black satin ribbon, and pretty, black baubles. For a warmer feel, add texture with a faux fur Christmas tree skirt, knitted throws and metallic gold accents to your tree.
Black: Symbolises power and sophistication, think black tie dinner parties!
Our top black hamper and gift picks: