The best picnics are never just thrown together, and if you want to create the ultimate posh picnic, then you'll need to do your research and plan where you are going and what you'll need. At Virginia Hayward, we are pro's at putting together wonderful picnics, with our luxury food and drink hampers. So, we are here to help you plan a proper posh picnic.
Set the scene
Whether it's a beautiful beach, peaceful meadow, pretty woodland, or public garden, you'll want to set the scene, to create Pinterest perfect picnic. To start with make sure you have enough space to lay out all your food and drink, plus a place for people to sit. Most people will be used to the idea of sitting on the ground at a picnic, but it is a good idea to provide cushions for people to get comfortable, especially if the ground is hard. If you have older people attending, perhaps think about providing seating, or setting up somewhere that has proper picnic benches.  
Picnic Timings
You'll want to think about the perfect timing for your picnic, most people think of a picnic as a lunchtime activity, but in the height of summer, this is usually the hottest part of the day. So, you may want to push it to mid-afternoon, or at least make sure you find a shady spot.
Late afternoon or early evening picnics work well, it is often still warm, but cool enough to enjoy sitting outside, and more ambient for food. Just remember to take a pullover and some citronella candles or bug spray with you.
You could get creative and have your picnic at night, taking candles and battery-powered fairy lights, or perhaps set up a picnic-style dinner party in your back garden.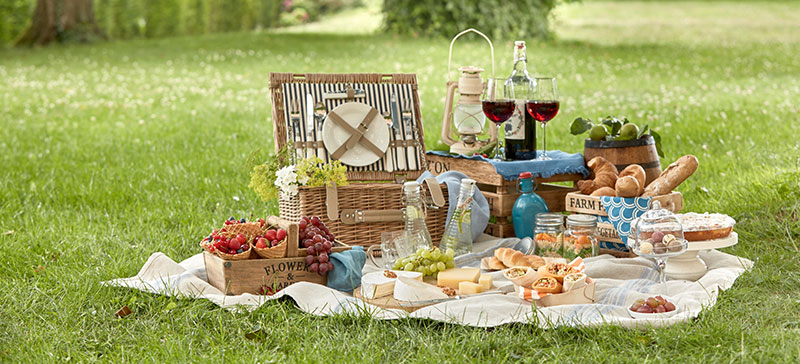 Posh picnic essentials
Before you set off for your posh picnic, make a list of all the equipment and accessories you may need, so you don't forget anything. As you will be out and about enjoying the great outdoors, you'll need to take all the bits and bobs with you to ensure you can open bottles, hold drinks, serve food, and tidy up afterward.
Picnic Hamper
China Crockery
Table Clothes and linen napkins
Cutlery
Glasses
Bottle opener
Bottle cooler
Blankets and cushions
Wood boards
Salt & Pepper shaker
Drink jugs
Flowers
Luxury food and drink
Don't forget you will have to tidy everything up once you have finished, and you may be picnicking somewhere that has no bins. Always take some handy scented bin liners with you, to take away any rubbish. Wet wipes are also very handy for mopping up spillages or wiping glasses down so they aren't sticky when transporting them home.
Packing your hamper
Proper crockery, cutlery, and table linen instantly create a more upmarket feel to your picnic and are much more sustainable. Paper plates and plastic cutlery may have their place and a children's tea party, but no one wants to eat posh picnic food off a floppy paper plate that will end up in the bin. It is well worth investing in a proper classic, wicker hamper to transport all your picnic pieces in safely. Think chic leather straps, and a sturdy handle for carrying. As well as many of our food and drink hampers coming with wicker baskets, we also have a picnic hamper, which comes complete with cutlery, glasses, and crockery, perfect for a posh picnic of 4.
Picnic Food Ideas
You'll want to serve up a sumptuous spread when putting together a posh picnic. Remember to cater to a range of different tastes, and make sure you have noted down any dietary requirements, such as vegetarian, vegan, or gluten-free.  For the ultimate picnic, you'll want to have a range of savoury main dishes, plus side dishes and then also sweet desserts and nibbles.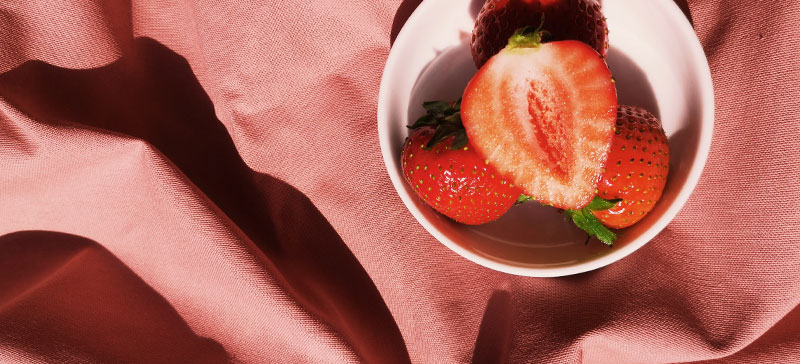 Below are a few ideas of what picnic food to pack:
Sausage rolls or vegan rolls
Scot eggs
Olives
Cheese straws
Crustless sandwiches
Pasta salads
Leafy salads
Quiche
Potato salad
Cold-cured meats
Picnic Puddings and Treats
Fruit Skewers
Scones
Strawberries and cream
Pastries
Muffins
Brownies
Mini Donuts
Cookies
Fudge
Popcorn
Cheeseboard
A posh picnic would not be complete without a cheeseboard, that is Instagram-worthy and full of everyone's favourite fromage. It is best to bring the cheese and accompaniments separately and then lay the cheese board out once you are at your picnic spot. Otherwise, you run the risk of it all sliding off the board, as you are making your way to the picnic.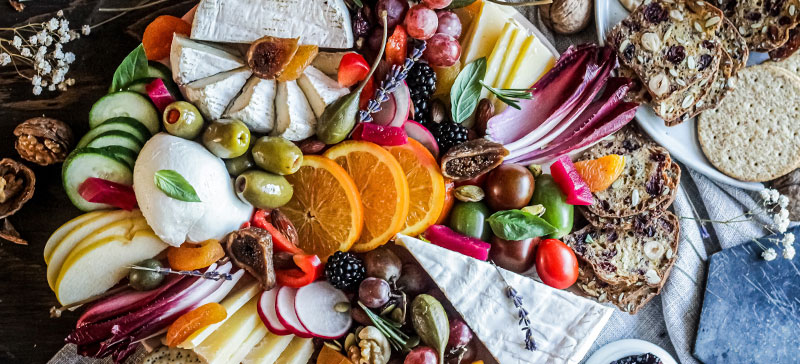 It's best to have a range of different cheeses, to pair with different foods to suit a range of tastes.
Here are some of our favourite cheeses:
Barber's Farmhouse Mature Cheddar Truckle
Ford Farm Double Gloucester with Chives & Spring Onion Truckle
Long Clawson Blue Stilton Wedge
Graindorge Petit Camembert
Butlers Larder Rothbury Red Leicester
Ford Farm Wensleydale with Cranberries Truckle
Caws Cenarth Waxed Caerffili
Quicke's Smoked Cheddar
For a more detailed explanation of how to lay out the perfect cheese or Charcuterie board, read our blog article here.
Posh Picnic Drinks
It wouldn't be a posh picnic without a glass or 2 of something bubbly. Prosecco or Champagne is a natural choice, but if neither floats your boat, there is a whole range of alcoholic and soft drink choices to give your picnic a bit of sparkle. Providing a range of different drinks is the best way to cater to all picnic goers and different ages.
Pimm's
Champagne
Cider
Craft Beer
LimoncelloElderflower Presse
Sparkling Apple Juice
Ginger Beer
Traditional Lemonade
Iced Tea
Picnic Entertainment
Why not make an afternoon of it, and bring along some bits and pieces for entertainment, this is a great idea if you have a range of ages coming along. Something simple like a pack of cards or a travel board game can keep people entertained whilst they are relaxing. If you're after something a little more energetic, why not host your own sports day, with retro games like an egg and spoon race, bean bag toss, or a coconut shy? Or perhaps something a little more traditional such as croquet or rounders. If you're planning an evening picnic, you could even set up a large white sheet and projector for your very own posh movie showing.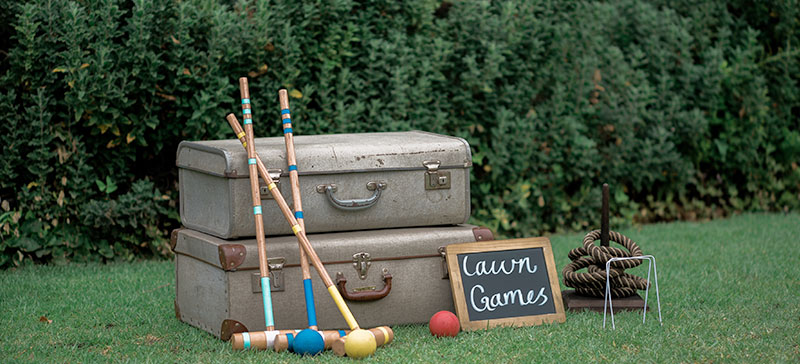 Picnic entertainment ideas:
Play a board game
Croquet
Rounders
Retro Sports Day
Movie
Deck of cards
Scavenger hunt
At Virginia Hayward we have an array of hampers, perfect for a posh picnic. Whether you want a basket that is fitted with all the china or crockery you'll need or would like a hamper full of savoury food, such as cheese and crackers or sweet treats like cake and biscuits.