With a hint of spring in the air and the days getting gradually longer, Christmas feels like a distant memory and the contents of your hamper have likely long since been enjoyed.
January is often the month we find ourselves decluttering the home, organising and making plans for the year ahead. So in preparation for bright spring days, we've rounded up our top 10 ways to re-use your hamper basket as the urge to de-clutter and organise our homes comes across many of us.
1. Hallway Baskets
The Hallway can often become an area where clutter and mess builds up. Whether that's hats and gloves strewn about after a cold walk, shoes kicked off, or post and general stuff put 'on the side'.
Try to target 'drop zones' in your hallway by placing baskets to catch family clutter. You could either have a bad per item, for instance, winter accessories, so all your gloves and scarves are in one place. Perhaps another for the dog, so the lead, ball, toy, and coat are all place ready for their daily walks. You could even have a basket for school, a where the book bag, homework folder, shoes, etc are all placed ready for the rush of the school run. Another alternative is to assign one basket per family member to ease the search for those elusive gloves or sunglasses on busy mornings.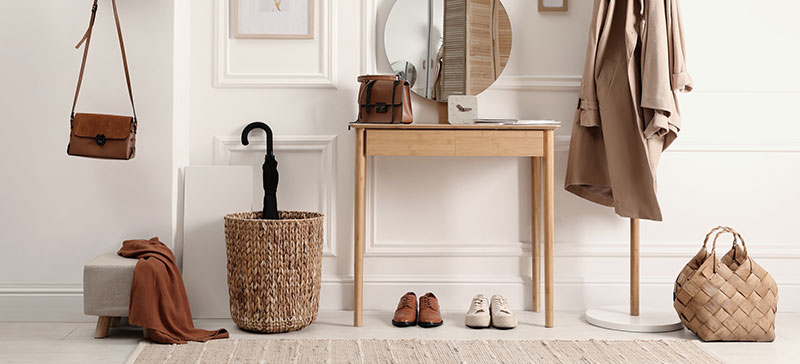 Top 3 styles of baskets for the hallway:
Lidded Basket to keep things hidden.
Poachers Basket for Umbrellas or walking sticks.
Handled baskets to place under console tablets or on sides.
2. Log Baskets
Spring may be on the way, but we're certainly not ready to bid goodbye to an open fire yet! There is nothing nicer than coming in from a long cold walk and stoking up the fire. Having a stock of logs inside is another thing to remember. Logs that have been kept outside can often be cold, making them harder to catch alight, and causing excess smoke.
By using a log basket, you can keep a stock of wood, kindling, or fire accessories close by so they are on hand as and when you need them. Logs will also stay warmer and free from dampness in the house, so have a much better chance of lighting first time.
Using a basket of any size will help to de-clutter your fireplace and will bring a cosy, rustic feel to your room.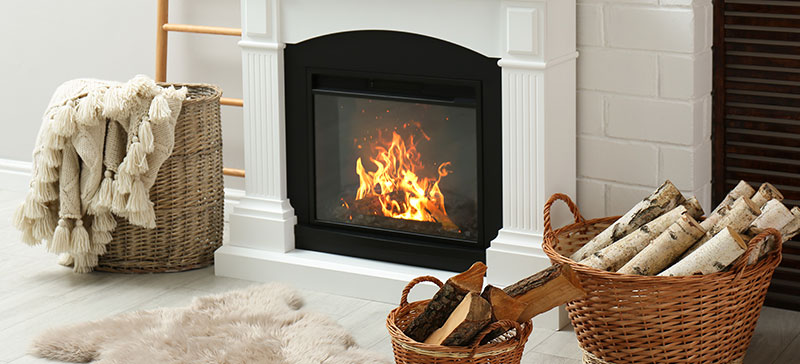 Top 3 styles for a log basket
Traditional Log Basket
Small Lidded Basket (perfect for firelighters, matches, or anything you'd like hidden)
Rounded Handled Basket
3. Toy Chest Baskets
If you have a small family at home or perhaps grandchildren that come and visit, baskets make fantastic storage for children's toys or dressing-up outfits.
Easily accessible and quick to put away they are the perfect solution to a cluttered bedroom or playroom.
You could perhaps use a bigger basket for all their dressing-up clothes and accessories, and smaller baskets for tiny toys or games that have multiple pieces, such as Lego. Baskets also look lovely and provide some neutral colour to a room, that may otherwise be heavily themed or brightly colour. This means they will continue to grow with the children, and you can simply replace the contents as they grow.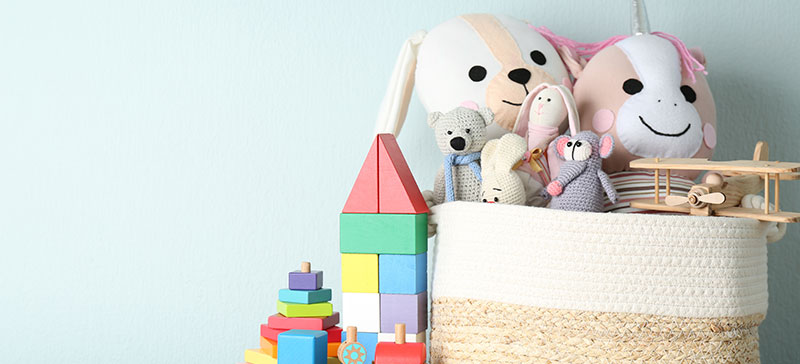 Top 3 styles for a toy basket
Large Lidden Basket for dressing up
Smaller crate-style basket for lego
Seagrass Basket
4. Pet Bed Baskets
Your pet may have already claimed your left-over hamper basket as their own, but if not, they make the perfect place for a pet to curl up and relax in.
Simply add a blanket and place in a quiet spot, which will provide them with the perfect place to snooze in style. Make sure the basket is a good size for your cat or dog, so that they can get in and out without much difficulty.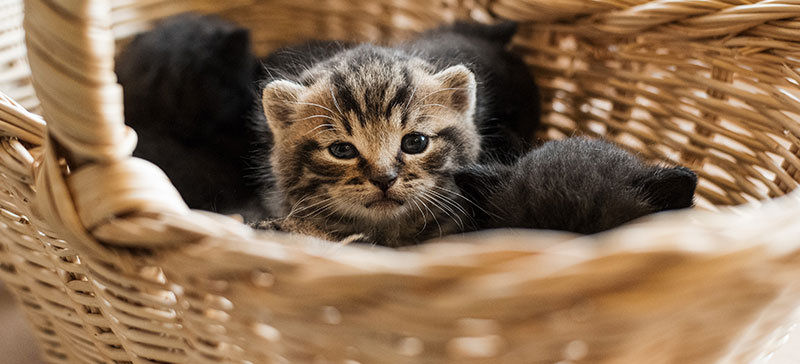 Top 3 styles for pet bed baskets
Kubu Storage Basket
Shallow willow tray is perfect for small cats
Kabu wine wicker basket
5. Bathroom organisation and storage
Bathrooms are a busy area in the home, a place that can quickly become chaotic. Baskets can be used for a range of bathroom storage ideas, to help restore calm. Try to consolidate toiletries such as shampoos, shower gels, bath bubbles etc in baskets that can be put on shelves for easy reach, just make sure you dry off the bottles before replacing them into the baskets after use. If you have little ones, a basket can also be a great place to store all those bath toys and novelty bits and bobs. They will then be out of sight, for you to enjoy a more relaxing, grown-up bathroom again.
Baskets can also be put in cupboards, to help store towels, flannels or even loo rolls. This can be especially useful if you have guests to stay, so they know where to find all the necessary bathroom items.
Top 3 styles for bathroom baskets
Seagrass baskets
Wicker basket with handles
Wall-mounted basket
6. Indoor Plant Pot Baskets
One of our favourite ways of re-using hamper baskets is to make them into planters.
Wicker baskets make wonderful indoor plant baskets, that suit almost any interior. For larger plants like Monstera, you can line the interior of the basket, and then add soil and small stones for some drainage. Or you can pop a pre-potted plant, into an unlined basket, purely for decorative purposes.
For smaller wicker baskets, you could fill them with pre-potted herbs to sit on your kitchen windowsill, or perhaps a small succulent garden in a sunny spot.
Top 3 styles for plant pot baskets
Kubu Tall Log Basket
Storage Basket with Rope Rim
Small, plaited baskets
7. Kitchen Storage Baskets
Hamper baskets are wonderfully versatile in the kitchen. Ideal for sliding into a kitchen island or organising pantry cupboards. Baskets can hold a variety of dry goods and packets making your cupboards more accessible.
Baskets are also perfect for rounding up Tupperware, lunch boxes and drink bottles. So that you aren't in a mad rush trying to find containers and lids. Because baskets look good, it makes it an ideal kitchen storage solution to have on show.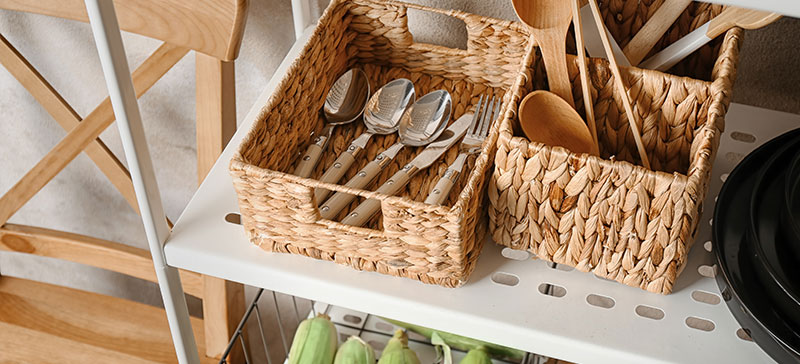 Top 3 styles for kitchen baskets
Medium Square Kubu Basket
Croco Storage Basket with Handles
Woven tray baskets
8. Holding Blankets and Pillows
As the evenings can remain cool throughout the summer, keep a basket full of light blankets and comfy cushions nearby in your living room or outdoor entertaining space. A lovely rustic basket looks neater than having blankets draped over the arm of a sofa and makes them easy to grab when the sun sets!
We hope you've been inspired by our top 10 and we'd love to see how you're using your hamper baskets.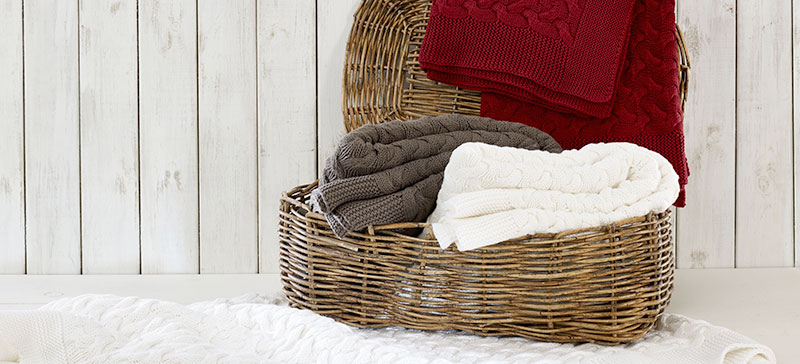 Top 3 styles for Blanket Baskets
Rectangle Willow Basket
Circular Kubu storage basket
Wicker baskets with handles for easy movement
9. Gardening Baskets
Baskets of all shapes and sizes make the most perfect garden accessories. Medium size baskets with a single round handle are perfect for putting cut flowers in, or vegetables freshly dug from the patch. They can also be used to carry your gardening tools around in, items such as weed forks, trowels and snippers.
Smaller lidden baskets are great to keep seed packets and plant label sticks in.
Baskets can be placed on potting shed shelves, in greenhouses or utility rooms, which will not only help you be organised, but also look great and in keeping with the rustic outdoors.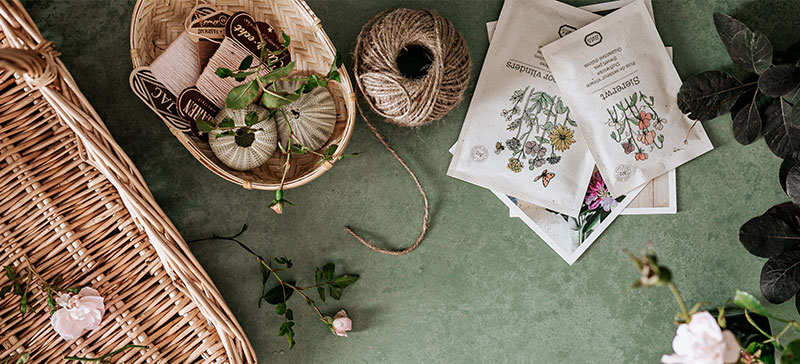 Top 3 styles for gardening baskets
Round Willow Trug
Small Lidded Hamper
Willow Trays
10. Laundry Baskets
Why use a brittle, plastic laundry basket, when you could use a beautiful, traditional basket?
Not only do the large lidden baskets or poacher-style baskets work well as a laundry basket, but our handled baskets also work wonderfully as linen baskets, making it easy for you to transport laundry to and frow the washing machine.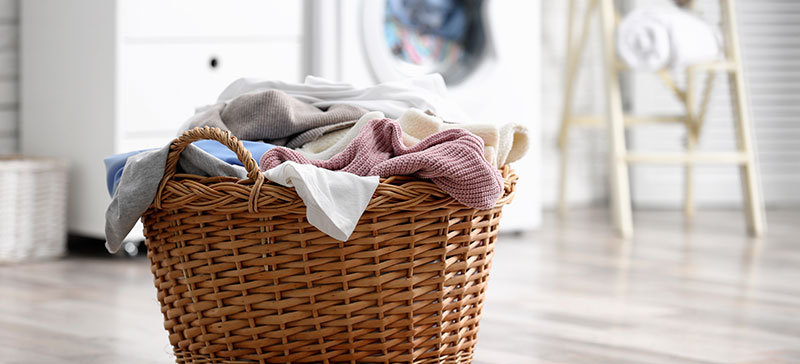 Large wicker basket with handles
Tall Lidded Baskets
Circular Kubu storage basket with handles
We'd love to see how you re-use your hamper baskets, find us on Facebook and Instagram and share your ideas!