Valentine's Day doesn't have to be about spending a lot of money on a fancy night out or expensive gifts. It can just be about spending some quality time with your loved one, a great excuse to treat them, and making them feel special.
We have come up with some alternative ways to celebrate Valentine's Day, that won't cost the earth, but that your other half is sure to love and remember.
Valentine's Movie Date Night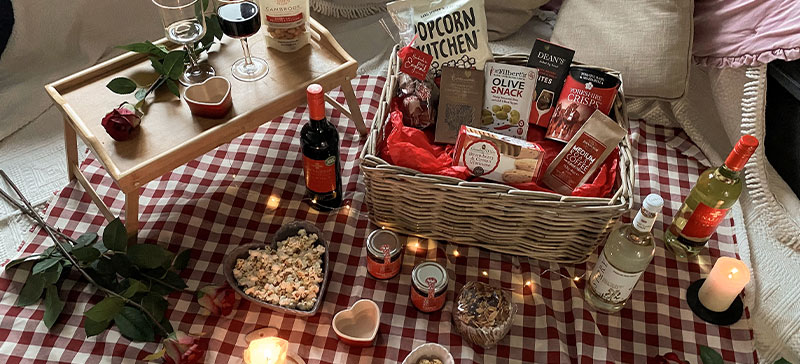 Instead of going out to the cinema, why not have a movie night inside the comfort of your living room? There are some simple ways in which you can make this more special than a normal Saturday night in front of the box.
By laying out a nice fluffy blanket, cushions, and some candles, you can create a simple, romantic scene. Serve up some popcorn in a big bowl, chocolate truffles, nuts, or some crisps to emulate the cinema experience at home.
If you're feeling super crafty, you could even make your own tickets, with some card. Which would make a nice keepsake for your evening. Why not watch an old classic movie, there is something about an old black and white film, that feels more romantic.
The Extravagance
The Extravagance Hamper is the hamper to buy if you're looking to spoil your loved one this Valentine's. The hamper is packed full with sweet and savoury snacks (perfect for movie nights). Plus 2 bottles of wine, and elderflower presse. There are also some handy items for the morning, such as coffee and jam.
Romantic Breakfast in Bed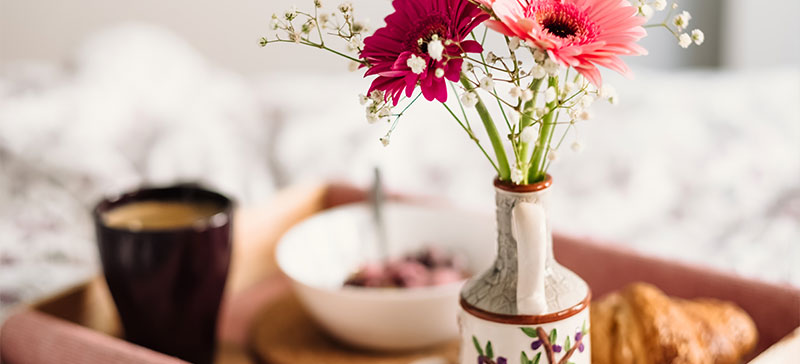 Usually, we think of celebrating Valentine's Day with an expensive dinner, but why not treat yourself and your loved one to breakfast in bed? Is there anything nicer than a relaxing morning lie-in and then your favourite breakfast brought up to you?
Make it extra special for Valentine's by adding a little bud vase and flower to the tray, and perhaps serve breakfast with a favourite book, magazine, or newspaper. If you wanted to go all out, add a heart-shaped helium balloon, for maximum romance!
The Breakfast Tray
The ultimate gift for anyone that deserves breakfast in bed. Our breakfast-in-bed tray is literally filled with all the breakfast-in-bed essentials you'd need.  All butter croissants, jam, marmalade, smoked salmon, coffee, tea, orange juice, and of course a small bottle of prosecco. All these luxury breakfast items are packaged together on a wooden tray.
Indoor Valentines Picnic
Create a space in the living room, and set out a picnic area, just as you would if you were outside on a summer's day. Throw cosy blankets and cushions down, light candles, or add fairy lights to create a romantic atmosphere. Use a basket to hold all your snacks and plates, so you don't have to keep venturing off to the kitchen.
Chopping boards can be useful to create areas for glasses to stand up on or to keep bowls stable. You could even serve up a 3-course meal, or just some light bites, tapas style. Play some of your favourite music, and actually enjoy each other's time rather than the distraction of a screen.
Fitted Picnic Basket
Quintessentially English, this four-person fitted basket has everything required for a luxury picnic. But don't think it has to be used for outside only! It is the perfect basket to help you recreate an outdoor picnic inside. Safely stored away in this classic wicker basket, are 4 plates, glasses, knives, and forks.
At-Home Spa Day
Valentine's doesn't mean you have to wait for someone to treat you, you can always treat yourself. Why not show yourself some self-care and have a pamper evening? You could create a spa at home. Fill up a bubbly bath or perhaps a large bowl of water for a foot spa. Light candles and play some of your favourite music.
Once refreshed and in some cosy PJs, recreate some spa treatments, paint your nails, and apply a face mask. You could stream your favourite box set, read a book or perhaps write a letter to a friend.
Pamper Hamper
This gift is the perfect present for someone to treat themselves with, containing everything they would need for an evening of relaxation. Packaged in a useful gold drawstring bag, is an individual bottle of bubbly, chocolate truffles, bath soak, hand wash and a relaxing Lavender, Clary Sage and Chamomile candle.
Cheese and Wine Night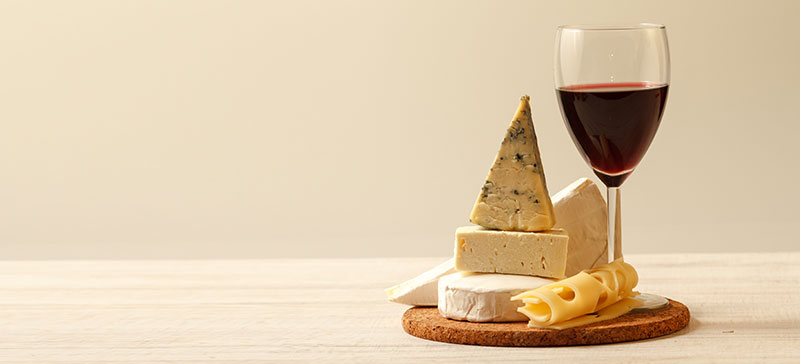 Is there a better combination than Cheese and Wine? Why not set up a romantic wine and cheese board, add some crackers, grapes, pears, and you can create a lovely graze board to help you while away your evening. To find out how to put together an artistic charcuterie board, you can read our blog article here for top tips.
Wine & Cheese Slate
Our Wine & Cheese Slate is the perfect gift for someone that loves the decadence of a fine red wine and delicious cheese. Packed with 3 different cheeses, Camembert, Mature Cheddar and Blue Stilton, Poppy Seed Snap Crackers, Caramelised Red Onion Chutney with Balsamic, a bottle of Shiraz Cabernet De Bortoli Willowglen and a black slate to dress it all on.
Celebrate Galentine's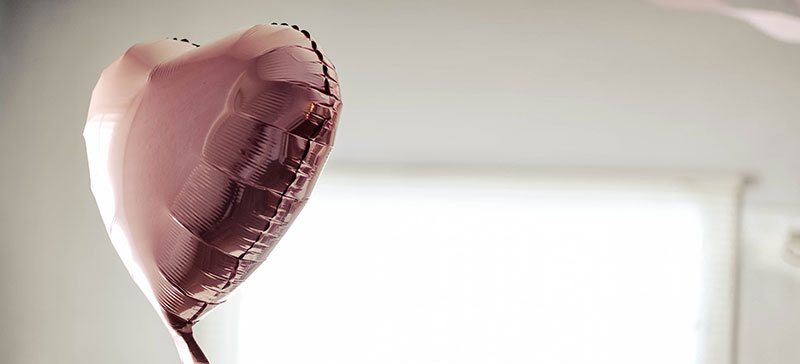 The 13th of February is fast becoming known as Galentines Day, a day when you can celebrate your best gal pal, and your friendship. Why not arrange a girls' night in, with your closest friends, and enjoy a proper girls' night in. Pick a fun rom-com, put out lots of fun snacks, crack open the wine, and just have a lovely chilled-out evening.
You could even have a dress code, perhaps you 'd like to dress up for a little kitchen party. Or you could suggest everyone comes in their favourite pyjamas, to recreate a slumber party feel,
Girls Night in
Our Girls Night In Gift is literally made for a night in with your best gal pals, or perhaps just a treat for yourself! Pack full of delicious treats, like strawberry shortbread, fudge, marshmallow bar, chocolate shards, nuts, popcorn, sweet chilli crisps and not forgetting prosecco.
Take a look at all of our Valentine's Hampers here.